iPhone 8 outsold iPhone X in Apple's holiday quarter, consumer survey finds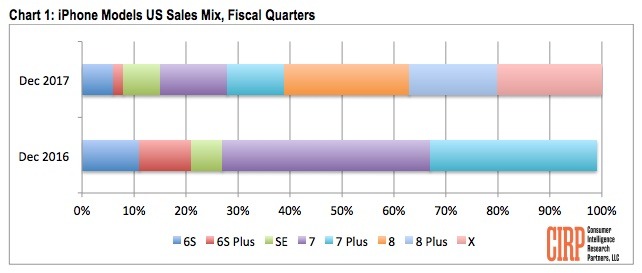 AppleInsider may earn an affiliate commission on purchases made through links on our site.
Apple's active shipping of eight iPhone models during the holiday season has led to some interesting data, with the fall 2017 releases outselling older models nearly two to one.
According to a Consumer Intelligence Research Partners of 500 iPhone buyers between October and December, 24 percent of purchasers picked up the iPhone 8, with the iPhone 8 Plus accounting for 17 percent of buys. The iPhone X held 20 percent of iPhone buyers in the two months it was available in the survey period, with every other model including the iPhone 6 family and iPhone SE holding down 39 percent.
CIRP maintains that comparing 2017 with 2016 remains difficult, for multiple reasons.
"Comparisons to earlier launches are tricky at best. First, iPhone X wasnt available for the full quarter. The Apple model pie is further divided, as they now offer eight models, the most ever," write CIRP co-founder Josh Lowitz. "Apple launched the new phones on a different schedule, announcing three new models at once, but delaying the launch of the most advanced and expensive one, iPhone X, for five weeks following the launch of iPhone 8 and 8 Plus."
One of CIRP's survey months was in October — the month before the iPhone X was available. This could skew the data in favor of non-iPhone X models as well, given the data spans three months of purchases, and not just the two that the iPhone X could be bought.
Other data suggests that in the US, the iPhone X was surpassed by the iPhone 8 and iPhone 8 Plus during the holidays — with the sales figures notably collected after the iPhone X launch.