Apple crushes Samsung in China as iPhone attracts twice the loyalty in upgrades over domestic brands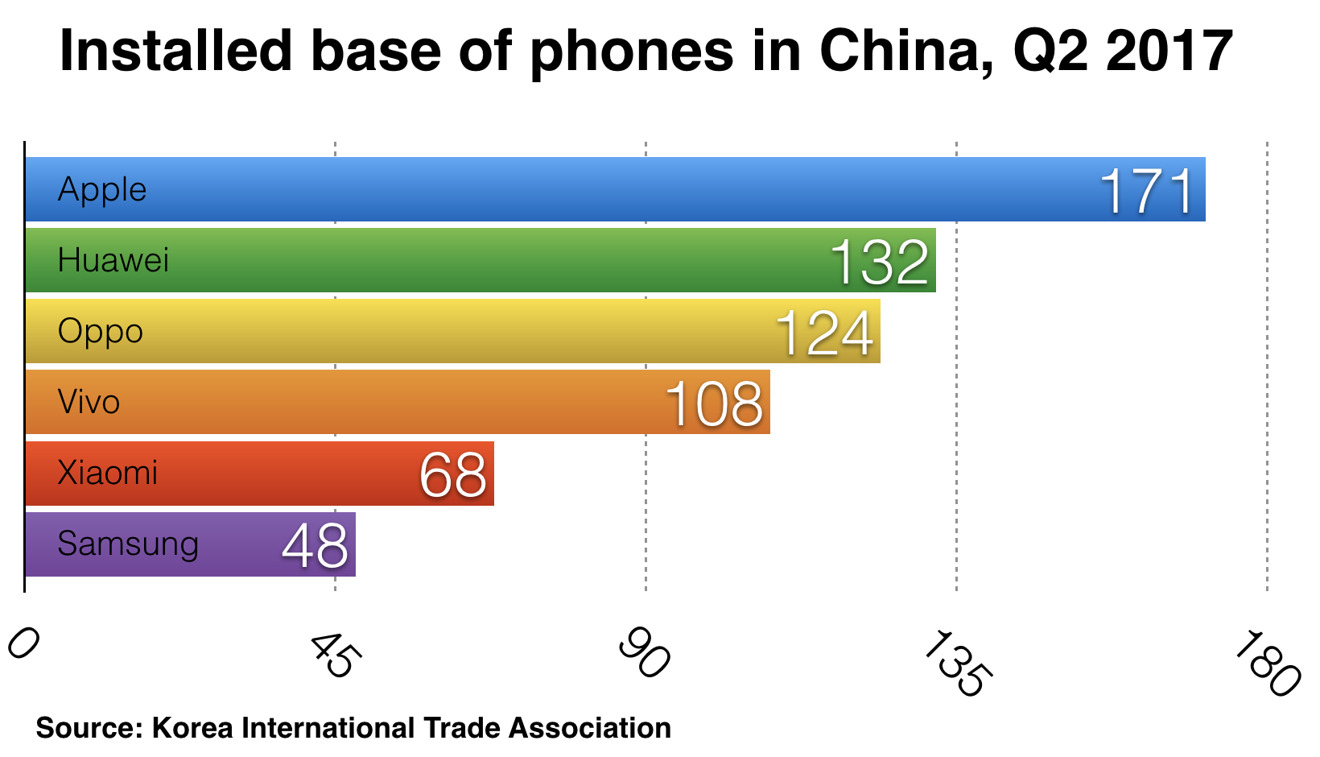 Young smartphone buyers in China are preferring to buy low-priced domestic brands over phones from Samsung, but the loyalty rate in buying another Oppo or Vivo phone is half that of buyers getting another iPhone— which remains the largest installed smartphone base in China.
According to a report by the Korea International Trade Association detailed by South Korea's Yonhap News, Apple's iPhone accounted for the largest installed base of smartphones in China, with 171 million units.
Huawei was second with an installed base within China of 132 million units, while Oppo has sold 124 million, Vivo 108 million, Xiaomi 68 million and Samsung 48 million phones in China. Apple's iPhone accounted for the largest installed base of smartphones in China, with 171 million units
While Chinese brands have recently mounted a surge of new sales outpacing the rate of new iPhone sales, sixth-place Samsung has clearly been hit hardest by the influx of low priced, middle and lower tier phones from domestic producers.
The report noted that 63 percent of phones sold in China during the second quarter were priced at less than 2,000 yuan (about $300 US). Phones priced above 4000 yuan (about $600 US) only accounted for 6.4 percent of total sales volumes in the quarter, but iPhones claimed an "absolute majority" of this highly profitable segment, which is concentrated in affluent large cities.
A previous report in April by Counterpoint noted that "Apple's share of this super-premium segment remains at 80 percent, with five out of the top ten model SKUs belonging to Apple."
Chinese brands were popular among younger buyers, with nearly half of all Oppo sales going to buyers between 16 and 25. However, the report noted that only a quarter of Oppo and Vivo buyers chose to repurchase the same brand again, while more than half (53.4 percent) of all iPhone buyers chose to get another iPhone. Conversely, just 7.2 percent of Samsung buyers opted to get another Samsung phone.
While much attention has been given to Apple's slipping overall "market share" in smartphones as the low end market for smartphones rapidly expands in China, it appears that the wave of cheap new smartphones is hitting Samsung hardest. Further, the bloom in lower-end shipments has not built either profits or strong loyalty among Chinese makers' brands.
That suggests that as young buyers in China become more financially independent, they are likely to opt for higher end phones built by Apple.
Globally, Samsung remained the top producer of smartphones with shipments of 89 million "smartphones and traditional handsets" in the second quarter, according to Strategy Analytics.
However, Samsung's profitable high-end Galaxy and Note sales were severely blunted at the launch of iPhone 6 and have never bounced back to the sales volumes or growth the company last experienced back in 2014, forcing the company to shift its focus toward memory, displays and semiconductors (serving Apple as a key customer) rather than finished mobile products (targeting Apple as a key rival).