Apple agrees to settlement in shareholder derivative complaint over e-book antitrust case [u]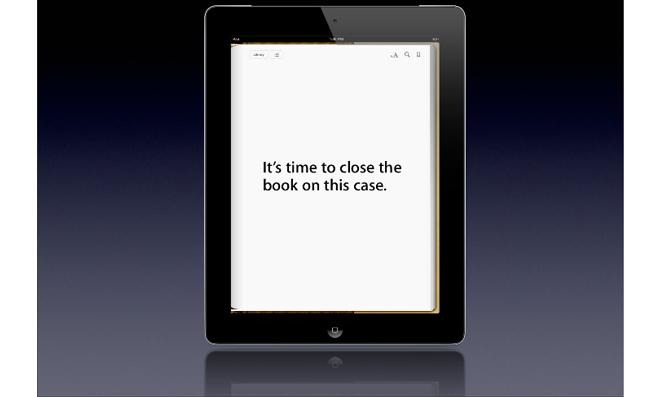 More than two years after Apple was forced to pay out $450 million to resolve an e-books antitrust case, the company is looking to close the book on the long-running debacle, and on Monday informed shareholders that it has agreed to stipulations for settlement of a lingering derivative complaint.
Filed with the Securities and Exchange Commission, Apple's notice to shareholders was lodged in compliance with an order from the Superior Court of the State of California for Santa Clara County, which late last month granted preliminary approval of a settlement in the derivative litigation.
In its current form, the settlement has Apple in agreement with a number of antitrust resolutions designed to prevent another iBooks row from occurring in the future.
Considerations include a more involved audit and finance committee, enhanced synergy between the antitrust compliance officer and other corporate bodies, antitrust compliance training, yearly reviews and more. In addition, Apple has agreed to modify its proxy statement to indicate that "antitrust compliance experience" will be a factor in considering candidates when a new director position opens.
Apple also agrees to adopt an antitrust compliance program similar to measures instituted after it lost the iBooks antitrust case, including the installation of an executive in charge of antitrust compliance. The company was notoriously at odds with an external antitrust monitor assigned to keep tabs on corporate proceedings a result of the Department of Justice action.
Under settlement terms, Apple will pay $2,750,000 to cover plaintiffs' legal fees. Counsel expects to pay each named plaintiff up to $5,000 each for their contributions to the case.
Both the modified corporate practices and antitrust compliance program shall remain in effect until the end of 2022. Per pending approval by the court, the settlement will release individual defendants of all asserted claims.
Apple shareholders can file a written objection to the settlement on or before July 6, 2018, or appear in court to participate in a fairness hearing scheduled for July 20.
Where it all began
Shortly after the iBookstore launched in 2010, Apple faced criticism over its handling of e-book pricing, specifically the company's insistence on committing to an agency model over wholesale pricing.
Under Apple's agency model, publishers were free to set their own pricing, but were restricted from selling products at cheaper prices on competing platforms. Conversely, the wholesale pricing model in use by Amazon allowed retailers to buy content from publishers in bulk and set resale prices at or below cost. In some cases, the wholesale strategy resulted in highly discounted e-book pricing for new books which would otherwise sell for much more
Following a contentious trial that included testimony from Cook and correspondence from late Apple co-founder Steve Jobs, U.S. District Judge Denise Cote in 2013 found Apple to have conspired with publishers to artificially inflate e-book prices. Apple's collusion was estimated to have raised the going rate of e-books by several dollars across the industry.
One month after the 2014 settlement was handed in, Apple was hit with its first shareholder derivative complaint. The complaints named company executives, including CEO Tim Cook and SVP of Internet Software and Services Eddy Cue, they believed responsible for the iBooks price fixing fiasco.
Plaintiffs in some cases sought damages and other remedies for alleged breach of fiduciary duty, waste of corporate assets and unjust enrichment. In one case, a plaintiff argued it was because of the defendants' misdeeds that walked Apple into a conspiracy with major book publishers to raise the price of e-books sold on the iBookstore.
Discovery efforts began in April 2016, when plaintiffs were granted access to documents, testimonials, emails, transcripts and other material from the antitrust action. Apple set up its own Special Litigation Committee consisting of board members James Bell and Susan Wagner that same month, and hired an outside law firm to handle its own investigation into the matter.
Settlement negotiations began in November 2016 and resulted in an agreement-in-principle for the resolution of the complaint in March 2017. The parties entered multiple extensions to then-current deadlines as they hammered out details of to-be-finalized stipulations prior to a court hearing on April 27, 2018.
Update: Apple filed a correction to its SEC notice on Tuesday with a new objection filing date. This article has been updated with the correct date.