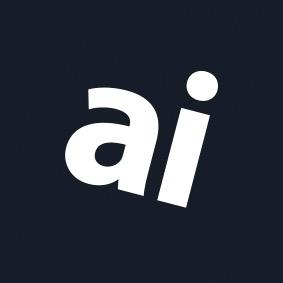 Why you can trust AppleInsider
Review: Logi Circle 2 is the best HomeKit camera, but Apple's support is lacking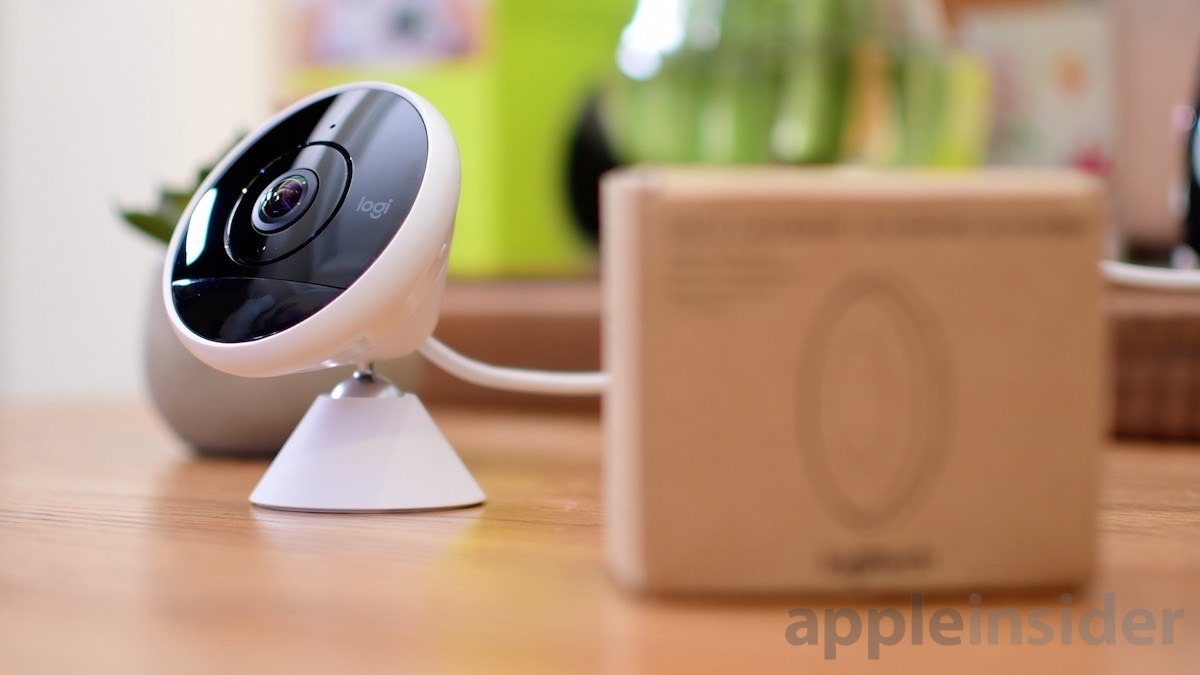 ---
We've spent a few months with Logitech's flagship smart home security camera that gained support for HomeKit just last fall. After extensive usage, we have the verdict on one of the most popular HomeKit cams yet.
Not that many cameras support Apple's smart home platform. D-Link's Omna 180 was the first big player to the game, and while it worked well as a nanny cam, it was not a great overall camera, especially when it came to security purposes. So can the Circle 2 from Logitech buck this lackluster trend?
Hardware
Compared to the large cylinder of the D-Link Omna 180, the Circle 2 can easily fit in the palm of your hand. Directly in the center of the round face is the lens, which is capable of capturing full HD video and night vision, with up to a 180-degree field of view. To the left of the camera is a speaker, which pairs with the microphone on the front to enable two-way audio communication.
The camera's enclosure is semi-pliable white shell that has a soft touch to it, that can easily be removed or replaced with additional housings and accessories — more on these in a bit. Around back is a series of metal contacts that mate with a pair of metal pins found on whichever power cable/stand is connected.
The Logitech Circle 2 is an indoor/outdoor camera, which means it has a certain level of weather resistance to it. Though, to take advantage of most outdoor situations, additional accessories will be required.
Setup
Getting the Circle 2 up and running takes maybe a minute or two. Just attach the stand and power cable, plug it into power with the included USB power brick, and launch the Logi Circle app on your device.
In the app, the user is guided through the process which includes choosing a location and signing in.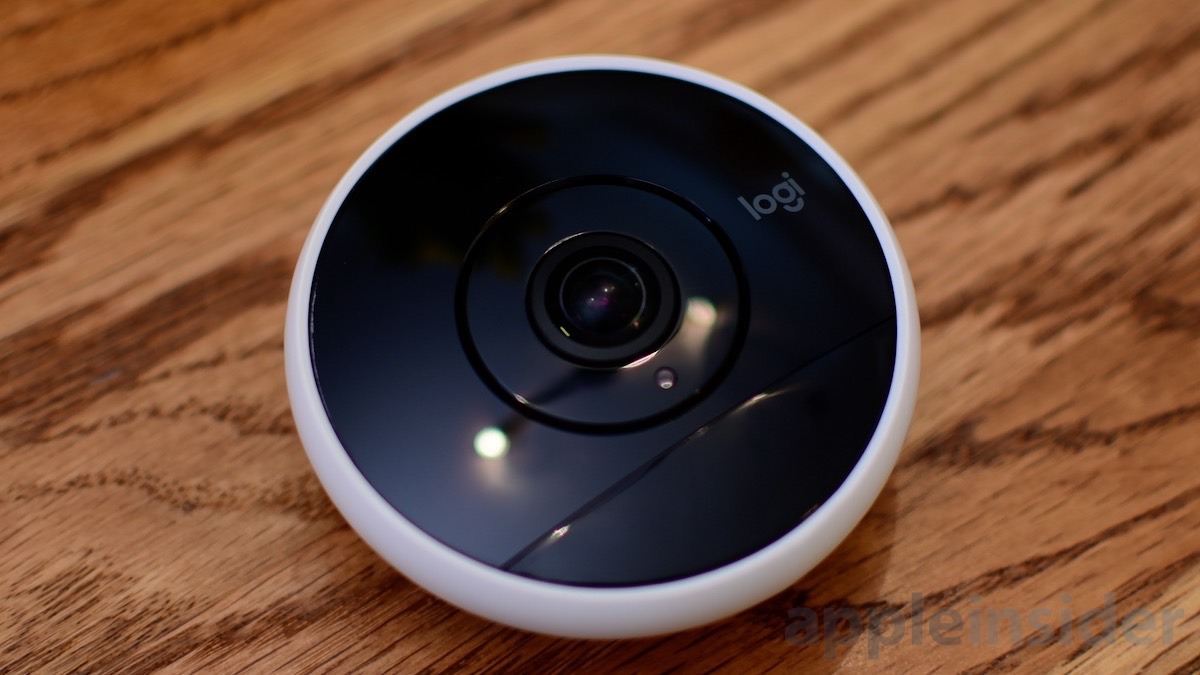 Out of the box, there are a few options for mounting the camera. A few screws and anchors are thrown in to make mounting on a wall easy, as are a few cable ties. A long power cable is included, which made mounting it all the easier.
The Circle 2 doesn't have to be mounted on a wall — the stand works just as well just sitting on a shelf or counter.
App and features
Logitech gives users quite a bit of control within the app. Settings allow the camera to be toggled on or off, privacy to mode to be toggled on or off, smart alerts to be enabled and configured, field of view adjusted, resolution chosen, night vision mode set, microphone sensitivity changed, the LED turned off, the speaker to be disabled, firmware to be updated, and more.
Smart alerts
Smart alerts are the notifications you will receive from the camera in a variety of circumstances. Alerts are broken up into events and can be disabled based on your current location.
Alert frequency can be adjusted, as well as the activity level that will trigger such an alert. For those on the Circle Safe premium subscription plan, there are alert filters, person detection, and motion zones.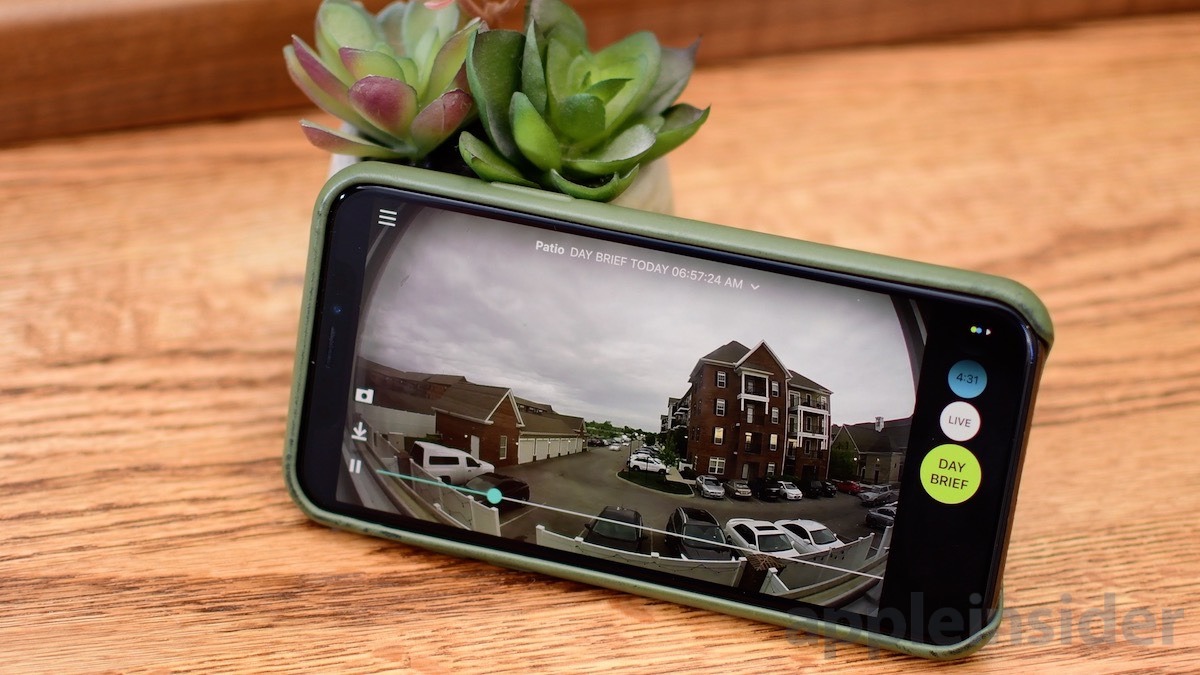 Day Brief
Our other favorite feature is Day Brief. This provides a short time-lapse video of all the motion detected throughout the day.
Day Brief is pretty handy to see a summary of everything that happened in the vision of the camera since your last check. A timestamp on top makes it easy to travel back in time to find that event as well, and the videos can be shared.
Our only issue with Day Brief is that some functionality was stripped away with the launch of the Circle Safe plans. Originally, you could customize these Day Brief videos based on different events and different lengths.
HomeKit
Unlike other HomeKit accessories, there is no HomeKit code included in the box or the instruction manual. Instead, a super tiny code is printed directly on the Circle 2 below the white housing. This is difficult to get to, especially after you mount the camera, so we recommend writing it down somewhere safe before you get to installation.
Once paired with the HomeKit, Circle 2 offers much the same features as any other HomeKit camera. It will show up technically as two separate devices — a motion sensor and a camera.
Inside the Home app, a live feed can be viewed, two-way communication can be used, and alerts can be configured. Alerts can be set to trigger any time there is motion, just during certain periods of the day, based on who is at home, or a combination of those last two. When an alert comes through, it will also include a snapshot of what triggered the motion.
These alerts can be super handy too. HomeKit will present different actions based on what is in the same room. As an example, if the camera is set up in the same room as a HomeKit door lock, "unlock door" will be an option presented when it detects motion. If the camera was showing outside the front door, this can be very useful.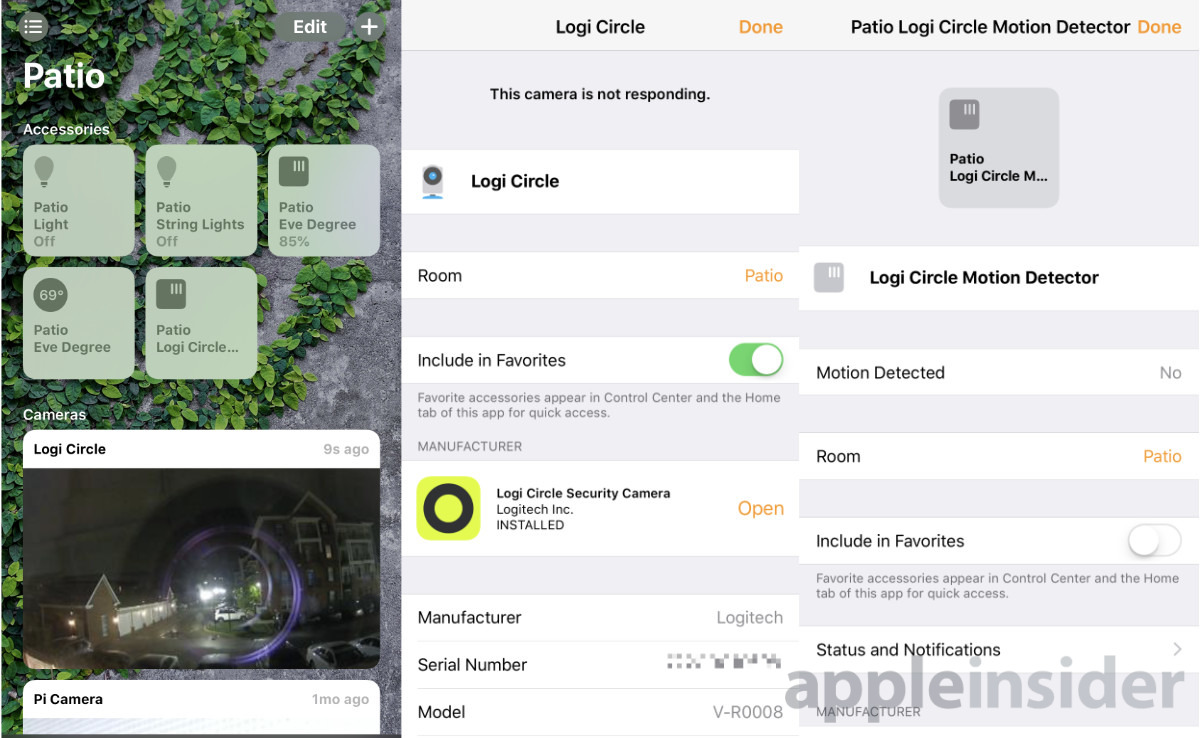 We set the camera up above our cars and our patio, so at night using just the motion sensor, it triggers outdoor lights to turn on in an attempt to scare would-be burglars or errant wildlife trying to dig in the garbage.
Limitations
HomeKit is the biggest problem here. At present, it doesn't allow motion zones or privacy modes. So when you are at home, anyone with the Home app can open it up and see what is happening live. This is just one thing we hope Apple potentially fixes with HomeKit in iOS 12.
Furthermore, for best performance, 720p video should be chosen. Frequently, the Home app would initially show the video stream live, but moments later say the camera is unavailable. After making sure our network wasn't the problem, and adjusting the resolution to 720p, the issue was mostly resolved — but it shouldn't have been a problem in the first place.
Only the wired version of the Circle 2 is HomeKit compatible, which isn't made entirely clear when shopping around. Logitech says this limitation is imposed by Apple, but we would love if the wire-free version worked with HomeKit as well.
Subscription service
Like nearly all home security cameras on the market, Logitech offers a paid subscription plan to get even more out of your Circle 2. There are three tiers to the service, Free, Basic, and Premium.
Free service will get you 24 hours of cloud recording, unlimited streaming and downloads, smart Day Brief, and Smart Alerts. Upgrading to the Basic plan gets you now 14 days of cloud storage. Premium is upped to 31 days of cloud storage, as well as person detection, motion zones, custom alerts, and customized day briefs.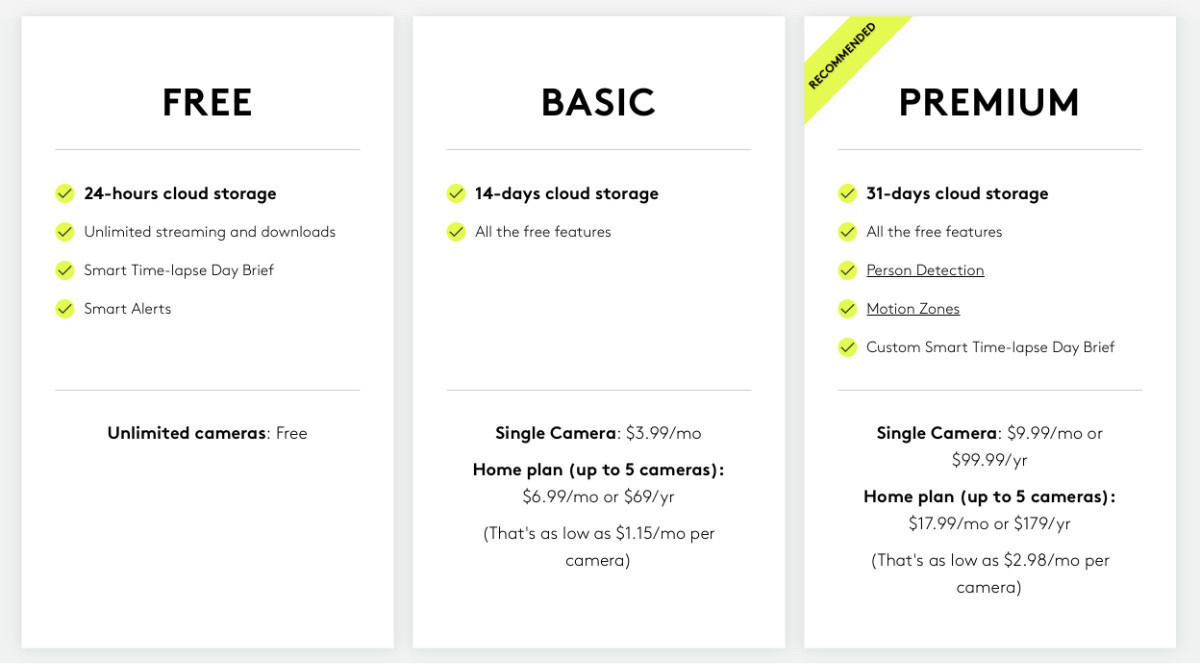 Basic will run you $3.99 per month for a single camera, or $6.99 per month for a family package up to 5 cameras. Premium will run $9.99 a month for a single camera, or $17.99 a month for a family pack up to 5 cameras. In either situation, there are yearly packages that run a bit cheaper.
These subscriptions are pretty par for the course for security camera expanded features, and the discounted family plans are a great option, although it does lock you into buying more Circle cameras rather than any other brand. The free plan is also still plenty good for the casual user who doesn't need so much storage. We do wish additional features came with the Basic plan, however.
Accessories
Logitech offers a whole diverse group of accessories for the Circle 2, that really make it stand out from other cameras. This modularity offers new options for mounting the camera in a variety of locales.
Included in the accessories are a window mount, an outside extension cable, a plug mount, and the new magnet mount. All of these are pretty stellar and serve a clear purpose. When using the window mount, it reduces any glare that might arise otherwise. The plug mount keeps everything compact and reduces the need for the large USB cable.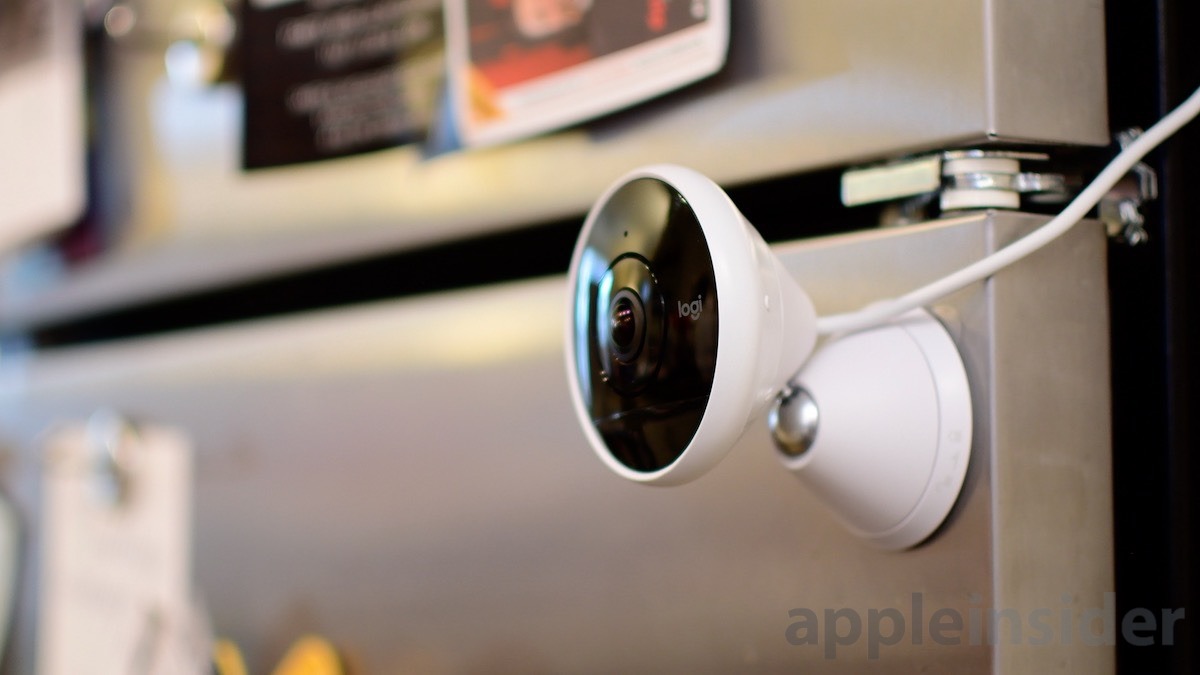 Logitech just recently introduced the magnet mount, which now makes it dead simple to affix the Circle 2 to a rain gutter, light pole, metal door frame, fridge, or any other metal surface. An adhesive magnetic plate is also included so really it could now be mounted anywhere.
Circle 2 versus Omna 180
As the other most prominent HomeKit camera, the Omna is the closest competition that the Circle 2 has. When compared side to side however, there is really no comparison. Circle 2 beats it by a landslide.
Circle 2 can be mounted almost anywhere, whereas the Omna is limited to sitting on shelves or counters. Omna also only offers offline storage by means of a micro SD card. This is pretty inconvenient because if someone were to break in or get access to the camera itself, they could just take the camera and the footage in one fell swoop. Circle 2 at least offers varying degrees of cloud storage for this reason.
Circle 2 has far more alerts than the Omna. Just a small text alert appears for the Omna, where the customizable Circle 2 smart alerts provide a picture of the offending motion.
Both have 1080p video — with the HomeKit caveat as noted above, night vision, 180-degree field of view, two-way communication, and motion detection, but otherwise, the Circle 2 crushes the Omna.
Conclusion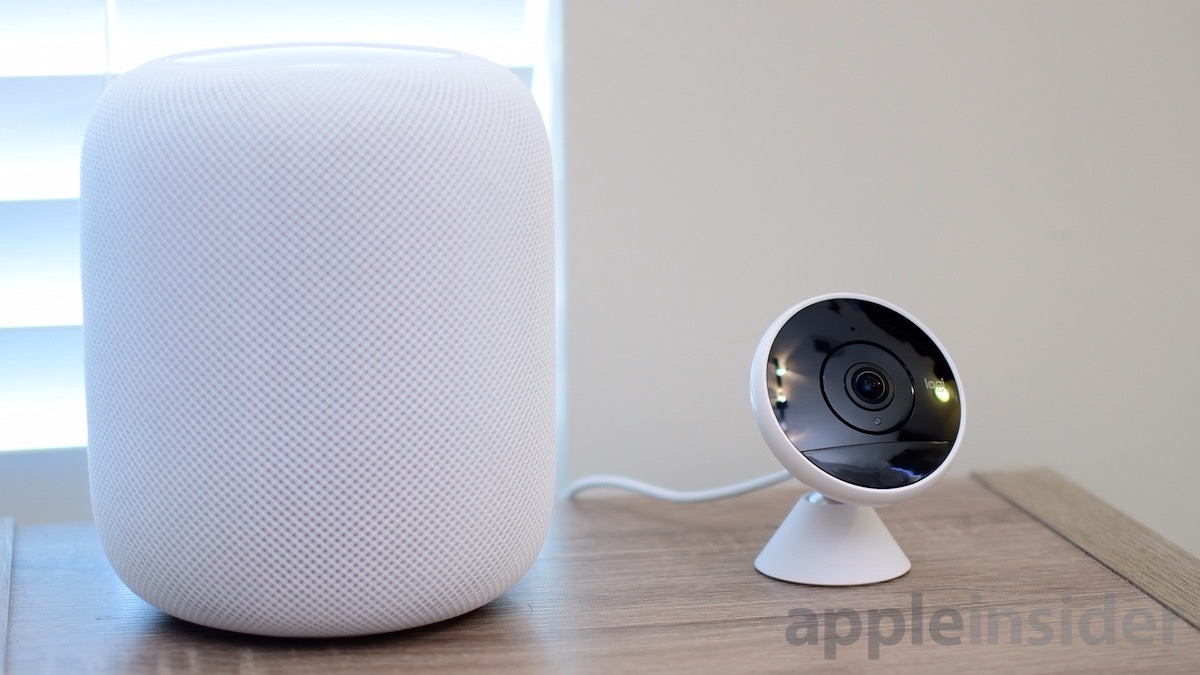 We used the Circle 2 camera for months, and have come to pretty well understand what has worked, and hasn't worked. Our biggest complaint is the HomeKit integration which can be unresponsive at times. It is hard to discern however if this fault lies with Apple, or with Logitech.
Logitech's decision to build some actual power components into the mounts has also led to the accessories being a little more expensive as a result. It would have been nice if some of these accessories were a bit more affordable, as the camera is not too cheap by itself.
In actual use, the camera works very reliably. We receive alerts when we should, Day Brief is super useful when we want to catch up on what has been going on on our door or around our home.
There is no doubt in our mind that the Circle 2 is the best all-around HomeKit camera currently on the market. But, it also doesn't have a lot of competition. The HomeKit camera market is so scarce, we resorted to building our own camera instead.
Circle 2 is a solid camera, and Logitech has been pushing out regular updates to both the camera, and the Logi Circle app, so hopefully, we see additional features and enhancements come in the future.
If you are in the market for a HomeKit camera, currently, you can't do better.
Rating: 3.5 out of 5
Where to buy