UK iPhone privacy lawsuit seeks up to $4.29B from Google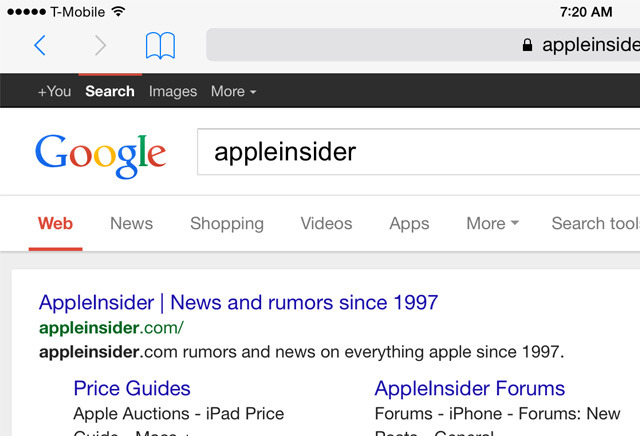 A U.K. lawsuit against Google for bypassing iPhone Web tracking safeguards now includes 4.4 million people listed as plaintiffs, and is aiming for up to 3.2 billion pounds ($4.29 billion) in damages.
The group representing the iPhone owners — Google You Owe Us — is suggesting that individuals could receive up to 750 pounds ($1,006) each in the event of a court victory, Google said in court documents filed during a Monday hearing, according to Bloomberg. The case has yet to achieve "representative action" status, equivalent to a U.S. class action.
At the heart of the dispute is a claim that in 2012, Google intentionally worked around Safari security settings blocking third-party tracking cookies. Advertising is the core of the company's revenue, and it may have been keen to avoid losing the portion represented by iPhone users.
When the case launched late last year, Google You Owe Us claimed that as many as 5.4 million people may have been impacted. The group is being led by Richard Lloyd, a former Executive Director of the consumer watchdog publication Which?, and previously a Special Advisor to the Prime Minister. Lloyd is also a class member of the action, and representing all potential claimants, with support from law firm Mishcon de Reya.
Precedent is likely working against Google, as the U.S. Federal Trade Commission ordered Google to pay $22.5 million for the same offense. A year later, Google reached a $17 million settlement with 37 states and the District of Columbia.
Apple has nevertheless invited Google ads deeper into its ecosystem. Earlier this month Apple gave the go-ahead for publishers wanting to use Google DoubleClick ads in Apple News articles, albeit with extra restrictions. Ads can't include HTML5 or pre-rolls, and demographic targeting is narrower than what DoubleClick would normally support.