Apple has a $250B 'window of opportunity' this 2018 iPhone upgrade cycle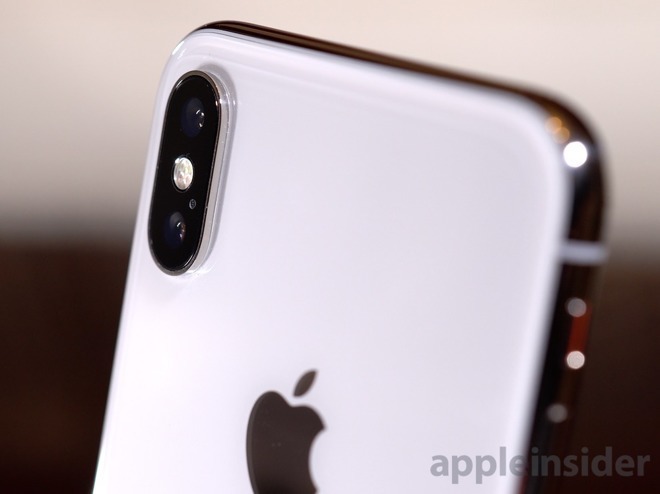 Apple could sell as many as 350 million iPhones in the 18 months following the release of its 2018 lineup, fueled in part by a massive upgrade opportunity from legacy users whose devices have run their course.
The next cycle of iPhones is going to be crucial for Apple, as the company again reaches for a "supercycle" or something like it.
An analyst research note supporting the 350-million-iPhones thesis was obtained by AppleInsider. In it, author Daniel Ives of GBH Insights believes that "the Street is now starting to fully appreciate the massive iPhone upgrade opportunity on the horizon for the next 12 to 18 months with three new smart phones slated for release."
Ives sees 350 million phones as the "window of opportunity" for upgrades, but now it's a matter of which of the models, and which price point, "strikes a chord" with buyers, as the iPhone X moves down and new models take its place.
Projecting the cycle
Going by the current iPhone average sales price of $728.30, as of the most recent quarter, 350 million iPhones would result in over $250 billion in revenue for Apple. The ASP, however, could drop based on the new lineup.
There are many variables at play as to whether the cycle can actually come close to that 350 million figure. A lot of that depends on the range of the 12-to-18-month window. This AppleInsider graph, based off of Apple data, shows the year-by-year sales of iPhones over the last six years. Apple has never sold 350 million iPhones, or even 300 million, in a single year, but has likely come close during some 18-month windows.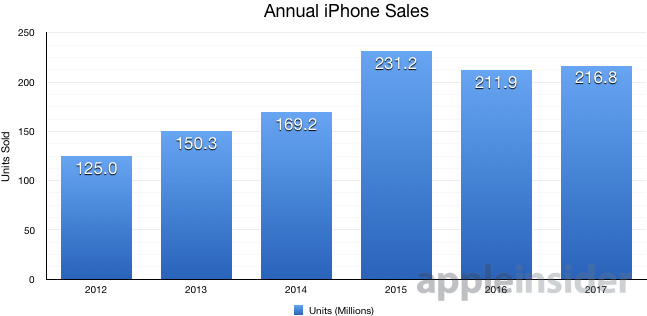 Also in the note, Ives predicts three new iPhone models (5.8 inch to 6.5 inch OLED designs with an LCD model) in the next three-to-six months. These new devices, he says, "will help capture the underlying demand/upgrades among customers that have decided to bypass the 8/8+/X cycle this time around, with price points and features that catalyze fence sitting iPhone customers onto their next smartphone during the course of 2018/early 2019."
The analyst says that next week's WWDC will focus on software, with an "outside" chance that the iPhone SE 2 may appear. Ives also calls Apple's reported decision to use all OLED screens beginning in 2019 "a smart strategic move." He has maintained his "Highly Attractive" rating and $200 price target for Apple.