Apple reports best March quarter ever with $61.1B in revenue, 52.2M iPhone sales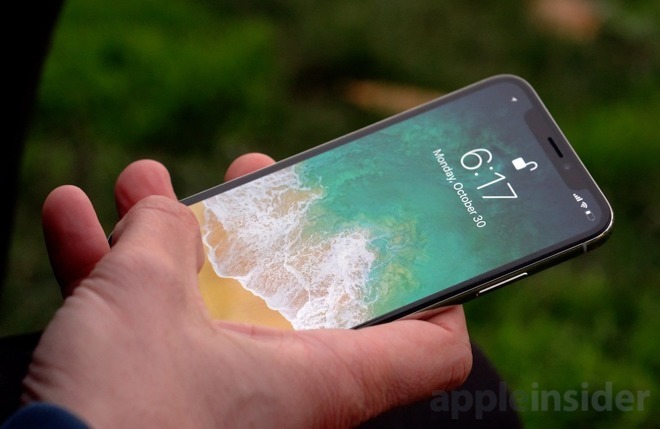 Apple on Tuesday revealed its second quarter results of fiscal year 2018, earning $61.1 billion in revenue, and an earnings-per-share of $2.73 again showing year-on-year growth, with the average selling price of the iPhone staying high above $700.
During the March quarter, Apple shipped 52.2 million iPhones, up 3 percent year-on-year from the 50.8 million units shipped in the same period in 2017. Continuing the revenue increase from the first quarter, due to the increased unit price of the iPhone X, iPhone sales earned Apple $38 billion alone, with an average selling price (ASP) of $728.30, up from the $655 in Q2 2017, but down from the $796.42 reported in the first quarter this year.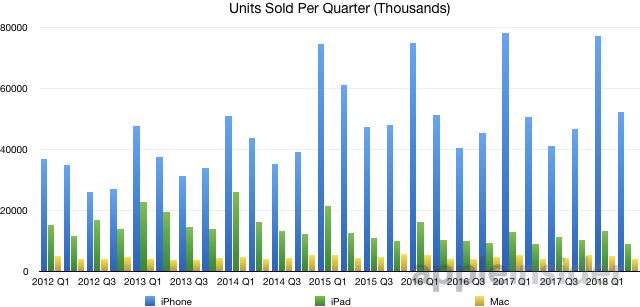 Wall Street expected iPhone revenue to rise 13 percent year-on-year to $39.2 billion, and while unit sales were predicted to rise by a few percent for the period, the iPhone X was believed to help push revenue and the ASP higher during its first full quarter of sales, potentially in the region of $740. Analysts have also previous warned investors the seasonal sales rush ended earlier than normal, which would further affect results.
"Customers chose iPhone X more than any other iPhone each week in the March quarter, just as they did following its launch in the December quarter. We also grew revenue in all of our geographic segments, with over 20% growth in Greater China and Japan," Apple CEO Tim Cook said.
The iPad brought in $4.1 billion in revenue during the quarter, up 6 percent year-on-year from $3.9 billion, with sales of 9.1 million units up year-on-year by 2 percent from 8.9 million. Given the new 2018 iPad shipped at the end of March, it is unlikely the new iPad made much of an impact on the figures for this quarter.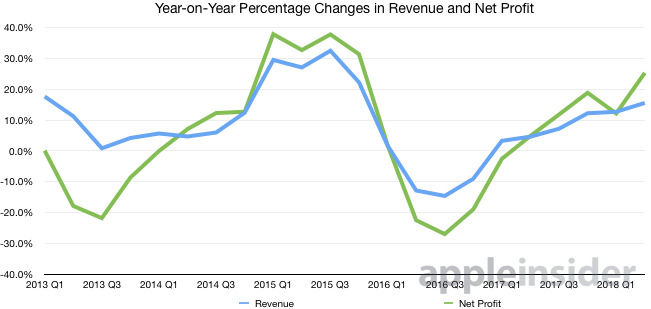 The ever-growing Services arm is continuing to swell, with revenue of $9.2 billion representing a year-on-year increase of 31 percent from last year's reported $7.0 billion. Previously the Services sector reported double digit year-on-year growth for the last 11 consecutive quarters, making it a sizable and quite predictable source of revenue for Apple.
Analysts forecast services would grow to around $8.5 billion for the quarter, equating to a year-on-year growth of approximately 21 percent.
Mac sales were slightly down from the 4.2 million reported one year ago, resting this year at 4.1 million. Revenue of $5.8 billion remains static from last year.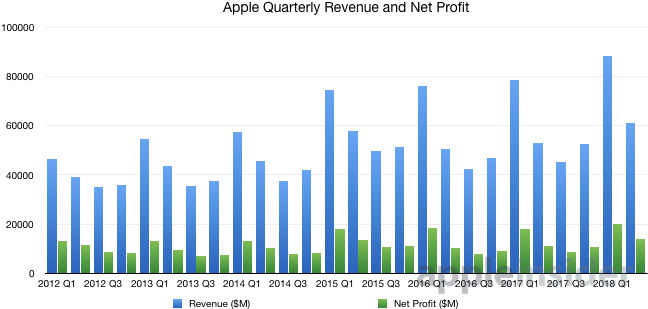 Wall Street is keen to see improvements in Apple's "Other" segment, which covers other products like the Apple Watch and HomePod, but isn't usually broken down further. While it couldn't match last quarter's $5.5 billion in revenue, it still showed year-on-year improvement from $2.9 billion, earning Apple $3.95 billion.
Overall revenue for the quarter of $61.1 billion is up 16 percent year-on-year from $52.9 billion, making this the sixth quarter in a row of revenue growth. Last quarter, Apple forecast revenue to land between $60 billion and $62 billion, while Wall Street anticipated revenue of $61 billion, right in the middle of Apple's estimate.
For the next quarter, Apple's forecast puts revenue between $51.5 billion and $53.5 billion, with a gross margin of between 38 and 38.5 percent. Operating expenses of between $7.7 billion and $7.8 billion and an effective tax rate of 14.5 percent are also anticipated.
Apple stock prices shot up about four percent in after-hours trading following the earnings report.