Apple has paid out $100 billion to developers since the App Store's inception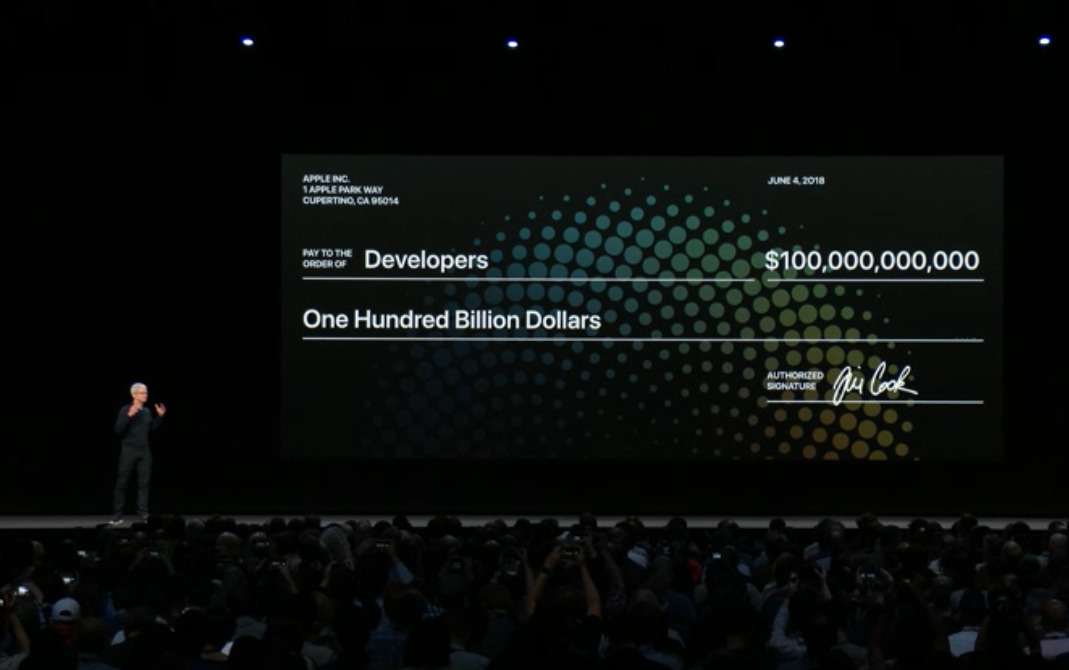 The App Store will be hitting a new milestone later this week, Apple CEO Tim Cook revealed at WWDC, with payments to developers expected to pass the $100 billion barrier within the next few days.
Speaking on stage during the WWDC 2018 keynote, Cook revealed to the audience the growth of the App Store, ahead of its 10-year anniversary that will occur in July. In that time, the App Store has become the world's largest app marketplace, and has become a considerable source of revenue to developers around the world.
"In these 10 years, the App Store has fundamentally changed the way we all live", said Cook. "It's spawned new industries, new companies and changed lives."
The company also announced the App Store is currently serving over 500 million visitors each week, helping it achieve the upcoming $100 billion revenue milestone. "This is beyond remarkable, the App Store is clearly the best place for you to be rewarded for your hard work and creativity," Cook added.
Cook then went on to talk about its efforts to teach people how to code, using Swift. Highlighting Swift Playgrounds, Apple's learning tool for the programming language, Cook called Swift the "fastest-growing programming language out there," with over 350 thousand apps created using the language.
"We believe coding is an essential skill that should be taught in every school in the world. That's why we created Everyone Can Learn to Code. It's been so successful it's now available to tens of millions of students around the world. We're sure it's going to change the world."
Can't watch Apple's livestream of the keynote? AppleInsider has you covered with a live blog covering all the announcements.