Apple rebrands iTunes Connect as 'App Store Connect,' adds new app management features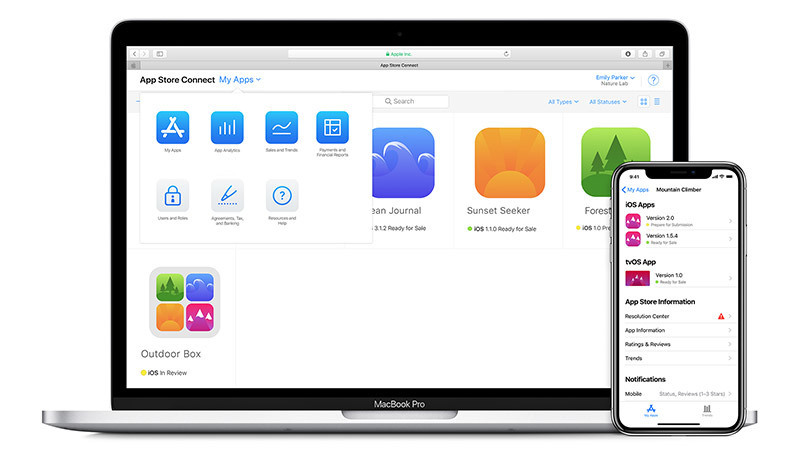 Apple on Monday introduced developers to App Store Connect, a streamlined process for submitting, monitoring and managing App Store titles from the web and, with the help of a new iOS app, iPhone and iPad.
Detailed on a dedicated webpage, App Store Connect is more than a rebranding of iTunes Connect, Apple's long-in-the-tooth app management suite. The replacement incorporates the same high-level tools to launch and manage App Store titles, but includes a number of enhancements that makes the process both more robust and user friendly.
Using the web interface, developers are able to deploy new apps and updates, create product pages with screenshots and previews, and enable in-app purchases. Prior to submitting an app for review, coders can view uploaded app builds using Xcode, altool or Application Loader, then distribute the material to testers via TestFlight.
The interface is also where developers publish apps, or schedule apps for publishing, and set special distribution settings like subscriptions, pre-orders and introductory pricing.
Both App Store Connect for the web and its companion iOS app, which was released today, apply App Analytics to aggregate key insight into app performance including sales data and downloads.
The new App Store Connect app notifies developers of new App Store reviews, to which responses can be written using Resolution Center. Also incorporated are store management features for keeping tabs on released and unreleased titles.
Apple plans to enable additional capabilities in the near future, according to its website. Developers will soon be able to invite users to beta test apps in TestFlight with a simple link, while simplified team access promises enhanced project collaboration. Also on the docket is a new REST API to automate tasks.
The company plans to detail future App Store Connect features at a WWDC session on Wednesday.