iOS 12 brings iPhone X gestures to the iPad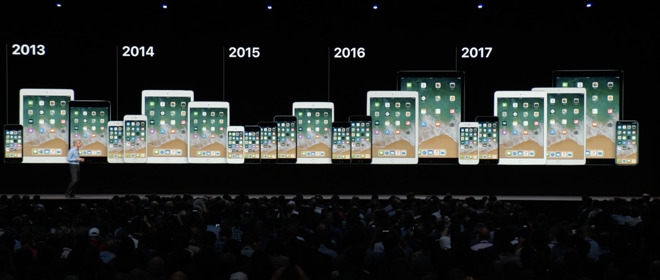 AppleInsider may earn an affiliate commission on purchases made through links on our site.
With iOS 12, users will be able to swipe up to the home screen and perform the rest of the iPhone X user interface gestures, which may indicate a home button-free future for the next generation of iPads.
Many of the iOS gestures that debuted last year with the iPhone X will come to a wider variety of devices later this year when iOS 12 is released, including the iPad, AppleInsider has confirmed after downloading the beta to a first-generation iPad Pro. New gestures that debuted in the iPhone X, released late last year, included swiping up from the gesture bar to get to the lock screen, and swiping up again to reach the home screen.
In order to get to the switcher, users can also swipe up from the gesture bar and pause. In addition, swiping down from anywhere on screen will open the app that's in the center.
While AppleInsider's video was shot on an iPhone X, the gestures remain the same on iOS 12 on the iPad.
The future of iPads
The iPad adopting iPhone X-like gestures may indicate that the the next generation of iPads could be subtracting the home button as well.
Rumors earlier this year had placed a high-end iPad Pro with Touch ID and home button stricken and replaced by TrueDepth and FaceID on Apple's schedule as early as WWDC, although that timing did not come to pass.
What's in iOS 12
The iOS 12 portion in Monday's keynote focused on a "doubling down" of performance, as well as the introduction of such new features as device-to-device augmented reality, group FaceTime chats, improved Siri, and new features for managing device usage, including Do Not Disturb during bedtime and individual app time limits.
iOS 12 will arrive on devices sometime this fall.