65+ new features in watchOS 5 for Apple Watch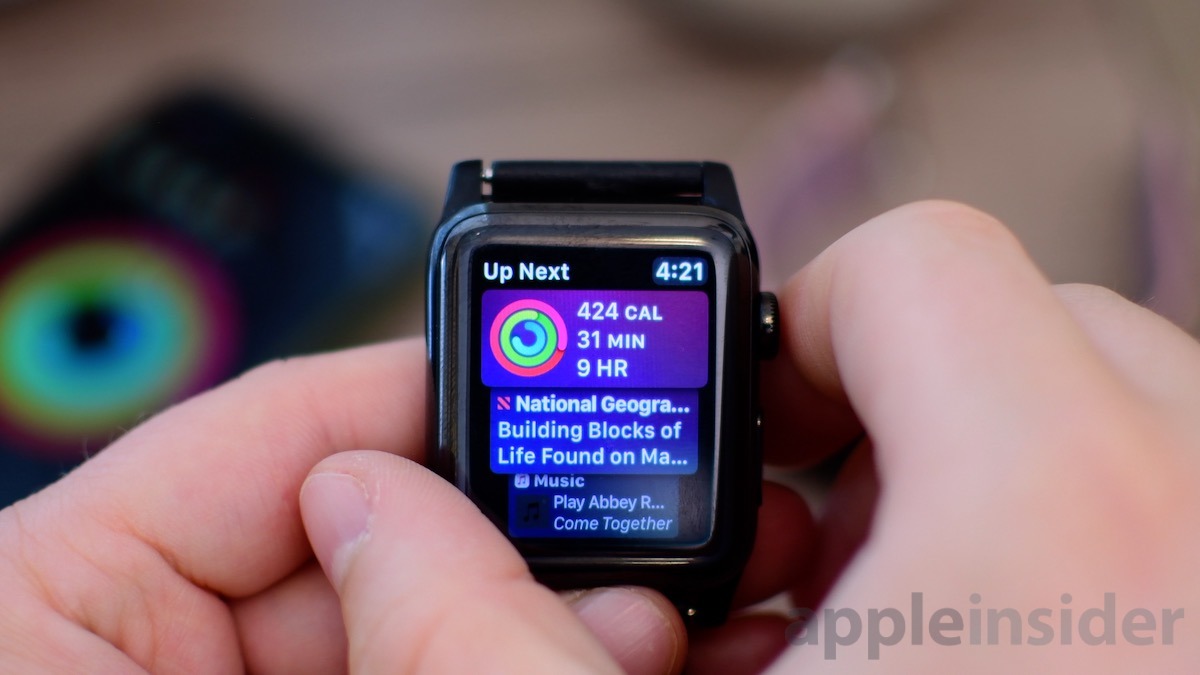 watchOS 5 is Apple's latest major release for Apple Watch, and it is releasing for everybody on Monday! In this update are a number of new features that aim to make the Apple Watch experience better, as well as making it more independent of the iPhone.
Headline features of watchOS include a new Walkie Talkie app for chatting with friends and family in real-time, a new Podcast app, smart Siri watch face, support for Siri Shortcuts, and better notification management. See all the changes for yourself in our hands-on video.
Watch Faces

Smarter Siri watch face
Siri watch face data sources: Activity, Alarms, Breathe, Calendar, Favorite Teams, Health, Heart Rate, Home, InCallService, Mail, Messages, Music, News, Notes, Now Playing, Photos, Podcasts, Reminders, Stocks, Stopwatch, Timer, Wallet, Weather, & Workout.
Now supports third party apps
New color scheme (gray) for Siri watch face
Solar watch face supports two complications
Memories in Photo face
Podcasts complication

Podcasts

New Podcasts app
Control playback on the iPhone from Apple Watch

Weather

Now can add city on watch
Tapping switches the metric instead of going to 10 day forecast
UV index metric
Air Quality metric
Wind speed metric
Wind direction metric
Scroll to view 10 day forecast

World Clock

Add cities from watch
Remove city by Force Touching

Stocks

Add stocks from watch
Force Touch to remove stock

Messages

New category organizer for emoji
New UI for dictation, Scribble, emoji, sticker picker, Digital Touch, and Apple Pay

Walkie Talkie

Whole new app to chat

Wallet

Student ID cards in Wallet

FaceTime

Answer FaceTime calls (or Group FaceTime calls) as audio on Apple Watch

Workouts

Autostart workout reminder
Auto stop workout reminder
Retroactive workout credit
All new yoga workout
New hiking workout
Pace measuring while running
Pace alerts while running
Rolling milestones
Cadence while running
Oval-shaped buttons
Challenges for friends and family
Personalized coaching during challenges
Improved API

Activity

New awards tab on iPhone
Flights climbed
Slightly new UI (darker background)

Settings

New Wi-Fi category
Choose Wi-Fi network
Wake Screen on Crown Up toggle under Wake Screen settings
Do Not Disturb features in iOS 12 show after giving Calendar permission
Website data section
Clear website data
Raise to speak toggle under Siri
Voice Feedback for Siri on, control with silent mode, headphones only
Control Siri volume
Siri voice text
Start workout reminder toggle
Stop workout reminder toggle
Less regulatory info

System

Gradient and animation when opening notifications
Grouped notifications
Notification Instant Tuning
Improved notifications - do more, reply in notifications, check-in, change reservations, etc.
Notifications and Control Center are "bouncier"
Background audio API
Audio Controller API
Parkinson's Research API
Editable Control Center
Support for Siri Shortcuts created on iOS
(View websites on Apple Watch)
Raise to speak Siri
Hindi localization
Apple's watchOS 5 was revealed at WWDC18 alongside iOS 12, macOS Mojave, and tvOS 12. watchOS 5 will support all models of Apple Watch except the original "Series 0" model, which will be staying on watchOS 4.
All of Apple's latest updates are set to be released later this fall. Stay connected with AppleInsider as we delve through the releases in the weeks and months to come.