Testing the speed of iOS 11 versus iOS 12 on the iPhone 6 and iPad Mini 2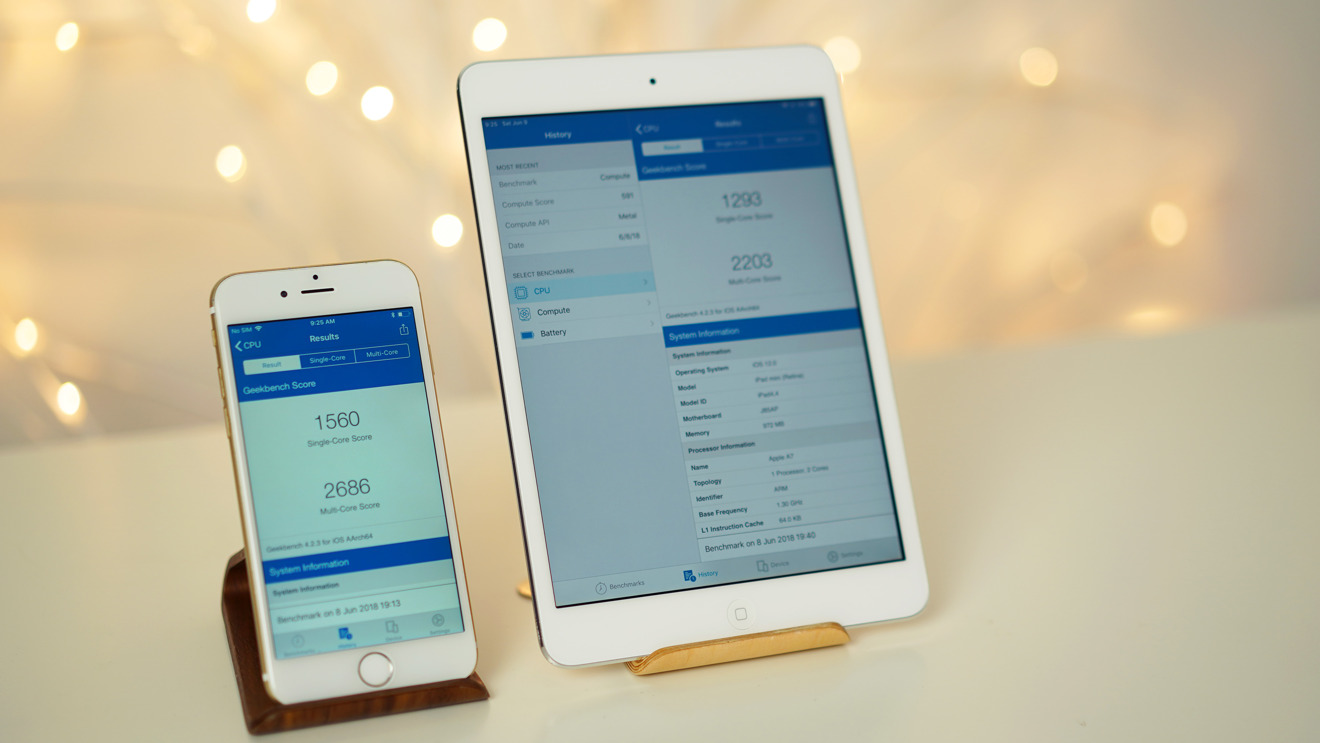 Apple made some big speed improvement claims regarding iOS 12 on older devices, like as some apps launching twice as fast, and CPU ramp-speed increasing across not just older devices, but also newer ones as well. AppleInsider puts the claims to the test.
If your device supports iOS 11 that means you'll be able to run iOS 12. That means that if you have devices like the iPhone 5s and iPad mini 2 reaching back to September 2013, you're set!
We already pitted Apple's flagship iPhone X running iOS 11 against one running iOS 12, but for this one, we wanted to see how much of an improvement we'll get with older devices.
For our iPhone test we used the iPhone 6, along with the oldest tablet to support iOS 12, the iPad Mini 2. The iPad Mini 2 uses the same A7 processor as the iPhone 5s so there are performance parallels.
Starting from completely shutdown, iOS 12 launches about two seconds quicker on the iPad mini 2 than on iOS 11. Moving around on the home screen it's also much smoother and more responsive.
Last year's iOS 11 is almost unbearable to use with consistent stuttering and slowdowns. Opening up the camera app the launch speeds are similar between the two operating systems.
We launched Geekbench 4, and the CPU test finished with a similar score of 1295 single core and 2179 multi-core in iOS 11.4 and 1293 single core, 2203 multi-core in iOS 12.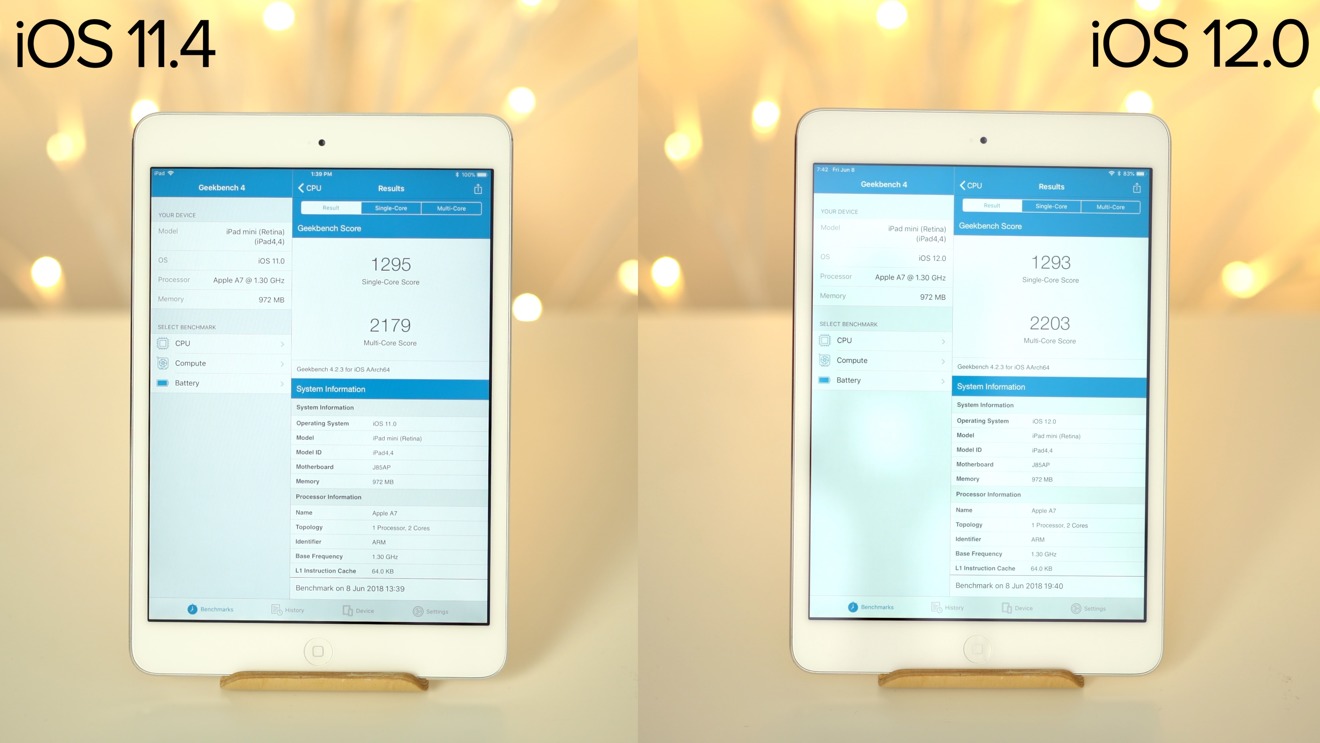 The GPU compute benchmark finished with slightly higher score of 591 in iOS 12 vs. 588 in iOS 11.4. Our iPhone X running iOS 12 scored 17,198, over 20% faster than 14,314 in iOS 11.4.
We tested three games starting with "Angry Birds 2" which took 19 seconds to launch in iOS 12 and 31 seconds running iOS 11.4. Next was "Pokemon Go" which took 39 seconds to launch with either OS. Asphalt 8 was the last game we tested, taking 32 seconds with both versions of iOS.
At this time we started to notice a trend where the Apps starts to launch quicker on iOS 12, almost instantly after we tap on it, where it takes a few moments longer with iOS 11.4. This could be a result of the faster CPU step-up Craig Federighi mentioned in his presentation.
We see this once more moving on to the native news app, iOS 12 is more responsive but oddly news loads faster under iOS 11 taking 8 seconds vs 12.
The next 5 apps, iBooks and Books, the Appleinsider app, Amazon Prime Video, Google Drive, and YouTube all launch about one second faster under iOS 12. Finishing off with "TV," iOS 11.4 takes 5 seconds longer to launch versus iOS 12 — 11 seconds vs 6.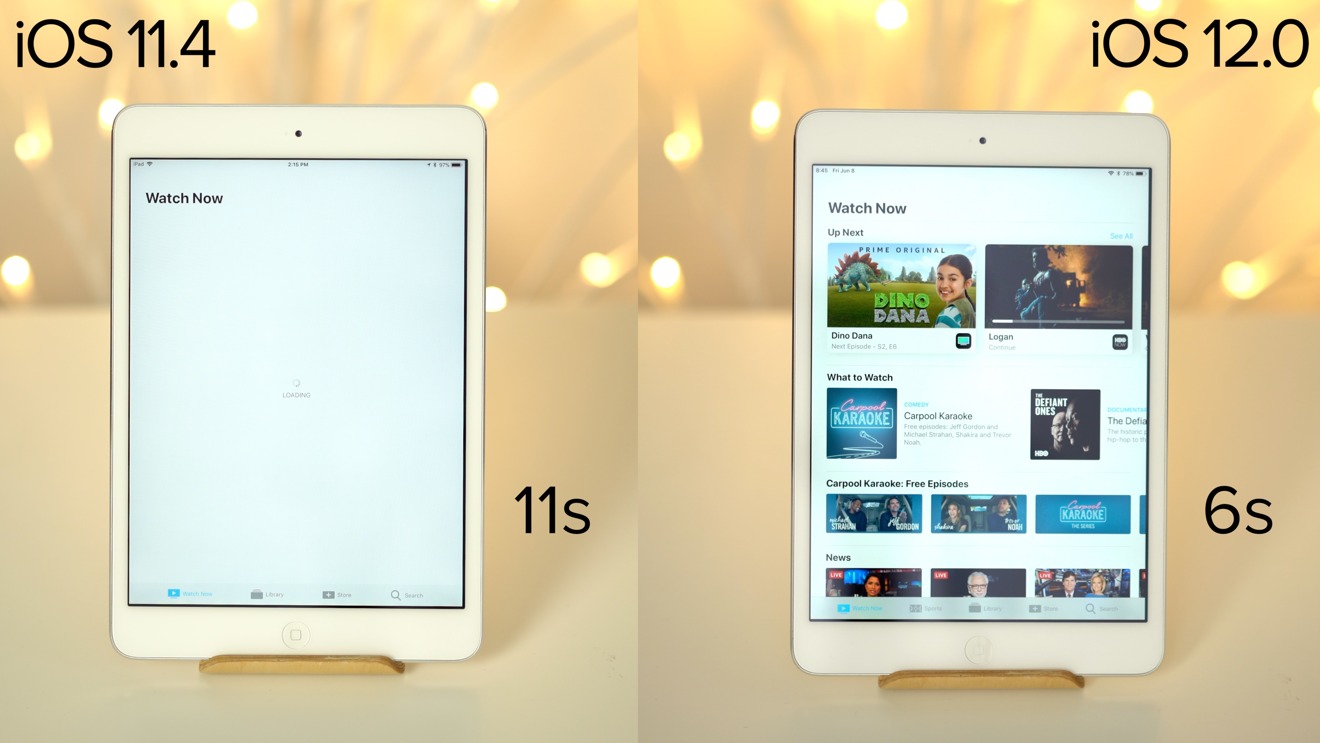 We then wanted to see if iOS 12 had an improvement in RAM management, which could result in more apps staying opened in the background.
We ran through all the apps once more. Both OS versions managed to keep each app open until we go back to "Pokemon Go" which had to be reloaded under both OS.
iPhone 6
Moving onto our iPhone 6, iOS 11.4 managed to launch 6 seconds quicker. The newer iOS 12 was slightly smoother and more responsive, but nowhere near the subjective difference we saw with the less powerful iPad mini 2.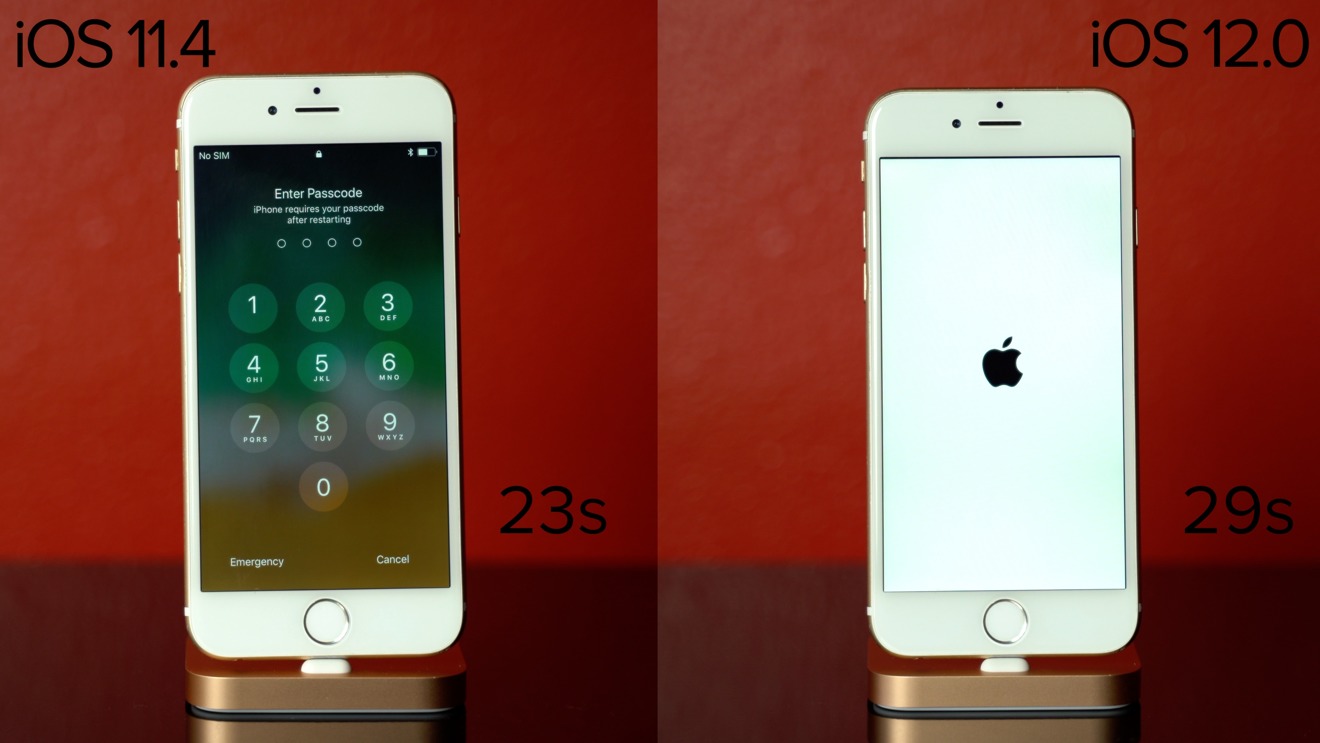 Apple's Camera app opened slightly quicker in iOS 12.
Once again, our Geekbench 4 CPU and GPU scores were almost the same under both versions of iOS. The CPU test resulted in 1560 Single core and 2686 multi-core in iOS 11.4, 1545 single core and 2722 multi-core in iOS 12. GPU results were 4213 in iOS 11.4 and 4248 in iOS 12.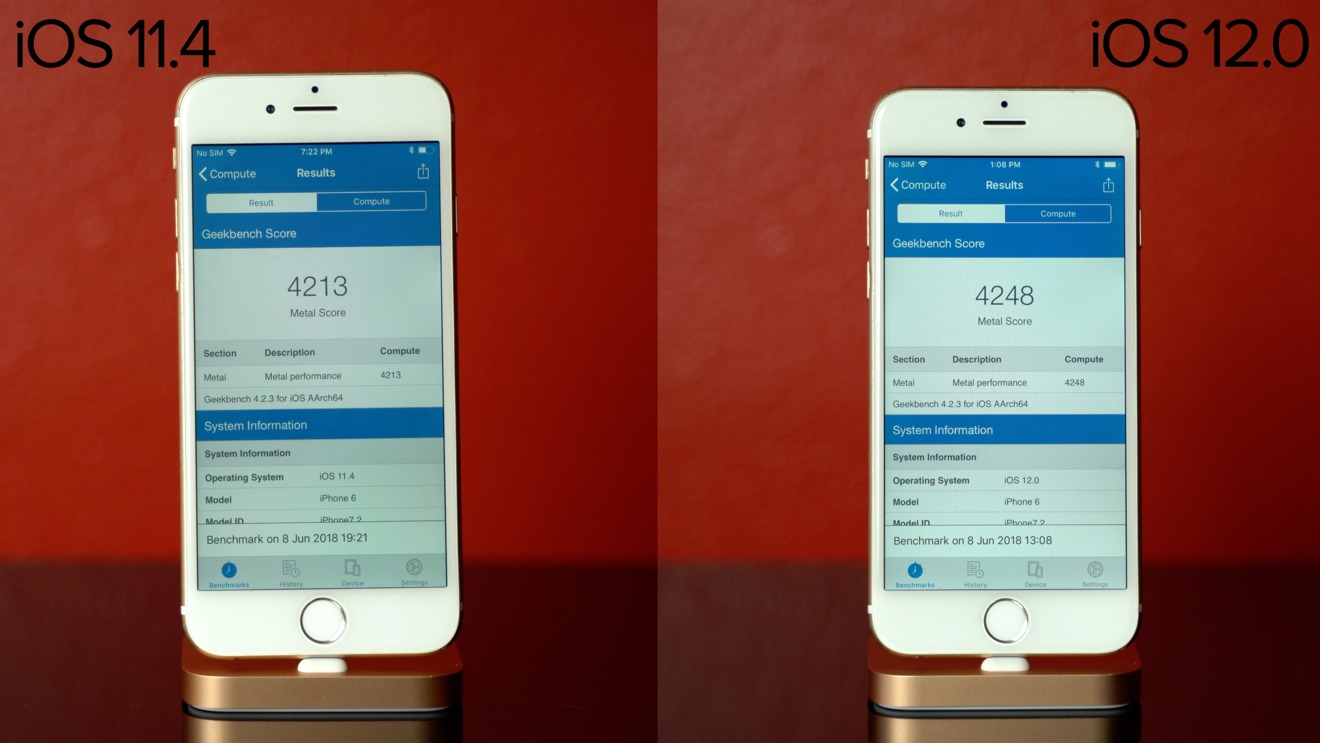 "Angry Birds" once again launched much quicker under iOS 12, taking 40 seconds compared to 41. iOS 11 launched "Pokemon Go" about 1 second faster, and launched "Asphalt 8" about 4 seconds faster, with News, Books, and the Appleinsider app also firing up slightly faster.
Amazon Prime Video, Google Drive, and the YouTube app were a bit faster under iOS 12, where the App Store took two seconds longer to launch with the latest OS. And to finish off, the TV app once again took 5 seconds longer using iOS 11.4.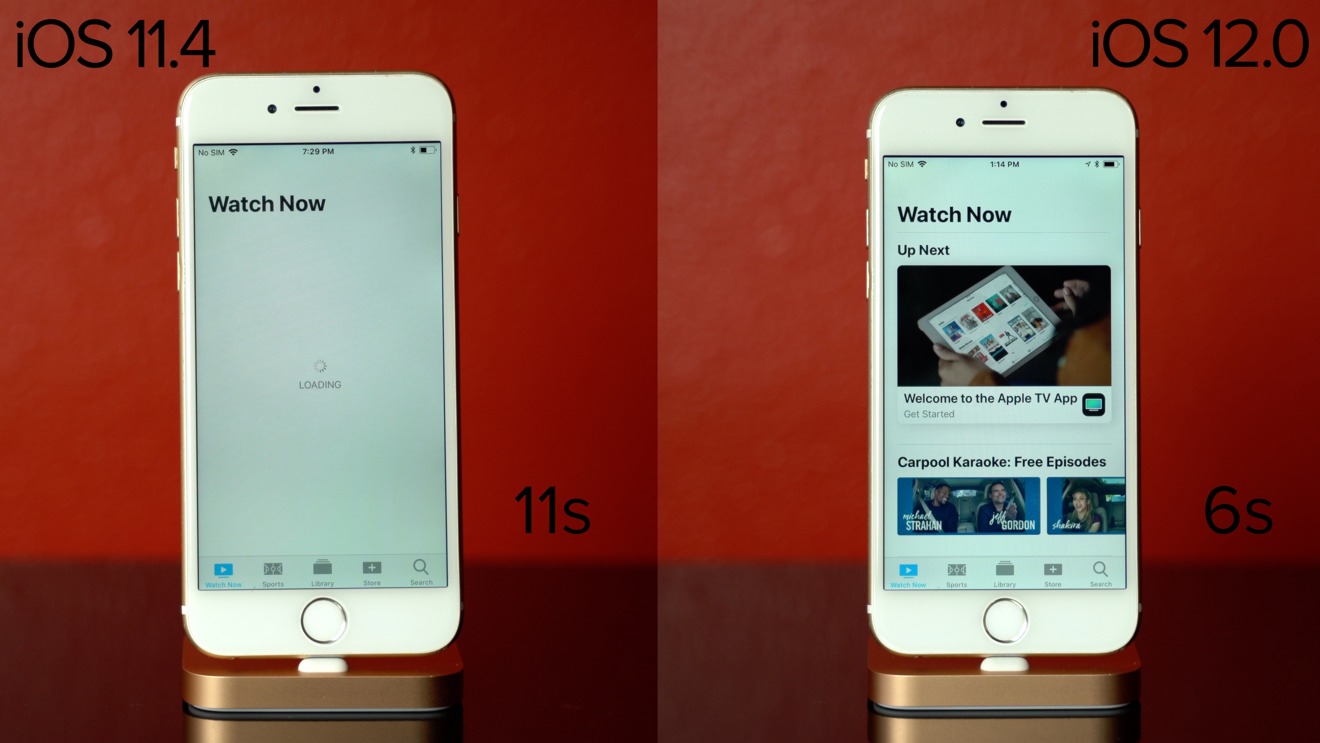 To check RAM management, once again we re-launched each app and the results were the same, both keeping all apps but just one game open in the background.
iOS 12 breathed new life into our iPad mini 2, which was almost unbearable to use under OS 11. If you're someone with an older iOS device the release of iOS 12 is great news, and we applaud Apple for their focus on performance and not dropping compatibility for older devices.