Apple Pay 'fast lanes,' exclusive deals pop up at prominent summer festivals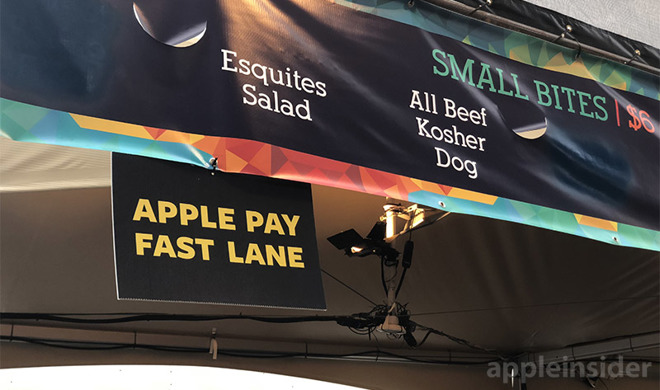 AppleInsider may earn an affiliate commission on purchases made through links on our site.
In what appears to be a new marketing thrust, Apple Pay is being accepted at concession stand "fast lanes" operating at major concerts and festivals this summer, offering customers a quick and easy option to pay for food and drink.
Apple Pay fast lanes are being advertised by event coordinators at BRIC's Celebrate Brooklyn! Festival in New York this week, and the effort looks to be paying off for iPhone and Apple Watch owners.
Festivalgoers attending the concert series can look for Apple Pay "fast lanes" at concession stands dotting the perimeter of the Prospect Park Bandshell grounds. The special lines are much shorter than those for customers paying through conventional means, but whether that is a result of Apple Pay's streamlined transaction process or a dearth of Apple Pay users is unclear.
Some stands are also offering exclusive food and drink deals when customers make a purchase with Apple's payment service. A beverage booth, for example, is handing out one free water with every Apple Pay purchase, while the Bandshell Bites stand is holding a daily special that grants customers three food items for $22, a $2 savings.
In addition to faster service and deals, employees wearing Apple Pay T-shirts are on site to make sure iPhone and Apple Watch owners are properly set up to complete their transactions. It is unknown if the representatives are official Apple staff or event workers, though the effort appears to be backed in part by the tech giant.
Point of sale terminals used to process Apple Pay transactions differ from booth to booth. Some rely on Square hardware and others are using Clover Mini units, though all are adorned with Apple Pay stickers and other marketing material.
Celebrate Brooklyn! is the second major festival this summer to feature Apple Pay fast lanes. The Firefly Festival, which wrapped up on Sunday, pushed the dedicated payment lines as a speedy alternative to credit card and cash last week.
Fast lanes are not to be confused with Apple Pay order ahead integration. That system ties in with an event's app, allowing customers to place food and beverage purchases from their iPhone, then pick up the order from a dedicated window. Order ahead was tested earlier this month at the BottleRock music festival near San Francisco, the same venue where dedicated Apple Pay fast lanes first appeared last year.