Apple, other tech firms met with intelligence officials to prepare for midterm elections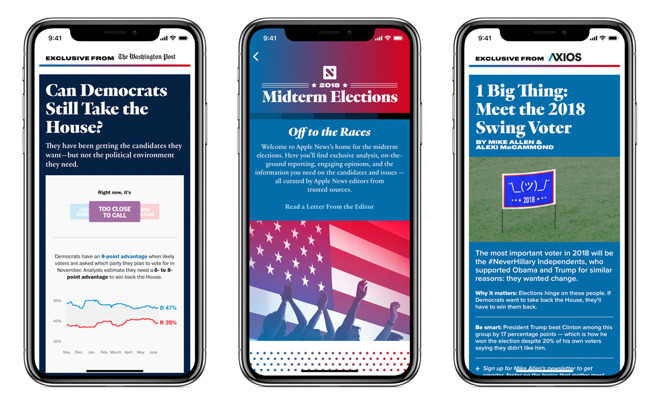 Eight tech giants, including Apple, met with U.S. intelligence officials at Facebook's California headquarters last month to discuss this year's midterm elections and prepare for potential interference from Russia and other foreign governments.
Citing sources who attended the meeting, The New York Times reports representatives from Amazon, Apple, Facebook, Google, Microsoft, Oath, Snap and Twitter took part in the May 23 meeting at Facebook's Menlo Park campus.
The tech companies discussed the upcoming election season with Christopher Krebs, an under secretary for the Department of Homeland Security, and an unnamed representative of the Federal Bureau of Investigation's "foreign influence" task force, the report said.
The meeting, whose atmosphere was described as "tense," was the first between tech companies and government officials to address the specter of outside meddling in the coming midterm elections. Ostensibly, government agencies are loath to have a repeat of the 2016 presidential election, when Russian agents leveraged social media platforms to spread misinformation to millions of voters.
What, exactly, was discussed during the May assembly is unknown. Sources say tech company representatives divulged details regarding disinformation campaigns on their respective platforms in what they hoped would be a tit for tat exchange. Federal officials, however, were unwilling to share information about potential threats.
While Russia sought to influence American voters via a variety of mediums during the 2016 presidential campaign, Facebook caught the brunt of blame for allowing foreign entities to run divisive advertisements and maintain suspect accounts on the service. Twitter was also impacted by the country's dealings, as Russia's Internet Research Agency conducted disruptive operations designed to foment disputation over hot-button political topics.
Perhaps not coincidentally, Apple on Monday released a new curated Apple News section dedicated to upcoming midterm election coverage. Articles that appear in the section are picked by human editors, not computer algorithms, ensuring a higher level of oversight than competing news aggregation services. Readers will be able to select from a variety of sources — conservative, liberal and centrist — as well as exclusive articles written specifically for Apple News.
Editor's note: Due to its political nature, comments for this article have been closed.