Alleged 'A12' benchmark for 2018 iPhone with 4GB RAM pops up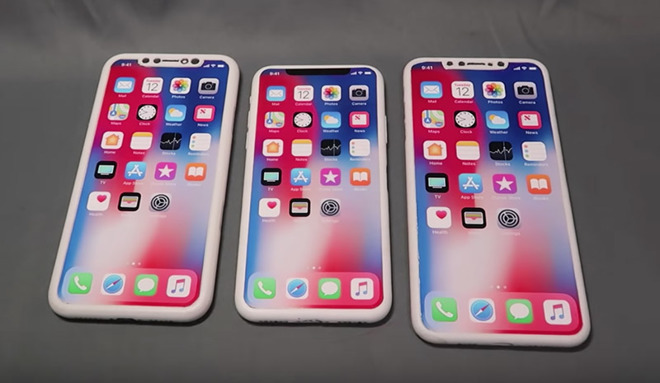 A set of benchmarks allegedly produced by an unreleased iPhone have been published, with the supposed results suggesting the A12 processor in at least one of the fall refresh iPhones will have six cores, and be supported by 4 gigabytes of memory.
The benchmark results from Geekbench 4, spotted by iGeneration, identifies the mystery device as "iPhone11,2," and was published on June 27. It is unclear which of the three rumored iPhones thought to be shipping this fall were the subject of the testing.
According to the results, the iPhone scored 4,673 in terms of single-core performance, 10,912 in multi-core testing, and a Compute score using Metal of 21,691. For reference, the iPhone X scores an average of 4,206 and 10,128 in the single and multi-core tests respectively, and a Compute score of 15,234.
The system information for the device claims the ARM-based processor has six cores, with a base clock of 2.49GHz, up from the iPhone X's A11 Bionic clocked at 2.39GHz. It is also notable that the processor in the unidentified iPhone has four times the L1 instruction and data cache of the iPhone X, measured at 128 kilobytes, but the same 8 megabytes of L3 cache.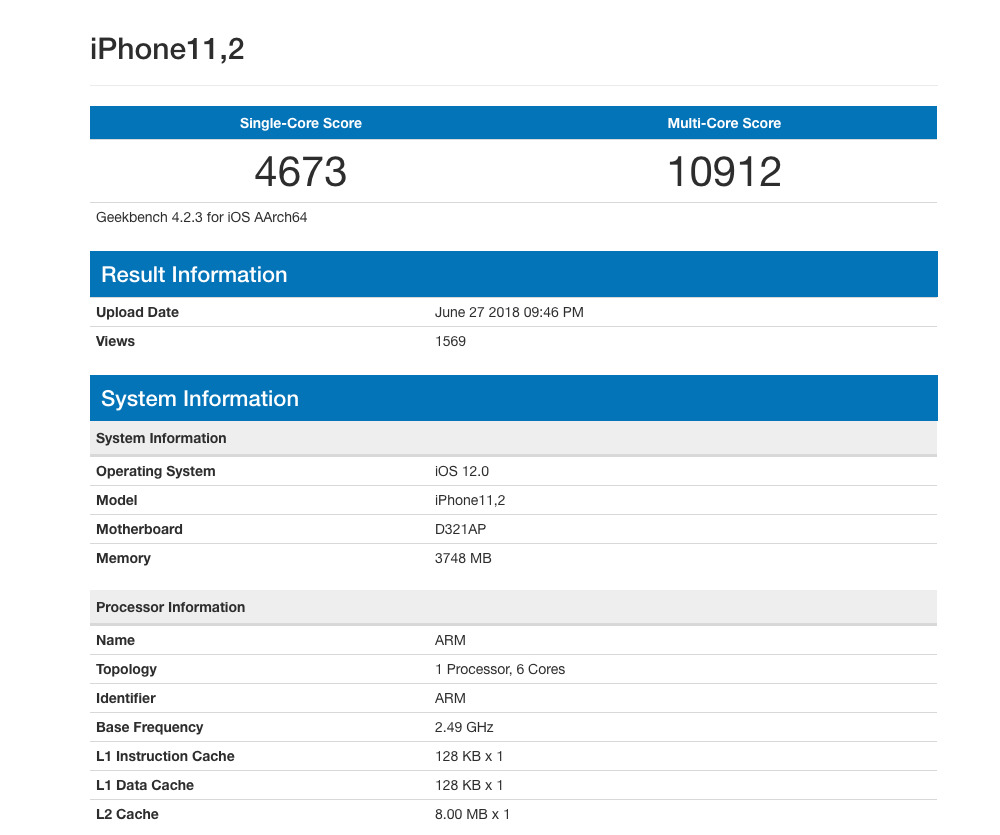 At the same time, the supposed iPhone also seems to have more RAM than the iPhone X, reporting 3,748 megabytes versus 2,815 megabytes. This suggests that Apple could be moving from 3 gigabytes to 4 gigabytes in the new iPhone.
While benchmarking tools are generally trustworthy when it comes to leaks and rumors, it is still possible for the devices that pop up in benchmark listings to be faked, or more generously, an internal prototype that has different specifications to the final release candidate.
The existence of benchmarks are also not a guarantee that a specific type of Apple product is arriving soon. For example, benchmarks for a "MacBookPro14,3" appeared on GeekBench shortly before WWDC 2018 commenced, suggesting a MacBook refresh could be announced during the developer conference, an announcement that did not arrive.
Apple is expected to be debuting three new iPhone models later this year, centered around a refreshed iPhone X, alongside an "iPhone X Plus" equipped with a 6.5-inch OLED screen. The third iPhone is thought to be a low-cost model using a 6.1-inch LCD screen, and with restrained specifications to match.