Complete 2018 MacBook Pro teardown shows off six-cell battery, bigger speakers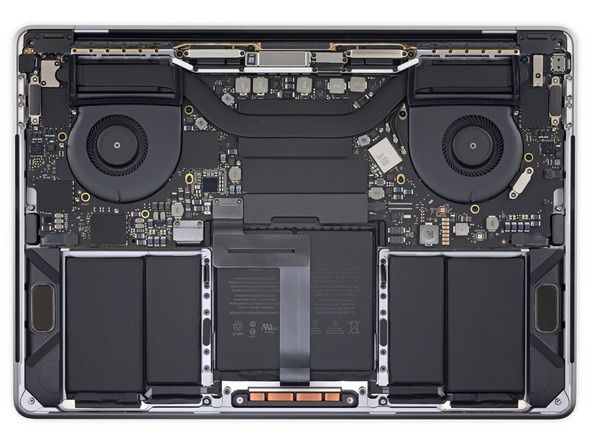 AppleInsider is supported by its audience and may earn commission as an Amazon Associate and affiliate partner on qualifying purchases. These affiliate partnerships do not influence our editorial content.
Finishing up its teardown of the latest 13-inch MacBook Pro, iFixit on Monday noted that the computer has bigger battery and speaker components, which appear to have come without an increase in overall weight.
The system has upgraded from a five-cell, 49.2 watt-hour battery to a 58 watt-hour six-cell part, the repair firm said. The battery is indeed slightly heavier, up to 232.7 grams (8.2 ounces) versus 196.7 (6.9 ounces). Updated speakers are both "longer and narrower," to the point that they bump up against the logic board.
To compensate, Apple appears to have cut some mass off of the top case, iFixit indicated.
The teardown mostly illustrates expected features of the Pro, such as its T2 co-processor for functions like "Hey Siri," security, and boot operations. One other point of interest however is its modified power adapter, model A1947, which has more shielding as well as added impact-resistant foam, at the expense of switching from a metal USB-C port to plastic.
The Pro is as hard as ever to repair, with a soldered processor and memory, and the upper case — including the battery, keyboard, and speakers — forming a single unit. The one significant improvement is said to lie in the trackpad, which can be removed by extracting several Torx screws.
Apple's new Pros have a variety of upgrades over 2017 models beyond standard processor and memory upgrades. These include Bluetooth 5.0, and the first use of True Tone color balancing on a Mac.