Apple crime blotter: Find my iPhone locates carjacker, iPhone X chase, and more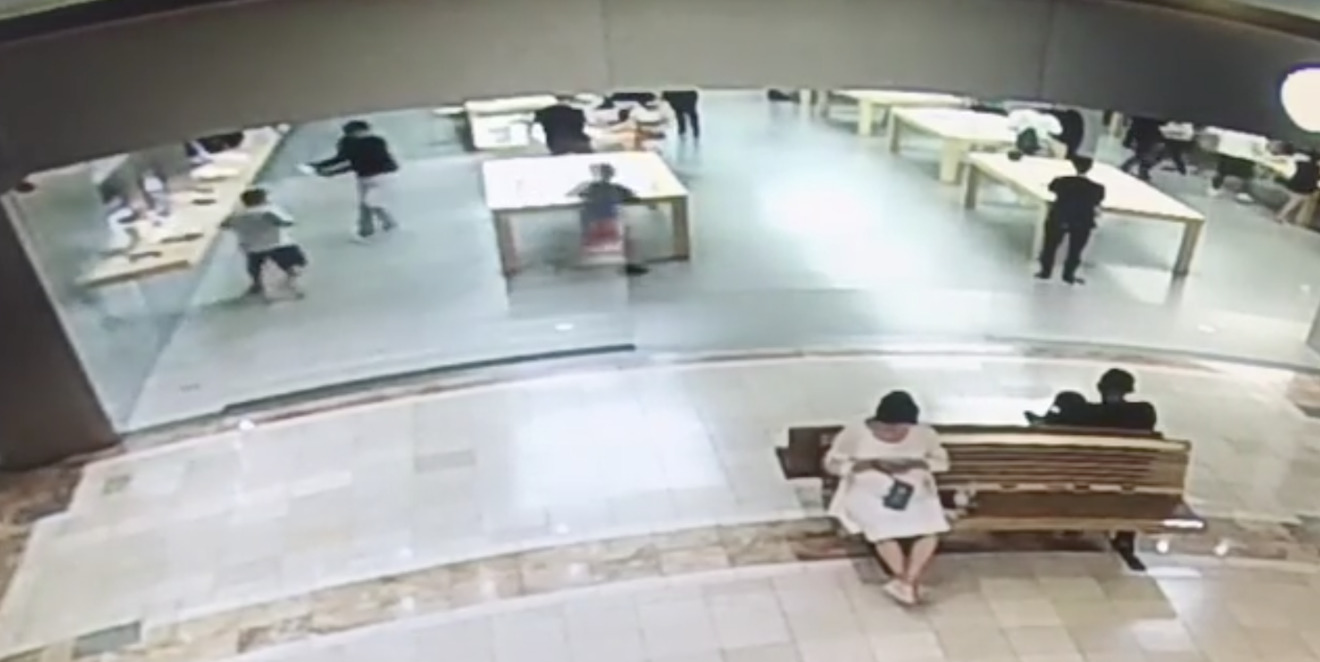 From coast to coast, law enforcement follows the Find My iPhone signal to recover stolen devices. Plus, a theft spree during a marathon in India, and multiple burglaries from schools as they gear up for the fall return of students.
The suspects in the Apple Store robbery (via Costa Mesa Police Department)
The latest in an occasional AppleInsider feature: A look at Apple crime around the world.
Another Apple Store robbery in California
The latest in a series of robberies of Apple Stores around the country this summer took place in Costa Mesa, Calif., on July 23. According to ABC 7, five suspects ran into the store and took $29,000 worth of iPhones and iPads. The suspects grabbed the display items and ran out.
It's unknown if any of the recent Apple Store thefts have been related to one another, and it also doesn't appear that any arrests have been made.
60 iPads taken from Georgia middle school
Thieves stole 60 iPads, as well as music equipment, art supplies and other items from a middle school in Athens, Ga. According to Fox 5 Atlanta, at least one of the iPads has been recovered, after someone bought it stolen. A school spokesperson told the TV station that the school's insurance policy will cover the cost of the items, "but it's the principle."
California elementary school theft nets over 100 iPads
Not to be outdone, thieves reportedly stole 172 iPads, with a value of $90,000, from an elementary school in Poway, Calif. According to NBC San Diego, the school's library and 11 classrooms were broken into at Tierra Bonita Elementary, an Apple Distinguished School. The thieves are believed to have scaled a wall and entered the school through the roof.
Man accused of using stolen credit card for $4,000 Apple Store purchase
Police in Manchester, N.H., are looking for a man who they say stole a credit card from a workout facility and then used it at the Manchester Apple Store to purchase $4,000 worth of goods. According to Manchester Ink Link, the man was clearly photographed while inside the store.
NBA's J.R. Smith accused of throwing fan's phone
Basketball player J.R. Smith may face charges in connection with an incident in which he allegedly grabbed a man's smartphone and threw it into a construction site. According to TMZ Sports, the man had attempted to take a picture with Smith outside a New York City night spot last Saturday, but the NBA player rebuffed him. Later, when the fan took a picture anyway, Smith grabbed the "$800 phone" — referred to as an iPhone in some other media reports — and tossed it into a nearby construction zone.
New York City police are investigating the incident.
iPad helped police track stolen ambulance
After a woman stole an ambulance from a hospital in Houston at 4 a.m. on July 30, police tracked it after they found a way to track an iPad that was in the ambulance and had pinged. According to ABC 13, the woman crashed the ambulance, and after she was pulled out of the wreckage, she was brought to the hospital.
Find My iPhone catches a carjacker
Two teenagers in Omaha, Neb. helped foil a carjacker by utilizing the Find My iPhone feature. According to KETV, two 17-year-olds were at a gas station with their Chevy Cruze when the carjacker approached, said "Sorry bro, I have to do this," and he took off with the car.
Because the driver's phone was in the car, his friend activated "Find My iPhone," and alerted police. A police helicopter tracked the suspect to his location, where he ditched the car on foot and was eventually arrested.
He was charged with theft and obstructing a police officer.
Stolen iPhone X leads to chase
In another story of a car chase aimed at tracking down a single stolen iPhone, a sheriff's deputy in Northern California followed and then apprehended a suspect for about 9 miles on I-80 after he stole an iPhone X. According to the Auburn Journal, the suspect had taken the device from a T-Mobile store, and once caught was arrested on suspicion of both the theft itself and "being in possession of a cutting tool alleged by investigators to have been the device used to lop off the phone's anti-theft cable."
Chase scene leads to discovery of several iPhones
In another part of California, another T-Mobile was robbed of phone merchandise, leading to a high-speed highway chase. According to the Santa Clarita Valley Signal, a man and woman took seven phones — five iPhone 8 phones and two Samsung phones — from the store and took off on Interstate 5.
Following a chase that reached speeds of 100 miles per hour, the two were arrested at a Carls Jr. restaurant.
iPhones stolen during marathon in India
Ten phones, at least one of which was an iPhone, were stolen July 30 from a marathon in Vashi, India. According to The Hindu, which attributed the theft to "unidentified miscreants," the phones were taken when the thieves broke into cars of runners during the race. Police told the news outlet that they tracked the stolen iPhone nearly 60 miles away in Nalasopara but had lost track of it.
They also said that the organizers of the marathon had not received permission to hold the event, and therefore there had been no arrangements made to guarantee security.
Couple arrested for stealing iPad, MacBook, dog
According to WKBN, the dog, a French bulldog, was returned shortly after the robbery, and the couple was later arrested at an OVI checkpoint.
Woman arrested for selling stolen iPhone
According to CBS 17, the woman was charged with felony larceny and obtaining property by false pretense.
iOS phishing scam leads to "Lance Roger at AppleCare"
A new variety of phishing scam has emerged, one that brings up a fake AppleCare windows. According to Ars Technica, the scheme is meant to get users to sign up for fake mobile device management services, and eventually extract money. The scam has been known to use a bogus persona named "Lance Roger from Apple Care."
Walmart employee's $6,000 theft spree included Apple Watch, accessories
An employee at Walmart in Louisiana was arrested August 1 and is accused of stealing nearly $6,000 worth of electronics items from the store, including iPhone charges and earbuds that he had removed from an iPhone box. According to My Arklamiss, the 24-year-old man did not steal the iPhones themselves from those boxes, but he did take an Apple Watch series 3and several Samsung products.