Cook says Apple not in music streaming for the money, touts human content curation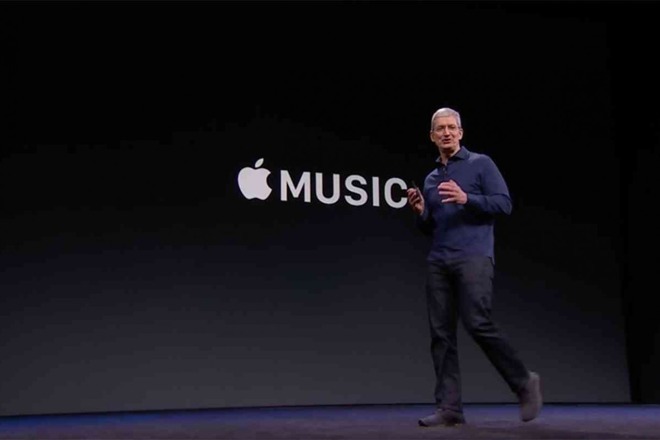 AppleInsider is supported by its audience and may earn commission as an Amazon Associate and affiliate partner on qualifying purchases. These affiliate partnerships do not influence our editorial content.
Apple CEO Tim Cook recently sat down to discuss Apple Music and its place in the burgeoning music streaming world, once again touting the service's human content curation as a key benefit over competitors like Spotify.
Speaking with Fast Company at his C-suite office at Apple Park, Cook expressed concern that the streaming industry's increasing reliance on song-suggesting computer algorithms is sucking the soul out of music.
"We worry about the humanity being drained out of music, about it becoming a bits-and-bytes kind of world instead of the art and craft," Cook said.
With tens of billions of dollars pouring in every quarter, and swelling ranks of streaming customers built on a healthy installed user base, Apple has the latitude to take a more philosophical view of music.
"We're not in it for the money," Cook said.
The executive was careful not to mention any one service in his critique, but the comments were clearly defined to paint Apple as a leader in the field. Contrasting the human approach to curation systems traditionally used by Spotify.
Apple executives, including SVP of Internet Software and Services Eddy Cue and Beats co-founder Jimmy Iovine, have consistently lauded Apple Music's human curators as a tangible leg-up on the competition. In July, reports claimed Apple Music's subscriber count overtook that of Spotify in the U.S., a considerable feat given Apple was late to the streaming music party.
Apple Music users are treated to a customized playlist of recommended content, as well as a number of regularly updated genre-based playlists that include songs hand picked by human editors. Also featured prominently in the corresponding Apple Music app are new album selections, interviews with artists, a live radio station in Beats 1 and other humanized elements.
Cook is an obvious devotee of Apple's service, telling Fast Company that music is a key component in his life. The Apple chief has noted a fondness of music in past interviews, and repeated those platitudes in the interview published this week.
"I couldn't make it through a workout without music," Cook says. "Music inspires, it motivates. It's also the thing at night that helps quiet me. I think it's better than any medicine."
Spotify, too, is turning to human curation as a means of differentiation. The firm now fields a number of programmed playlists, including popular brands like Rap Caviar, to draw in and maintain subscriber numbers. According to a prospectus filing issued prior to Spotify's initial public offering, the service programs about 31 percent of all listening.
Cook's commentary was included as part of a comprehensive profile of Spotify founder Daniel Ek, who is looking to take the streaming firm to new heights on the back of its successful April IPO.