Crime blotter: actress Sean Young accused of Mac theft, California Apple Store thefts multiply, more [u]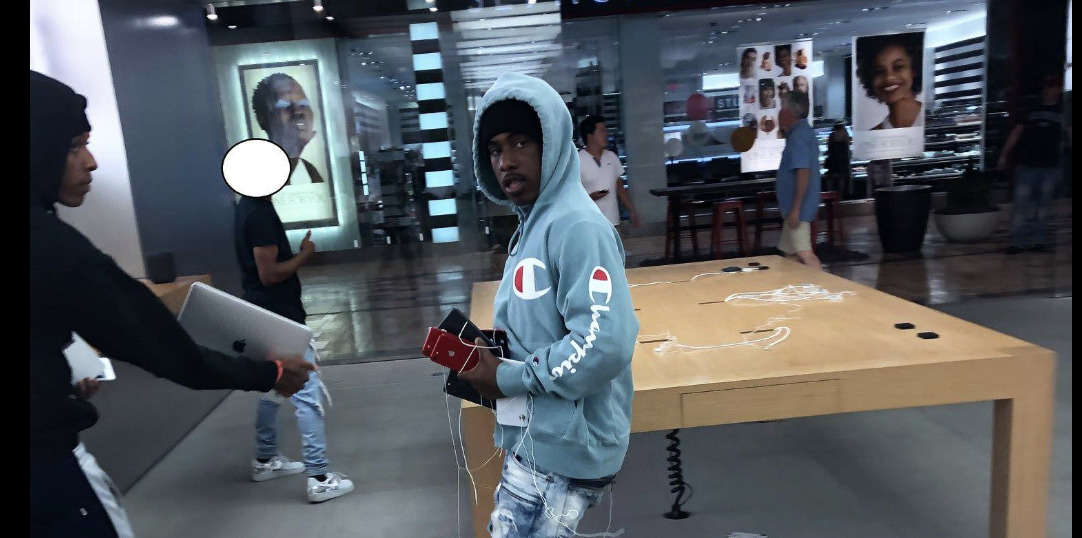 AppleInsider is supported by its audience and may earn commission as an Amazon Associate and affiliate partner on qualifying purchases. These affiliate partnerships do not influence our editorial content.
Authorities in California are hoping to finally catch the thieves who they say are responsible for this summer's series of Apple Store robberies throughout California. That and more in this week's Apple crime blotter.
The latest in an occasional AppleInsider series, the latest in Apple-related crime stories:
California Apple Store thefts continue as police seek leads
None of the numerous Apple Store thefts that have taken place this year throughout California have been solved, but police are stepping up their efforts to find leads. According to the San Diego Union Tribune, authorities in that state "are asking the public to help them zero in on a group of thieves" who they believe are responsible for at least some of the thefts. Tipsters contacting Crime Stoppers may be eligible for a reward of up to $1,000.
New York transit official accused of buying nearly $60,000 worth of iPhones with public money
He was charged with grand larceny, attempted grand larceny, criminal possession of a forged instrument and offering a false instrument for filing. Barbosa was also hit with additional charges alleging that he forged documents to make it appear he earned more money at previous jobs in order to finagle a higher salary at the MTA. He has pled not guilty.
12 hit with federal charges in iPhone-related fraud ring
The federal government has charged 12 people for their participation in a scheme in which the conspirators allegedly "perpetrated a wide-ranging scheme to obtain valuable, new electronic devices — primarily iPhones, but also iPads, tablets, and watches — at others' expense," according to a press release from Immigration and Customers Enforcement. The conspirators, through a combination of buying info on the dark web and hacking into accounts, obtained more than 1,200 devices, worth over $1 million, including iPhones, iPads and watches.
The investigation was conducted by the "El Dorado Task Force," which consisted of representatives of ICE, Homeland Security, the New York City Police Department (NYPD), and the Westchester County District Attorney's Office.
Sean Young accused of stealing computers
Actress Sean Young, along with her son, has been accused of stealing a pair of Apple MacBook Pros from a film production company in Queens, N.Y, According to NBC New York. Young, who starred in such movies as "No Way Out," "Blade Runner," and "Ace Ventura: Pet Detective," is alleged to have taken the computers from the offices of the company, which had fired her from a movie months earlier.
Update: The official Twitter account for the "Charlie Boy" film, stated on late August 18 that "Sean Young returned the computers and all here wish her well."
Questions raised about App Task Force, or "Uber For Snitching"
An App Store app called App Task Force, which is aimed at making it easier for users to call the police to report suspicious activity, is raising concerns from civil libertarians about its potential for racial profiling. According to The Outline the app, which has launched in Louisiana, "could not only streamline racial profiling of the people the users report, but also allows police to track the GPS coordinates of its users."

A similar app, called Vigilante, was briefly available on the App Store last year but was pulled, after police complained that it would interfere with their work.
Fake "Citizen's Arrest" leads to iPhone theft in U.K.
A man had his iPhone and wallet stolen, and was also "punched and bitten," after a bogus "citizen's arrest" inside a train station in London. According to Metro, the assailants claimed they were performing a citizen's arrest before they robbed and attacked the man.
Woman receives iPhone by mistake, sells it
A woman who mistakenly received an iPhone X in the mail decided to sell it- and when the rightful purchaser found out, the seller was arrested. According to MLive, the phone was meant for the person who had formerly lived at that address. The rightful owner found the Facebook listing for the phone, and when clicking the woman's name, saw familiar pictures of her old house. The woman, who also had an outstanding warrant for retail fraud, was arrested and charged with larceny by conversion.
"It was a dumb idea," she told police. "My boyfriend told me we could sell it."
What to do after discovering your newly-purchased MacBook is stolen
iPhone stolen from Connecticut political candidate
Eva Bermudez Zimmerman, a candidate for lieutenant governor in Connecticut, recently had her iPhone stolen during a voter registration event. According to Connecticut Post, the phone was taken by a senior citizen who was there to register to vote.
Zimmerman's reaction? "We have to support our senior citizens so they don't have to steal phones on their fixed incomes."