Apple culls thousands of apps in China amid attacks from state media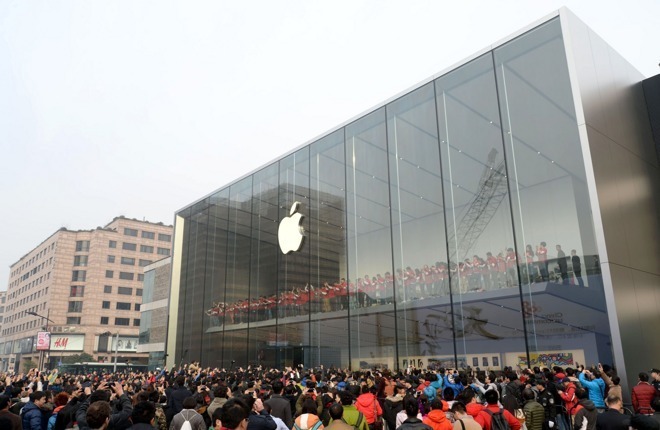 Following a scathing rebuke of supposedly lax App Store policy enforcement from Chinese state media, Apple on Monday confirmed the removal of thousands of deemed-illegal titles from the online storefront in compliance with local regulations.
Government-controlled broadcaster CCTV on Sunday said Apple pulled 25,000 offending apps from China's App Store after state media reports in July denounced the company's handling of online services like iMessage and the App Store, according to The Wall Street Journal.
A report published by CCTV on Sunday said Apple removed 4,000 titles marketed with the keyword "gambling" on Aug. 9. The illegal gambling apps were being distributed under the guise of legitimate lottery apps, with users said to have suffered financial losses from the proliferation of such titles.
"Gambling apps are illegal and not allowed on the App Store in China," Apple said in a prepared statement. "We have already removed many apps and developers for trying to distribute illegal gambling apps on our App Store, and we are vigilant in our efforts to find these and stop them from being on the App Store."
The confirmation and expedited takedown underscores China's importance to Apple's bottom line.
Similar moves were made at roughly the same time last year, when Apple ejected a number of virtual private network (VPN) apps from the App Store. Apple contends the VPN titles were removed in compliance with Chinese regulations, but the decision ruffled the feathers of privacy advocates as it seemingly ran counter to the company's well cultivated image as protector of consumer rights and proponent of free speech.
The VPN app takedown drew the eye of U.S. legislators last October. In a letter to CEO Tim Cook, U.S. Sens. Ted Cruz (R-TX) and Patrick Leahy (D-VT) suggested the action enables China's strict censorship and internet surveillance policies.
Cook addressed the issue in a public statement in August 2017, saying Apple would "rather not remove" App Store content, but notes the company adheres to the laws of each country in which it operates.
Prior to the VPN kerfuffle, Apple was forced to apologize after state media called attention to the company's allegedly inadequate iPhone warranty policies.
The most recent allegations of misconduct from CCTV and other state media outlets comes at a sensitive time. Like other American companies, Apple is caught in the middle of a brewing trade war between the U.S. and China, respectively the company's largest and second-largest markets. Rising tensions and tit-for-tat tariffs could result in negative Chinese sentiment or price hikes stateside, both scenarios that could prove devastating to Apple's financial performance.