Here are three quick and easy alternatives to Back to My Mac in macOS Mojave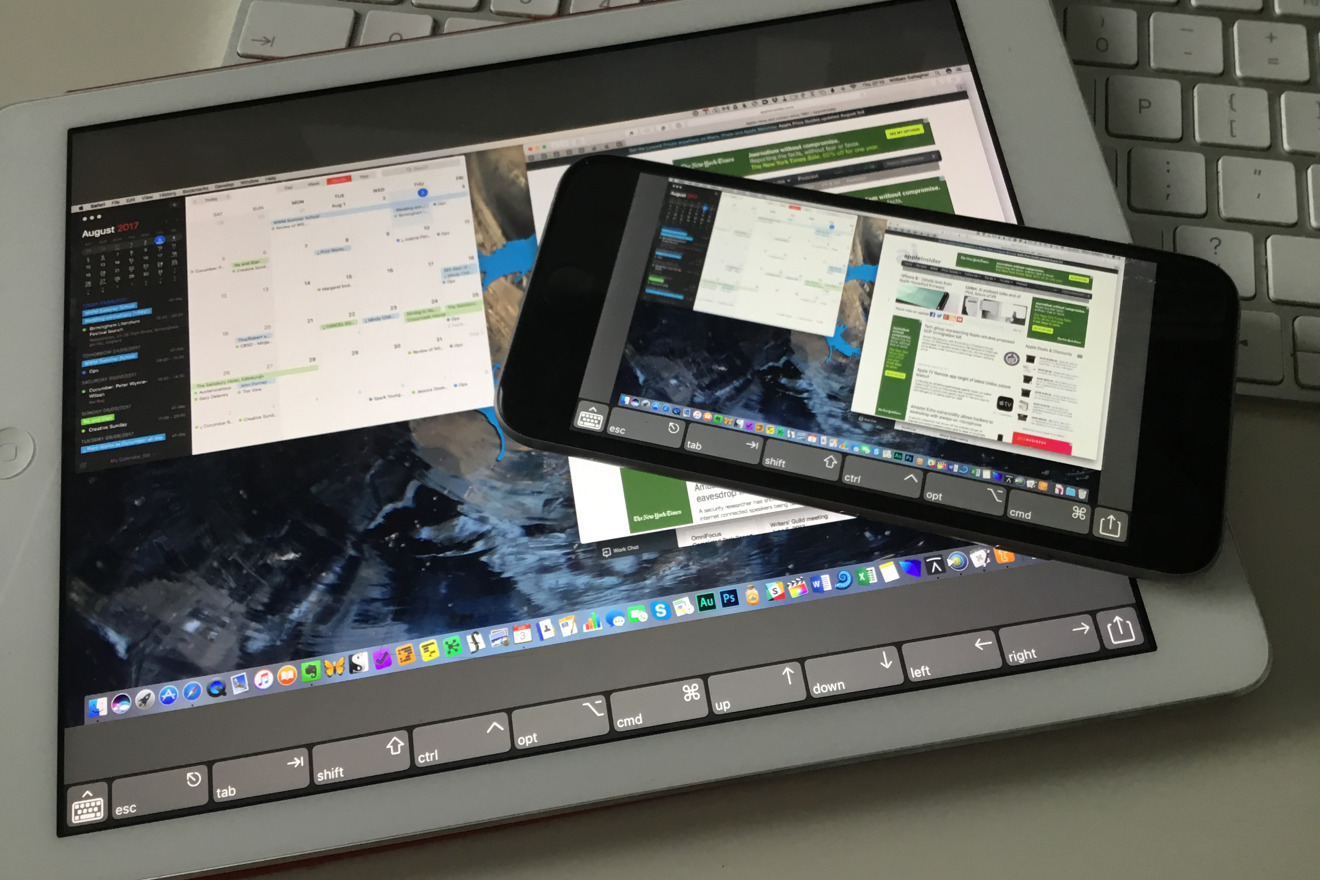 Apple's long-standing macOS's long-standing remote access feature is officially dying on July 1. It's no loss, as long as you're prepared. AppleInsider details the alternatives you can use right now.
Editor's note: This piece first ran just before macOS Mojave was released to the public. Now that we know that Apple is killing the feature for good on July 1, it's time to consider your options.
Wherever you are in the world, you can see the screen of any Mac you own and you can control them too. For 11 years you were able to use Apple's own tool for this, Back to My Mac, and that's going to be over very soon.
From the launch of macOS Mojave next month, this feature is removed and we won't miss it — because we've switched to better alternatives.
Back to My Mac had Apple's typical advantage of being easy to set up and straightforward to use but it also had severe limitations. Chief among them was that you had to run it on another Mac, and only another Mac.
That's fine if you're taking your MacBook with you around the world and need to occasionally connect to your iMac in the office. It's not at all useful if you're only carrying an iPad. Plus the feature was only ever meant to be a convenience in a pinch, it wasn't intended to be used all the time.
Back to My Mac wasn't a true solution if you needed to control many Macs, either, and you easily might need to. Being able to remote view and control a Mac meant you could buy Mac minis and deploy them as servers without the expense of a monitor.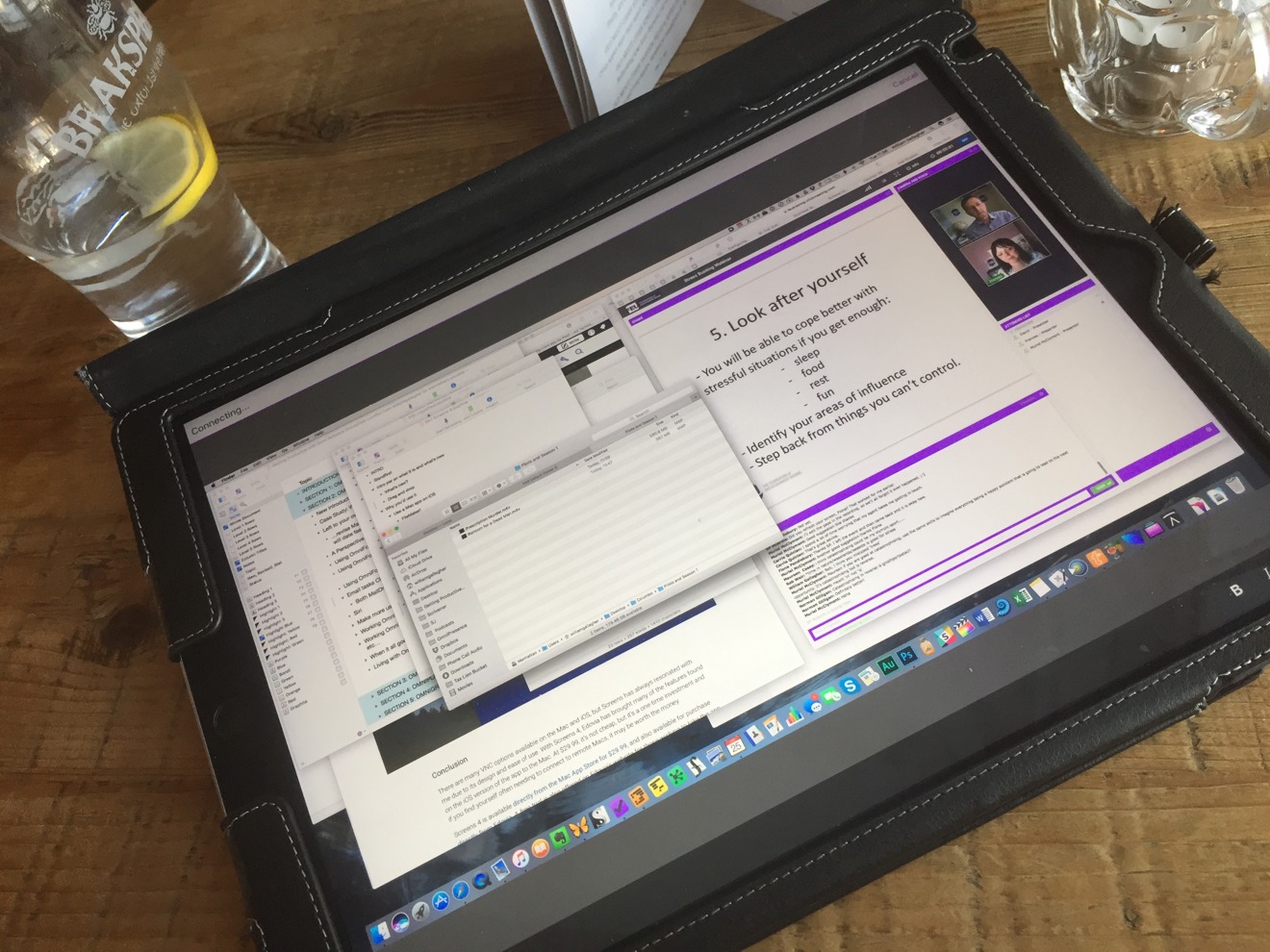 If you're working in an enterprise company then you have a range of options such as Citrix and LogMeIn plus an IT department to run them for you. For pro Mac users and consumers, we've got three alternatives to Back to My Mac for you.
Call it two
Don't do it. It doesn't add enough over Screen Sharing from a Mac on the local network to justify it there. Plus, configuring its use over the Internet is fiddly and requires far too much in the way of manual router configuration for most users.
Just to put the nail in that coffin, Apple Remote Desktop has also has been buggy for about five years, and Apple doesn't seem that interested in fixing frequent "Failed to Authenticate" errors. Don't take our word for it — look at the user reviews for yourself, if you must.
It does work, as long as you're comfortable setting up port forwarding on your routers manually. And as long as you're comfortable with older software, given that the last update was in February of 2017.
This could change, now that Apple's mentioned it as a solution. But, we're not hopeful.
I'll work if you own it already. If you don't, save $79.99 and go straight to two far better options.
Google steps in
Chrome Remote Desktop is Google's free remote access tool that works between a user's devices. The tool is free, but as a web-app it requires the use of Chrome in order to set it up, as well as the installation of a browser extension on all Macs or PCs to use it.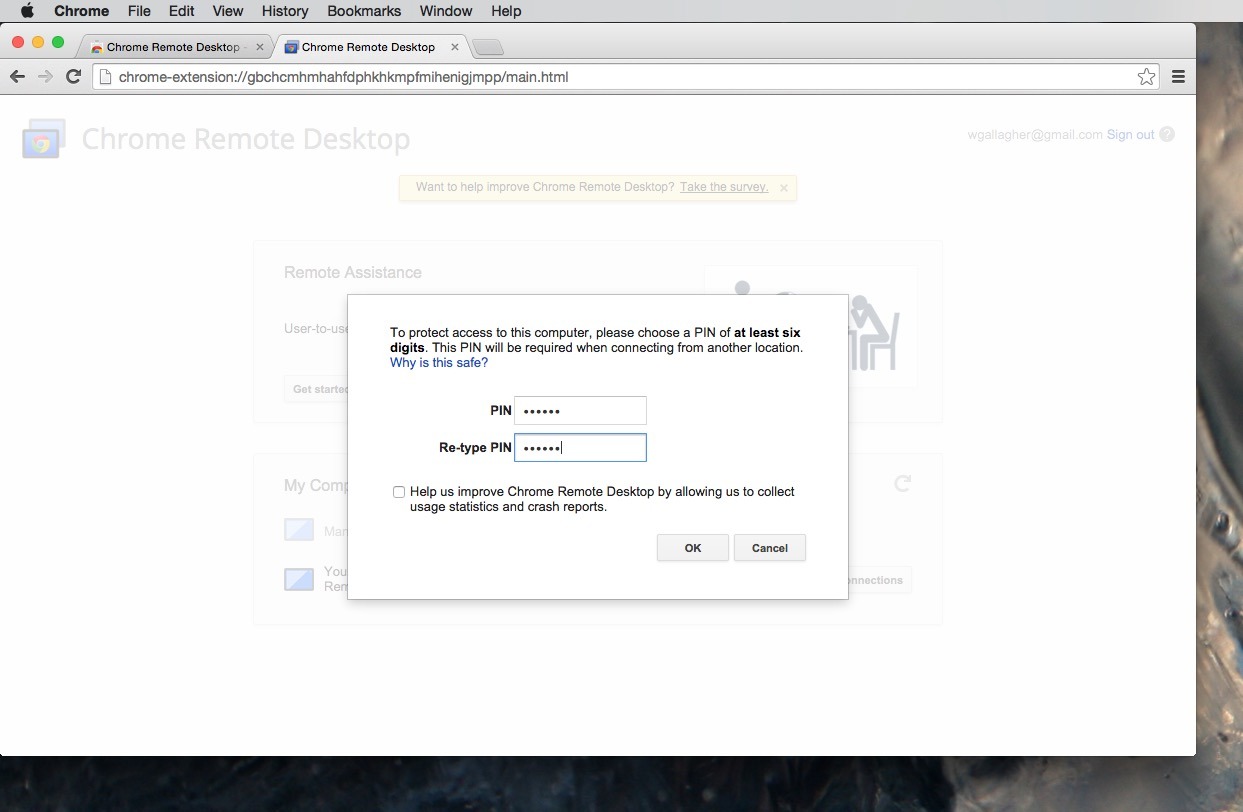 Google has also produced an iOS app that allows access from an iPhone or iPad to a computer with Chrome Remote Desktop set up.
The system has been set up to make it as easy to use as possible, with no need to remember individual IP addresses for specific machines. Instead, all installations are linked to the user's Google account, with the app showing a list of all devices, as well as which are on and can accept a connection using a security PIN you define.
Chrome Remote Desktop isn't limited to just one network, as the feed from the desktop can be streamed out to a device on another network, so long as both sides are able to access the Internet.
Once connected, the remote user has free control of the keyboard and mouse, with the desktop displaying a message advising remote access is in progress and a button for the local user to disconnect the stream.
While it is a free tool and is useful for emergencies or very quick sessions, the fact that it runs through Chrome means it can potentially hog resources on the desktop, especially memory, while it is being used. There is also the question of trust, as some users may not want to allow their remote stream to pass through Google's servers, though they are secured using Chrome's built-in encryption.
Screens
Screens chiefly acts like Screen Sharing but from anywhere and both iOS or macOS. It's particularly good at handling the conflicting concerns of needing high security and wanting ease of use. As well as the Screens app itself, you install a companion called Screens Connect on your Mac.
That's a free service that you register with and sign in to on both of your devices. Once you've done that, remote controlling your Mac is as simple as launching the app.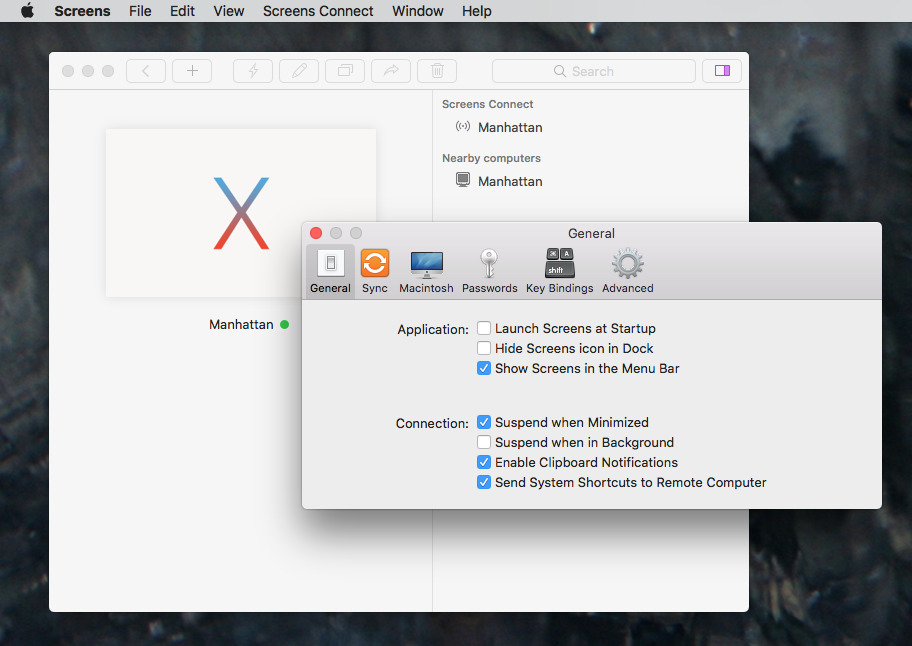 Here's how easy it is: until we went to check, we entirely forgot that there was a Mac version of the Screens app. We simply turn to our iPads or iPhones to use it from there.
Once we're connected, Screens lets you pass the clipboard back and forth so we can copy logins from 1Password on our iPad and paste it into an app on the Mac.
If we're doing anything sensitive or we simply don't want our Mac lighting up the office at night, Screens provides a Curtain Mode. Not only does it blank the screen but it also locks out anyone actually sitting at it so they can't just wiggle the mouse to get back in.
Screens does have the disadvantage that it's silent: you can't hear the audio from your remote Mac over it. In practice that's hardly a concern because you're never going to play a movie over a remote connection.
However, it does mean that you also fail to hear any bleeps or warning notifications. If those are essential or even just helpful to you, it's time to start looking at more corporate answers.
Corporate and Enterprise
It's a blurry line between the needs of a pro user, a consumer or a corporate worker because any one remote control session is going to be the same for each of them. They all need to see the screen of the remote Mac, they all need to pass documents back and forth.
Plus every corporate-standard remote control app has a basic version that can be used as either a trial or an entry-level system. TeamViewer, for instance, comes with a free edition for personal use before going on to subscription starting at just $40 per machine per year. Similarly, LogMeIn starts at $349 per year, though that's for two machines.
None of these alternatives to Back to My Mac are new, and all of them are better than Back to My Mac was.
Maybe the only real reason to lament the loss of Apple's version was that if you had just the right use case, and the ideal hardware, it was perfect. And, it doubtlessly introduced many people to the whole idea of remote control.