Review: AirSnap helps protect your AirPods at a cost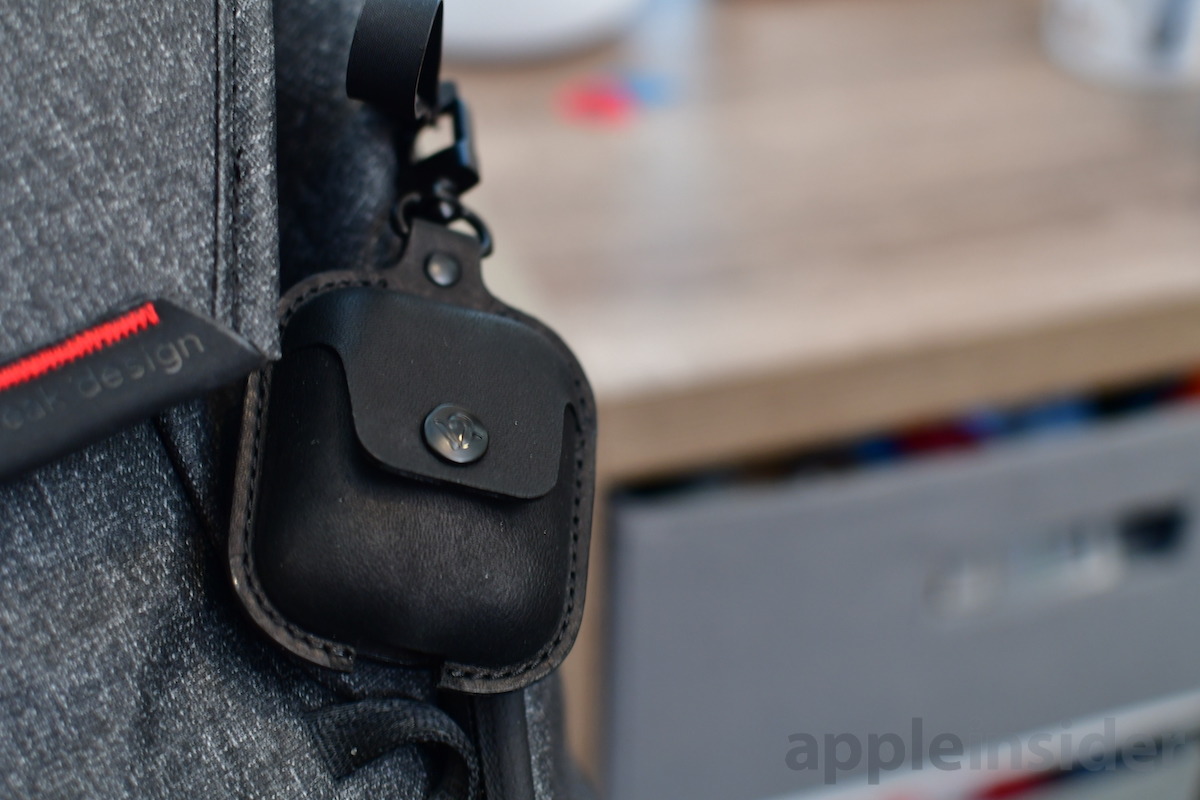 Protecting the AirPods case from scratching can be problematic. Twelve South thinks that they have a solution with the AirSnap leather pouch.
All around earbud protection
AirSnap from Twelve South is the latest accessory aimed at protecting and traveling with AirPods, Apple's diminutive wireless earbuds. It is a leather sleeve that securely holds the AirPods case that can easily attach to any backpack or bag while on-the-go.
It is a stiff leather, which seems very similar to the leather used on the Relaxed Leather line of cases, though perhaps a tad thicker. Without the AirPods, AirSnap still holds its shape.
On top of AirSnap is a mini carabiner-type clip, perfect for attaching to whichever bag you happen to be toting along. Not only is this handy for keeping track of them, it makes them more available rather than keepimg them in our pocket or buried in our bag.
The clasp is a bit on the small side, and we had an issue getting it onto the straps of some of our bags, but we just had to opt for a different anchor point in this situations.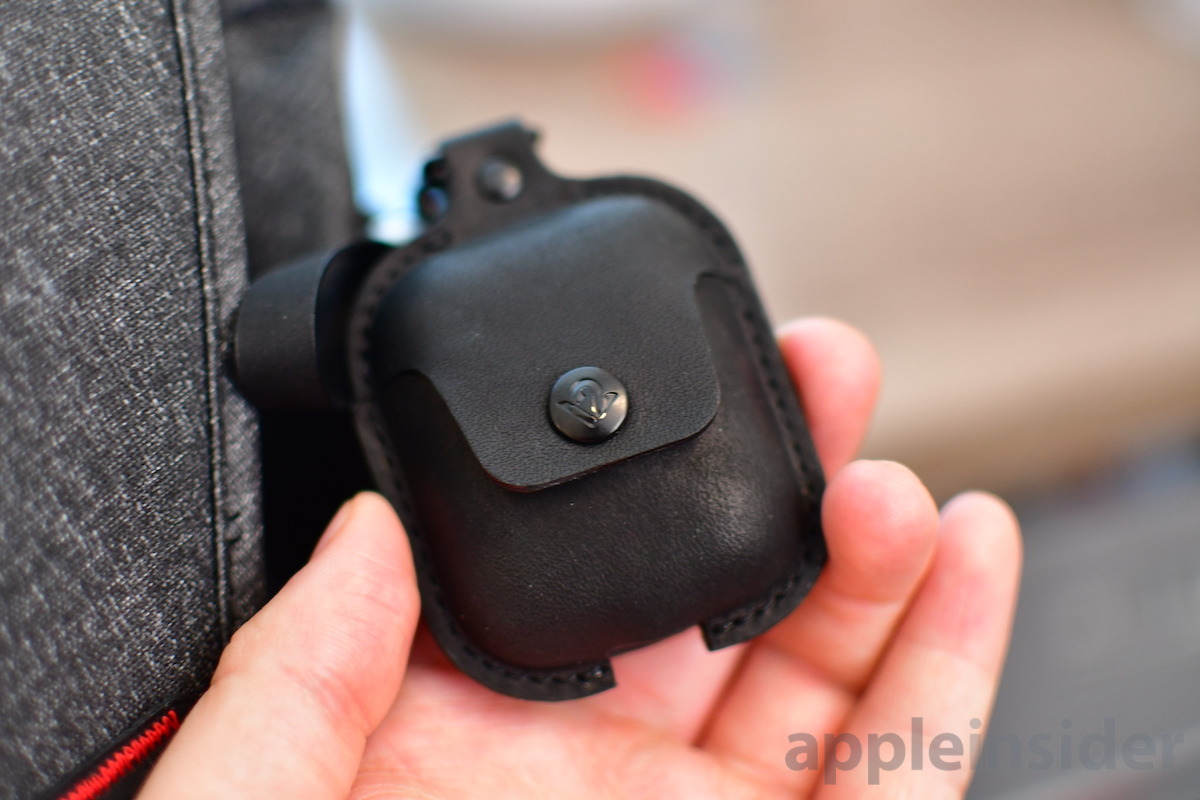 As a downside, the paint covering the front snap seems to fleck off rather easily. Before we even had a chance to use AirSnap, there were already noticeable silver spots showing the metal underneath.
For anyone who wants it to stay more pristine, this can be a major dig. On the other hand, as a leather case, it really develops a great look as it wears and the weathered snap and clip could lend itself to the aesthetic.
We were initially worried about having to charge our AirPods while wearing AirSnap. Sure, when the wireless charging case launches we won't need to plug them in, but until then, we are tethered by a Lightning cable. We were pleasantly surprised to see Twelve South thought of this with an easy to access opening right on the bottom.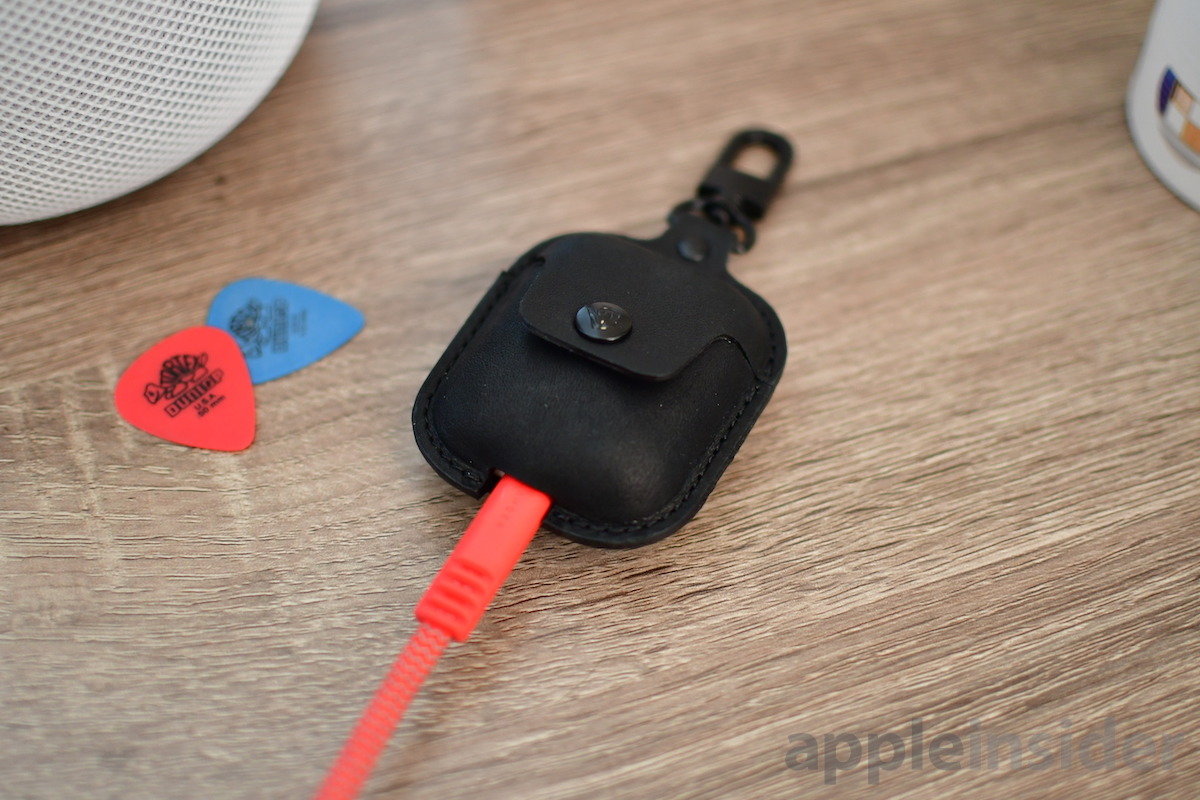 In our experience, our pocket, with keys and coins is where the AirPods case gets damaged the most t is unfortunate how large AirSnap is because, with the case on, you can't really slip them into your pocket comfortably.
AirSnap comes in three different colors — black, tan, and a wonderful blue option — all for $29.99 apiece. We are torn on this price — having a case is extremely handy. It makes them more accessible while at the same time tethering and protecting them. It is also made out of quality leather, which never comes cheap.
At the same time, a leather sleeve for your wireless earbuds seems a bit excessive and $30 feels a bit high, especially when it can't realistically fit in your pocket.
We can't quibble with the quality of materials and the overall craftsmanship of the AirSnap. However, was a whole, it seems like an over-engineered solution to a problem that takes too much away from the user and add enough.
For most users, the AirSnap gets a:
Rating: 2.5 out of 5
However, if you have specifically been looking for a leather case with a clip for your AirPods, and don't ever want to put it in your pocket, this is the accessory for you.