Photos show alleged 'iPhone Xc' SIM trays in five colors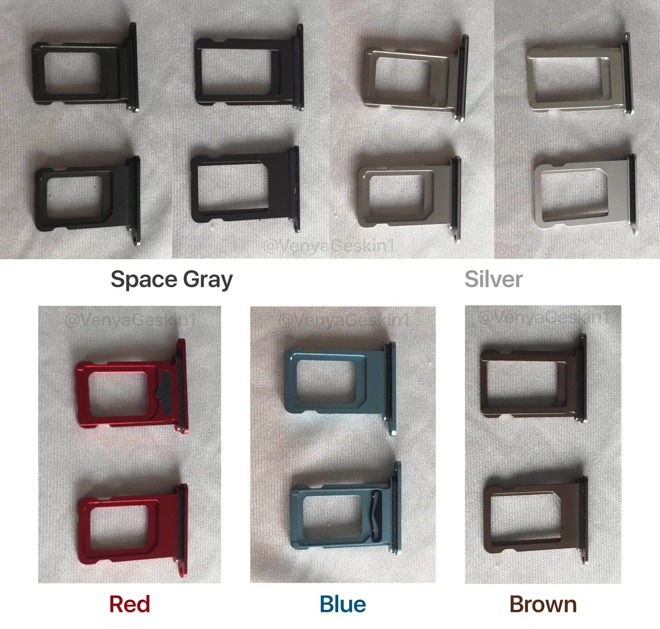 AppleInsider may earn an affiliate commission on purchases made through links on our site.
Reinforcing the notion that the "iPhone Xc" will take after the colorful iPhone 5c, new images published on Monday are claimed to show SIM trays in five different metallic hues.
The phone will come in red, blue, and brown in addition to more conventional space gray and silver options, according to photos shared by well-known leak source Ben Geskin. The images were also separately uploaded to China's Weibo, though that post now appears to be inaccessible.
The images are generally consistent with supposed rear casings for the "Xc," which might alternately be called the "iPhone Xr."
Either way, the phone is forecast to be a 6.1-inch LCD model, cheaper than the OLED-based "iPhone XS" line. It should nevertheless share some features in common, such as an edge-to-edge display and Face ID.
The iPhone 5c was rare instance of Apple branching out from its normal color options, having models available in white, green, blue, yellow, and a salmon-shaded red. Since the iPhone 6 the company has typically stuck with variations of space gray, silver, and gold, the exception being (PRODUCT)RED charity models.
The SIM trays are double-sided, fitting a card on each side, according to Geskin. That would follow in line with indications that at least some of this year's iPhones will be dual-SIM devices, able to switch carriers on the fly.
Apple is due to announce its new iPhones at a Sept. 12 press event, which will be live-streamed starting at 10 a.m. Pacific time, or 1 p.m. Eastern.