AppleCare+ adds theft and loss protection for iPhone, starts at $14.99 per month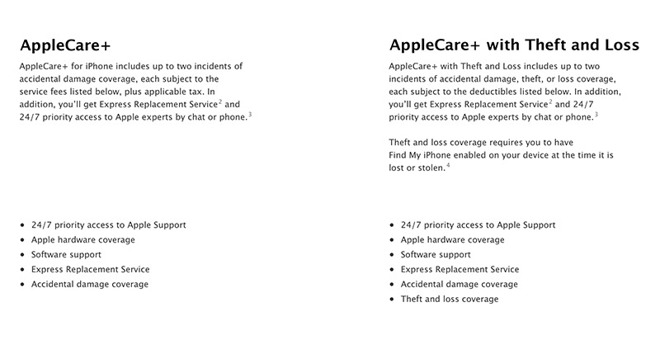 AppleInsider may earn an affiliate commission on purchases made through links on our site.
Overshadowed by Wednesday's hardware announcements, Apple is introducing a new tier to its AppleCare extended warranty service for iPhone that lets owners pay to protect against theft and loss.
According to Apple's dedicated AppleCare website, the new AppleCare+ with Theft and Loss product covers up to two incidents of accidental damage, theft or loss, each of which is subject to its own schedule of deductibles.
For instances of theft or loss, subscribers have to pay $199 to replace an iPhone 8, iPhone 7, iPhone 6S or iPhone 6. That fee jumps to $229 for iPhone XR, iPhone 8 Plus, iPhone 7 Plus, iPhone 6S Plus and iPhone 6 Plus, while top-of-the-line iPhone XS, iPhone XS Max and iPhone X replacements cost $269 each.
The Theft and Loss package includes the same $29 and $99 fees for screen damage and accidental damage, respectively. Both tiers provide up to two years of Apple Support access, including software support, and eligibility for express hardware replacement.
As can be expected, the new AppleCare+ tier is a bit more expensive than Apple's longstanding AppleCare+ plan — 50 percent more expensive to be exact. New iPhone owners will have to shell out monthly payments of $14.99 for up to 24 months or a lump sum of $299, up from $9.99 per month and $199 for the original AppleCare+ plan.