VMWare Fusion 11 and Pro ships with full Mojave, 18-core iMac Pro, i9 MacBook Pro support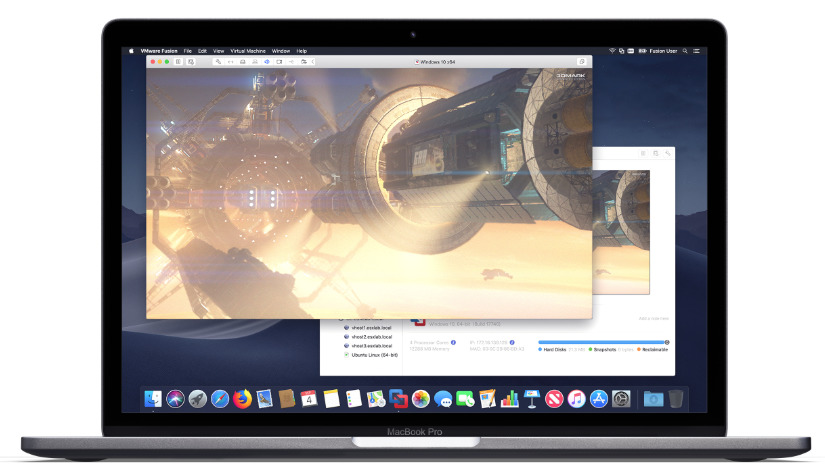 VMware has released new editions of its Fusion 11 and Fusion 11 Pro virtualization software for running Windows applications on macOS, with the latest version featuring Metal-powered Direct3D 10.1 content support, updates to the user interface, and other additions.
A new enhanced metal graphics rendering engine in VMware Fusion 11 has been updated with DirectX 10.1 compatibility on supported hosts. This includes support for anti-aliasing as well as Geometry and Compute shaders, games and apps that require DirectX 10.1 or fall back to it from DirectX 11, when running on a Windows 7, 8, or 10 virtual machine.
Fusion 11's new Application Menu makes it quicker to access the Virtual Machine Library, change view modes and settings, and launch Windows applications from a single click. The menu is able to run without Fusion, allowing users to launch relevant VM instances when required.
A new Finder integration is at the top of the VM Window, which can be used to navigate to anywhere in the running VM's folder tree. Drag and drop file location printing is also supported, by dragging the VM name to Terminal or any text-input field to automatically type the VM file path.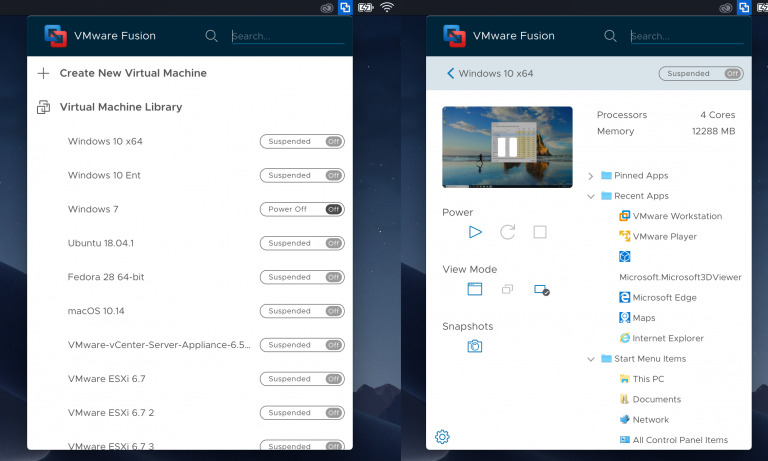 Touch Bar MacBook Pro users will see more options for customizing the touch-enabled strip, with new contextual actions for the VM Library and the VM Window.
Both versions offer one-click SSH to rapidly connect to any Linux VM running an OpenSSH or similar service, with the option to save the password rather than entering it in each time it is required.
Using VMware Virtual Hardware Platform 16, Fusion 11 includes a number of improvements relating to security, performance, and stability, and support for newer Macs including the MacBook pro with a 6-core Intel i9 processor, and the 18-core iMac Pro.
To save space, Fusion can be set to automatically perform a "disk clean up" operation on a Windows virtual machine whenever it is shut down.
For Fusion 11 Pro, there are new controls in the Fusion REST API for configuring virtual networking, and a new vSphere view supporting ESXi 6.7 and with detailed views of Hosts and Clusters.
Available now, Vmware Fusion 11 and Fusion 11 Pro cost $79.99 and $159.99 respectively. Owners of Fusion 8, 8.5, and 10 are eligible for upgrade pricing of $49.99 and $119.99, depending on version, while those who bought Fusion 10 since August 21st will automatically receive an upgrade to the newest version.