Rumor: Next-gen iPad Pro to feature 'Magnetic Connector,' USB-C, support new Apple Pencil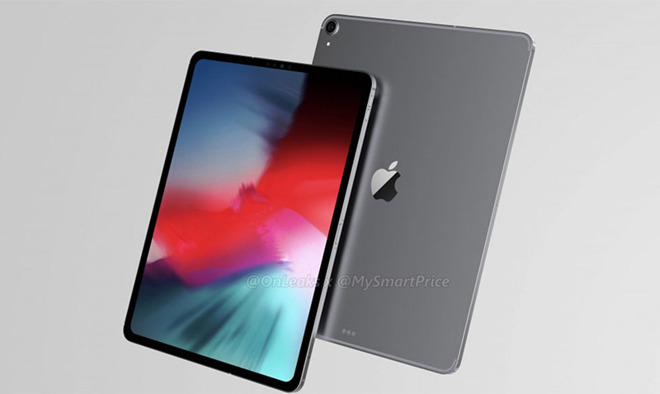 AppleInsider may earn an affiliate commission on purchases made through links on our site.
Later this month, Apple is expected to update its iPad Pro lineup with new models featuring Face ID biometric authentication and near bezel-less displays. According to the latest rumors, the redesigned tablets might also be equipped with a new "Magnetic Connector" and support for an updated Apple Pencil.
Echoing long-standing rumors regarding the next generation of iPad Pro, 9to5Mac, citing sources familiar with the matter, reports the devices will indeed ditch the home button in favor of Face ID. Instead of carrying over the "notch" aesthetic introduced with iPhone X, the larger tablets will incorporate Apple's TrueDepth camera system in its bezel, a design facet that has previously been reported on multiple occasions.
The new devices will supposedly support 4K HDR output to external monitors and TVs over an integrated USB-C port. A new panel in the Settings app will enable control over resolution, brightness and HDR options, the report says. Previous rumors have hinted Apple intends to replace Lightning with USB-C as it looks to support higher bandwidth applications.
Another new tidbit from the report claims Apple is not only updating its Smart Connector to what the publication calls a "Magnetic Connector," but will relocate the port to iPad's rear. The new connector will supposedly support new accessories beyond the usual keyboard, though the report failed to detail what add-ons are expected.
Also rumored is a next-generation Apple Pencil that pairs when in close proximity to an iPad. The solution is in the same vein as AirPods or HomePod.
Sources identified this year's model identifiers as "iPad8,1," "iPad8,2," "iPad8,5" and "iPad8,6" for Wi-Fi only and "iPad8,1," "iPad8,4," "iPad8,7" and "iPad8,8" for cellular-enabled versions.
The report also confirms previous rumors regarding Face ID support in both portrait and landscape modes.
Apple is expected to announce a new slate of iPad Pro models at a special event later this month. Check out AppleInsider's analysis of the presumed October event for more details.