Angela Ahrendts, the 'non-techie' who runs Apple Retail, joined Apple on October 14, 2013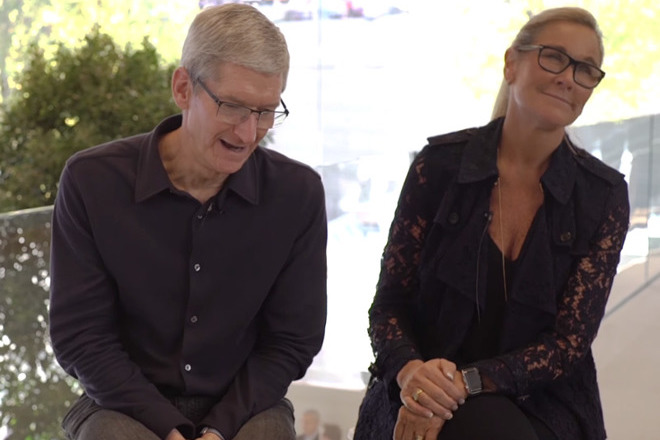 In 2013, the ex-CEO of fashion house Burberry became the third person to head Apple's crucial retail operation for both online and physical stores. AppleInsider talks about why she was hired and what she's done in the five years since.
Apple's Senior Vice President of Retail and Online Stores, Angela Ahrendts, is unquestionably the most significant addition to the company's executive that CEO Tim Cook has made. Apple is a trillion-dollar business and while it has many sources of income, the company is founded and survives on what hardware sales it makes. Every bit of that is under the control of Ahrendts and her team.
As well as being direct revenue, though, the Apple Stores are also the public face of the company and how they work shapes how the company is perceived. Even if you've never given retail a moment's thought, you know how bad Microsoft's famously empty stores look. Success in retail is infinitely more complex and nuanced than stocking good products.
So each of the people who have run the Apple Stores this far is interesting but Ahrendts got to this position through a career that will be startlingly recognizable if you've followed Apple's history. While she never met Steve Jobs, certain of the challenges in her career and many of her solutions are uncannily the same as he did for Apple — and she says that, too.
After a fashion
It helps that while Jobs was always in technology and Ahrendts began in fashion, those two industries have a huge amount in common. Retail must have common issues regardless of which market you're in, but fashion and technology are both high-speed industries where products change regularly and often, for instance.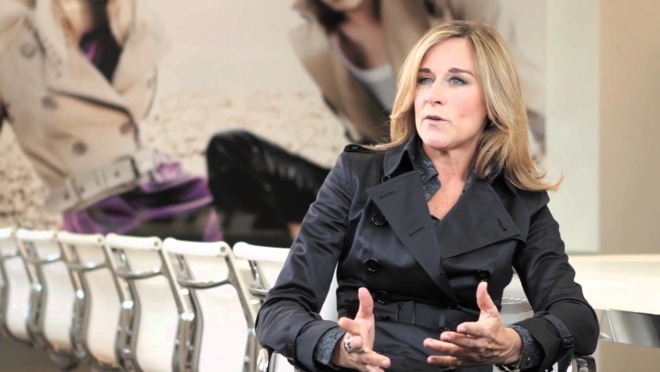 They're also ones where certain operations both manage and need to keep high profit margins while others are cheaper, mass-market providers.
Fashion and technology are also worldwide industries — and there's even a history of clones in both.
Angela Ahrendts worked in many fashion companies with various responsibilities but broadly always to do with developing and expanding existing businesses. During these roles with firms from Warnaco, Donna Karan International and Liz Claiborne. she also moved up to increasingly senior positions.
Prior to Apple, though, she was best known for being the CEO of Burberry. This is a London-based luxury fashion business that was founded in 1856 and Ahrendts took charge of it in 2006.
Apple effect
The firm was then exactly 150 years old but it was also in trouble. This is where you'll first recognize Ahrendts's situation: a company that is a long-standing pioneer of the industry was in severe decline. The company's name was carrying less and less weight and when you're selling high-price items, that was significant.
You know that when Jobs famously returned to Apple, he ditched the firm's confusing mix of products and simplified it. In the late 1990s, he focused Apple on just four products: when Angela Ahrendts joined Burberry, she decimated the company's line.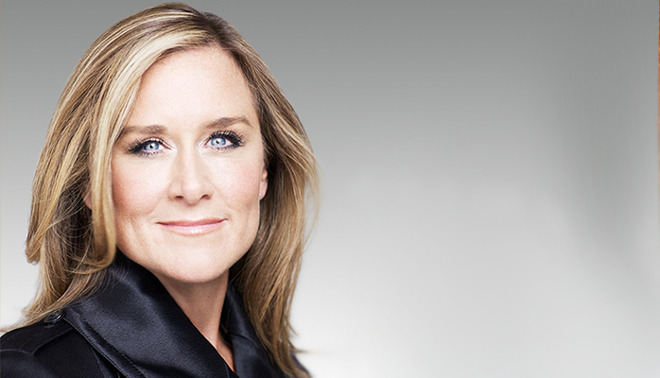 Then while purposely limiting what Burberry sold, she also bought back licences that the company had previously sold for fragrances and beauty products. It's the fashion equivalent of Apple shutting down the Mac clones.
By the time she left for Apple, Ahrendts reported increased the value of Burberry's shares three times over to approximately $9bn.
This isn't to say that Ahrendts's achievements are lessened because these techniques are familiar to us. It's not to say that she is some Steve Jobs clone.
However, it's also not a coincidence that her work often took similar lines to Apple's or that she leveraged technology to achieve her aims.
Later, talking to Fortune she credited Apple not so much for its business lessons but specifically for its Macs and iOS. "In interviews, I would say that we turned the company around because of Apple, because of all that their technology enabled us to do all over the world."
As well as using Apple equipment and services, Burberry also partnered with the company on a fashion show. Speaking in September 2013, she explained to Fast Company how her media team was "absolutely blown away" by the camera on the then-new iPhone 5S.
Burberry then consequently used 50 of the new phone to photograph a fashion runway show and streamed it live to cinemas, stores and Times Square.
Non-techie
So here's a CEO who uses technology in-house to build her business and at the same time in public uses it to stream fashion shows to the world. Even so, she told Fortune that she made certain Tim Cook knew she wasn't a techie.
"The very first time we chatted, it was an honor to meet him, but my mission was to talk him out of me. So I said don't believe everything you read: I am not a techie. Honestly, ask my daughter, I am absolutely not.
"And he was so calm. He just shook his head and said, I think we have 10,000 of those, I think we're covered there."
What sealed the deal
Angela Ahrendts reportedly now owns some $11m of Apple shares and it would be foolish to think that money paid no part in her decision to join the company. However, she says what decided her was something much more straightforward and direct.
"At one point [Tim] just looked at me and said, 'You know you're supposed to be here.' And I said, how do you know that?"
"Because I watched your TED talk," said Cook. "And trust me, you're supposed to be here."
That's what got Ahrendts to sign — and this is what made Cook ask her.
There is a parallel to this from Ahrendts' own choices of people to work with. When she left Burberry, she was replaced by Christopher Bailey, who has been her Chief Creative Officer. They'd worked together from when they were in the company known for the brand DKNY.
"We go back to Donna Karan," Ahrendts told Fast Company. "I was a young president. Here was this young British guy who just started there. He was really cute, and God, he was so talented. All the lights were off in the entire building, and he was sitting there all by himself at 9 or 10 at night, sketching. I went down this dark hall, and this little light was on in this little office. So I just peeked my head in, and that's how we initially got to know each other. I looked in his eyes, and I trusted him."
What happened next
On October 14, 2013, Apple announced that Ahrendts had been appointed. "I am thrilled that Angela will be joining our team," said Cook in a press release. "She shares our values and our focus on innovation, and she places the same strong emphasis we do on the customer experience."
For her part, she said in the same release that: "I have always admired the innovation and impact Apple products and services have on people's lives and hope in some small way I can help contribute to the company's continued success and leadership in changing the world."
Reporting on her hiring, AppleInsider said that her title of Senior Vice President of Retail and Online Stores was new. It specifically appeared to give her more control over the retail business than her predecessor John Browett had.
Between Browett leaving and Ahrendts joining, the role over overseeing retail became Tim Cook's. So if you include him and Steve Jobs, a total of four people ran Apple's crucial retail operations before Ahrendts.
Each of these people seemingly had the same job and approximately the same responsibility of getting customers through the door and back out again with lighter wallets and purses.
Yet, coming in as the fifth person is very different to coming in as the first. Ahrendts inherited this worldwide massive success — but she also inherited the fact that it had been comparatively leaderless for two years. Even though Cook was more than a caretaker in the role, still he doesn't have Ahrendts' experience and he did have rather significant other responsibilities. Consequently, the Stores arguably stalled.
So Ahrendts faced having to keep everything that works well, improving anything that doesn't and then continually revitalizing it all. It's a balancing act where not only do you, as head of retail, have to juggle conflicting issues but so does the company. Ron Johnson ultimately failed at JC Penney because the company didn't go along with his plans, for instance. We won't know if his ideas would've revived that company but its fortunes haven't improved since they got rid of him.
What Ahrendts did
Angela Ahrendts did not do a Ron Johnson and tear up Apple's retail stores in favor of her own ideas. She doesn't seem to have done what Browett reportedly did and cut back on the loss-leading customer support at Apple Genius Bars.
Instead, five years on from her appointment, she appears to have predominantly built up Apple's systems for running and developing retail. In 2015 she did tell the Bailiwick Express that: "We are starting to test some new concepts in some of the new stores. I haven't spoken publicly at all about it because these are pilots and these are tests.
"We're just piloting some things, and I think the overarching thing is I think you can expect the stores to become hopefully a little calmer, but yet a little more dynamic, and maybe slightly more aligned to the same feeling you get when you go into our products. Because maybe the store is really just a giant product."
Officially, she's actually at least begun to end Apple Stores altogether. Rather than naming them Apple Store Birmingham, for instance, a shop will now be called Apple Birmingham.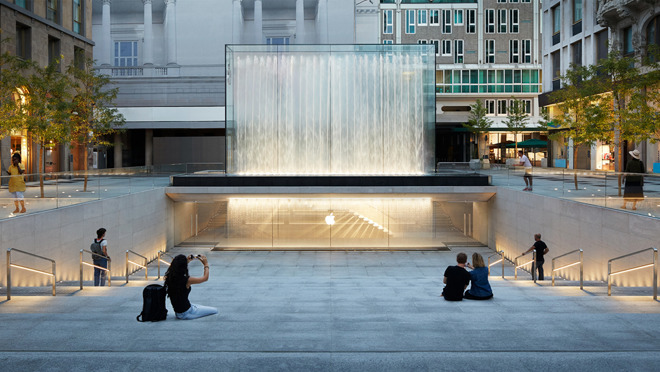 As well as that removal of one word, there has been attempt to add some more. At points, Ahrendts has spoken of the stores being called Town Squares instead. The idea of communal meeting points amidst the famous wooden tables continues but we do still call them Apple Stores.
However, those Apple Stores have also continued to expand into new territories and older ones have been remodelled.
Apple has no requirement to tell us about the workings of its online store so it won't. However, each time you see that familiar "We'll be back" notice as the online store gets updated ahead of a product launch, Ahrendts and her team are presumably rather busy.