Adobe announces Photoshop CC for iPad, debuts Premiere Rush CC iMovie competitor and CC updates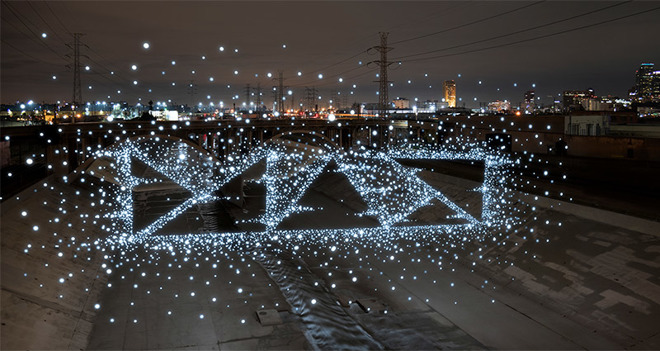 AppleInsider may earn an affiliate commission on purchases made through links on our site.
Adobe unleashed a slew of new software at its MAX 2018 conference on Monday, including cross-platform video editing tool Premiere Rush CC and updates to existing Creative Cloud apps, while announcing a 2019 launch date for a much-rumored iPad version of Photoshop CC.
Headlining today's release lineup is Premiere Rush CC, an all-in-one cross-platform video editing solution first teased as Project Rush in June.
Designed with online content creators in mind, Premiere Rush CC enables fast, easy and comprehensive edits of captured and imported video on a variety of devices, from desktops to tablets and smartphones. Advanced features like smart audio ducking are powered by Adobe Sensei machine learning technology, helping users create professional content in minutes.
In a demonstration prior to MAX, Adobe showed off Premiere Rush's clean user interface, which shares simplified design elements across platforms. A video preview is displayed front-and-center, below which is a timeline for arranging audio and video clips, as well as special effects like Motion Graphics templates.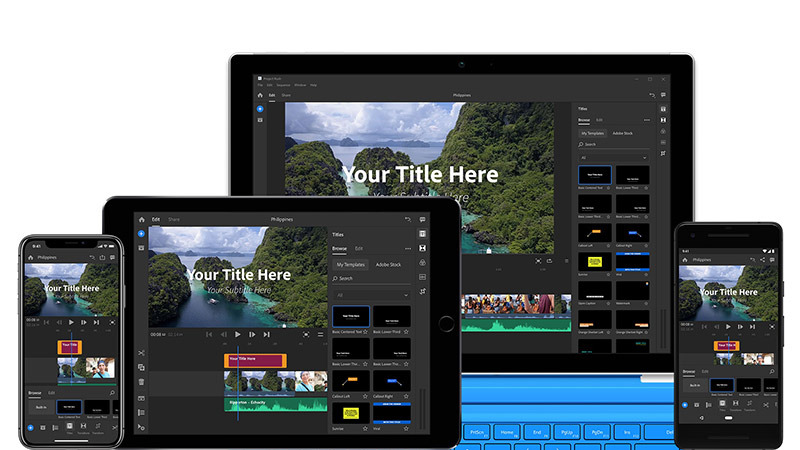 Like other video editors, Premiere Rush utilizes a drag-and-drop control scheme for manipulating timeline assets, while iPad optimization supports multitouch gestures like pinch-to-zoom.
A clip editing menu is positioned on the bottom-left of the screen in line with the timeline, while a range of refinement tools reside in pop-out menus on the top-right. In these menus users can find a comprehensive suite of audio and visual adjustment options like Adobe Sensei-powered auto ducking.
Highly granular color editing tools are accompanied by a selection of animated Motion Graphics templates.
Premiere Rush can pull in local media, as well as clips stored in Creative Cloud, which also handles project syncing. Users can share their creations to social media outlets like YouTube, Facebook, Instagram and Adobe's Behance network, with videos automatically converted and optimized for each platform.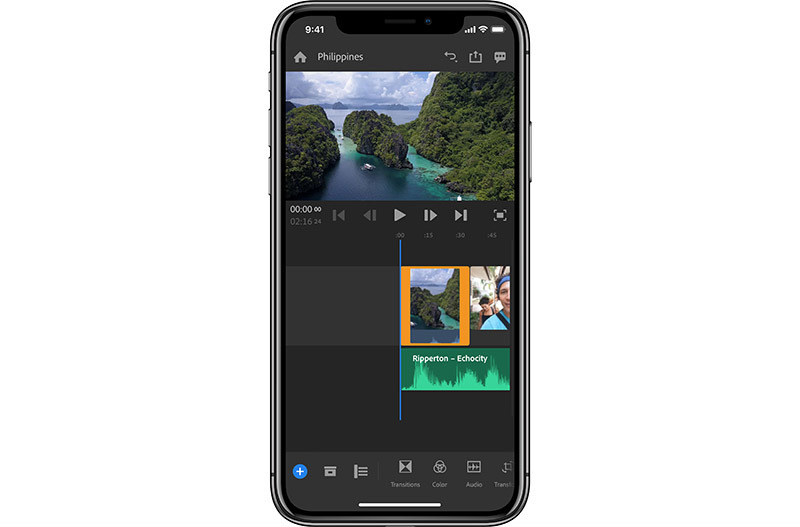 Premiere Rush CC is available now through Adobe's website and the iOS App Store. Users can try out the app with the Premiere Rush CC Starter Plan, which grants access to all mobile and desktop features with the ability to export three projects. Regular pricing starts at $9.99 per month for individuals, $19.99 per month for teams and $29.99 per month for enterprise customers.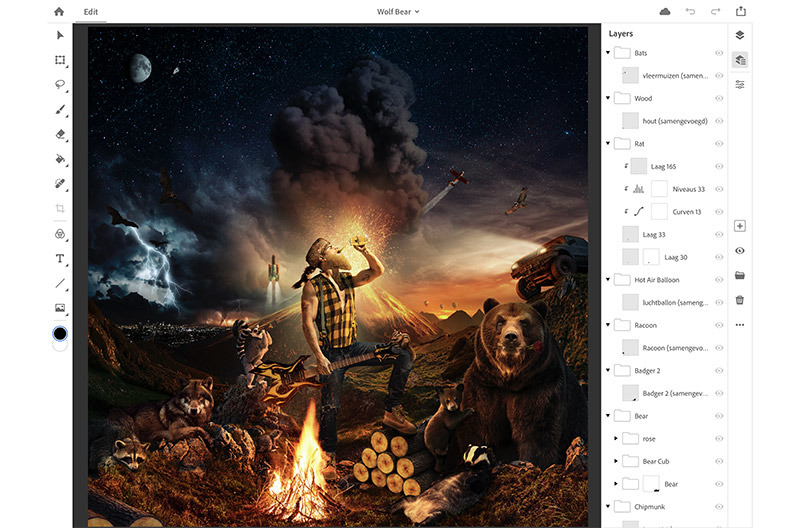 Adobe also previewed Photoshop CC for iPad, an upcoming app that promises to bring the "real" Photoshop to Apple's tablet next year.
The iOS iteration of Adobe's premiere image editing tool features support for PSD files, layers, advanced compositing, masking and other features familiar to users of the desktop version. Adobe says the app is built on the same codebase as its current Photoshop CC suite of apps, meaning users can seamlessly "roundtrip" an image to and from iPad.
Demonstrated at MAX, Photoshop for iPad features a user interface designed to take advantage of the new format. A number of popular tools like brush, eraser, gradient, marquee, text and crop appear on the left side of the screen, while a minimal layer pane occupies the right. Active layers are displayed as icons, but a two-finger pinch opens a comprehensive layer view with properties scaffolded into tiers to fit iPad's display.
Adobe says users can create, manage and tweak as many layers per image as they can on desktop, no small feat for the pro-level software.
The app also features optimizations for navigating large canvasses, and users are able to make non-destructive edits down to individual pixels.
To handle iPad's form factor, and lack of keyboard-and-mouse control, Adobe created a context-aware UI. For example, the marquee tool brings up a sub-menu bar that includes common operations like invert, mask and deselect. The brush tool, on the other hand, features an on-screen touch modifier that, when pressed, toggles input to the erase tool, handy for two-handed editing with Apple Pencil.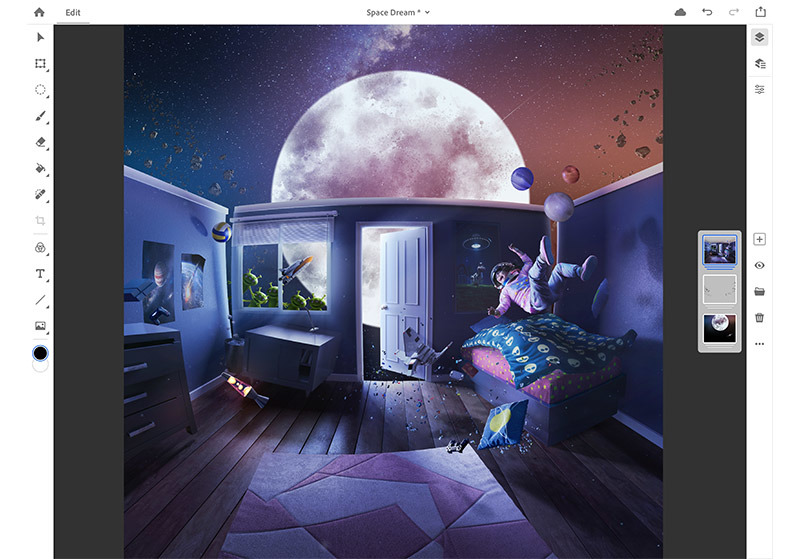 Other highlights include a complete assortment of layer adjustments, including masking, clipping and blending options like opacity, color and more. Layer properties are arguably one of the most powerful, and resource intensive, tools in a non-destructive editing suite. That Adobe is able to include a "real" version of Photoshop layers in an app made for iPad is impressive.
Photoshop CC for iPad is scheduled to launch in 2019. Those interested in keeping abreast of the latest developments can sign up for updates through Adobe's website.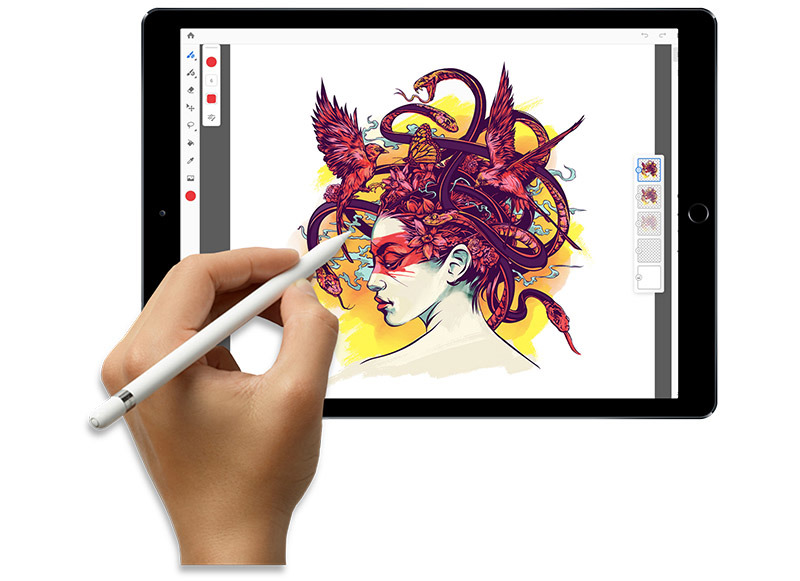 Adobe also previewed three updates related to the Photoshop family. The first, Project Gemini, is a dedicated raster and vector drawing app built on the latticework of Photoshop's painting engine. Demonstrated on iPad, the app boasts a range of professional tools and a highly customizable UI that works seamlessly with Apple Pencil. The app is expected to launch in 2019.
Second, Adobe Dimension CC, the company's 3D modeling tool for designers used to working in 2D, received an update. Along with Photoshop and Illustrator workflow improvements, Dimension 2.0 gets updated material layers, canvas tweaks, a new native rendering engine, support for more 3D file formats and more.
Project Aero is Adobe's answer to augmented reality media. Currently under development as part of a private beta, the app lets users deliver immersive AR experiences without knowledge of advanced coding techniques. Artists can use tools like Photoshop CC and Dimension CC to create AR works, which are output to open AR standards like usdz, which debuted in partnership with Apple and Pixar at WWDC 2018 earlier this year. The closed beta will slowly open up to more participants in late 2019.
Adobe's main line of Creative Cloud apps also received major updates today.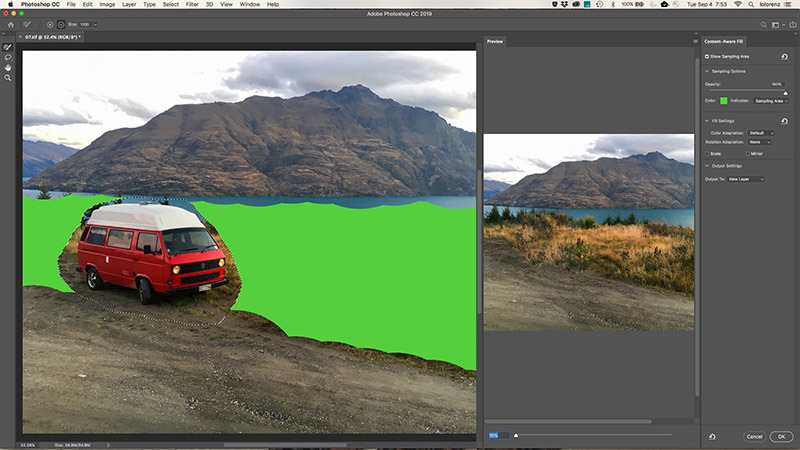 Starting with Photoshop CC, the image editing app receives a new Context-Aware Fill tool that lets users select which surrounding pixels to include and exclude from a fill. A new frame tool creates a placeholder for an image size or shape and auto-scales an asset to fit, while Symmetry Painting creates mirrored brush strokes along an axis.
Other changes include a redesigned home screen with quick links to tutorials, news, learning assets, user content and more.
Adobe threw a spotlight on Adobe XD, the company's UI/UX design platform, which now features voice prototyping capabilities through voice triggers and speech playback. Voice triggers can be added in much the same way as defining a traditional click or tap, enabling interactivity when a user says a specific word or phrase. Speech playback taps into a text-to-speech engine for fast integration without coding overhead.
Adobe XD is also receiving support for plug-ins to automate tasks, integrate with other tools, leverage data and more. Initial add-ons include offerings from Slack, JIRA, and Microsoft Teams, but interested developers can expand on the first set by rolling their own using Adobe XD APIs.
Other additions include a new Auto-Animate function for animating transitions between artboards and Drag Gestures that simulate dragging on assets like image carousels.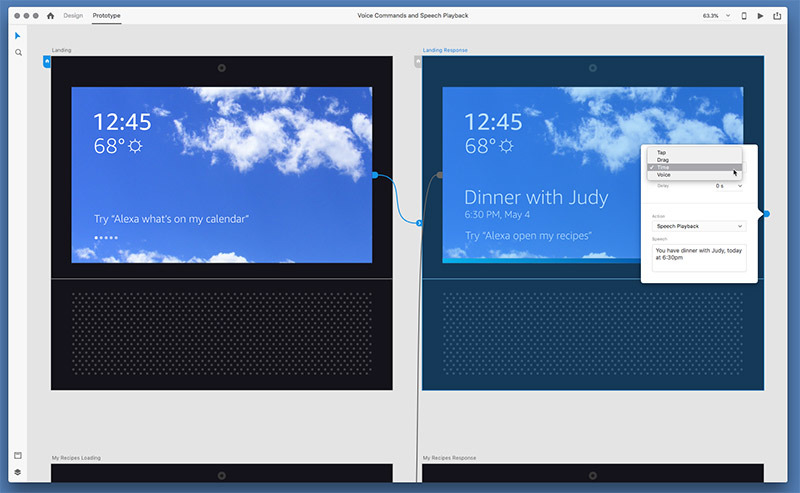 As usual, Adobe is using MAX as an opportunity to update its keystone app offerings. Lightroom CC and Lightroom Classic get performance enhancements, Illustrator CC nabs new features to design photorealistic gradients, InDesign CC benefits from a new Content-Aware Fit function.
Adobe is further integrating Sensei technology into its broader software suite. Along with Premiere Rush CC features like auto ducking, Sensei powers Photoshop CC's Context-Aware Fill tool, InDesign CC's Content-Aware Fit feature and Illustrator CC's freeform gradients. The machine learning tech is also applied to a new tool in Character Animator CC that transforms styled portraiture into animated characters.
Adobe Sensei powers visual search functionality in Adobe Stock, which is expanding its selection of Motion Graphics templates and adding a new library of clips from GoPro.
Finally, Typekit is now known as Adobe Fonts. All Creative Cloud subscribers get access to a compete library of fonts, with no syncing restrictions or web font page view and domain limits. All fonts are available for use on the web and desktop. Adobe is introducing new Font Packs at MAX and allowing users to activate a free pack every day for 30 days. More Font Packs are due to arrive in 2019.
Adobe's latest Creative Cloud apps are available for purchase through the company's website. Plans start at $20.99 per month for single apps, while access to the entire collection of more than 20 creative desktop apps costs $52.99 per month. Tacking on Adobe Stock brings the price up to $82.98 per month.