iPhone sales may be taking big hit in China because of weak smartphone market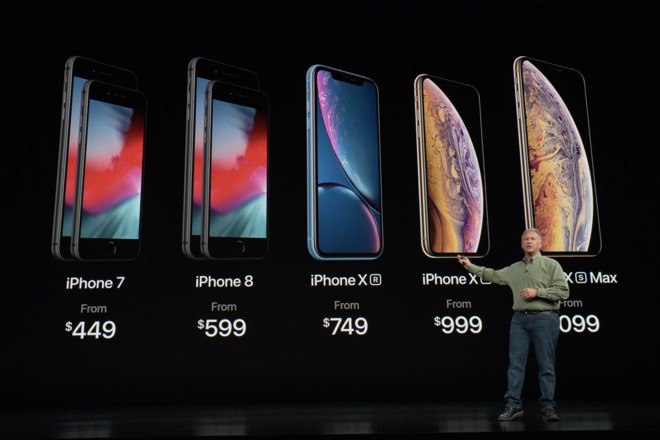 AppleInsider may earn an affiliate commission on purchases made through links on our site.
Despite other data sources to the contrary, Goldman Sachs' Rod Hall is afraid of a slowdown in the Chinese iPhone market that may dramatically impact Apple's quarterly earnings, and future prospects in the region.
Hall's analysis of the "rapidly slowing consumer demand" in China is showing a 15-percent year-over-year decline in smartphone sales in China, with the analyst claiming that this weakness is having an immediate impact on Apple.
"Much of Apple's upside potential in our [previous report] was centered on Chinese demand for larger screen sizes," wrote Hall, in a note seen by AppleInsider. "Should weak consumer demand persist and impact the higher end of the market Apple's potential to beat and raise in FQ4'18 earnings is likely reduced."
However, this is contrary to a report from a different analyst on Oct. 11. In that report, Ming-Chi Kuo said that Apple was mostly immune from a 10 percent to 15 percent decline in the Chinese market for smartphones, due to not just the new models, but the improvement in the technology year-over year.
If Apple sees any decline in its last quarter of its fiscal year, it may be short-lived. In the Oct. 11 report, Kuo claimed that factors contributing to the decline in China brands beyond innovation issues are consumer faith shaken by a potential trade war, customers sticking with "more affordable legacy iPhone models," and the imminent release of the iPhone XR.
Hall is expecting Apple's holiday quarter sales to hit 80 million units, with 16 percent of that from China — down from 19 percent in the holiday quarter of 2017. This is a bit lower than the current consensus of between 81 million and 85 million.
"We also take this opportunity to eat our hat somewhat on our cautious stance this Summer and raise our 12-month price target to $240," the analyst wrote in September. "We had expected worse iPhone X demand and some pullback in the stock — clearly neither of these two things happened. Given the limited upside from here to our new price target we stick with a Neutral rating but Apple is once again proving itself tough to bet against."
He is expecting Apple to report diluted earnings per share of $11.78 on November 1. Looking forward, because of the same factors, Hall is predicting $13.77 per share for fiscal year 2019, but in a worst-case scenario, he sees Apple stock at about four percent lower than his current $240 target price at the end of 2019.
Over the last week, Apple, and the rest of the tech industry, has taken a beating on the stock market — and Hall's note didn't help on Monday morning. Following release of the note, Apple stock has fallen nearly 1.5 percent, but it is unclear if it is as a result of the note, or a broader tech industry sell-off.