iPhone Upgrade Program pre-approvals for iPhone XR start Monday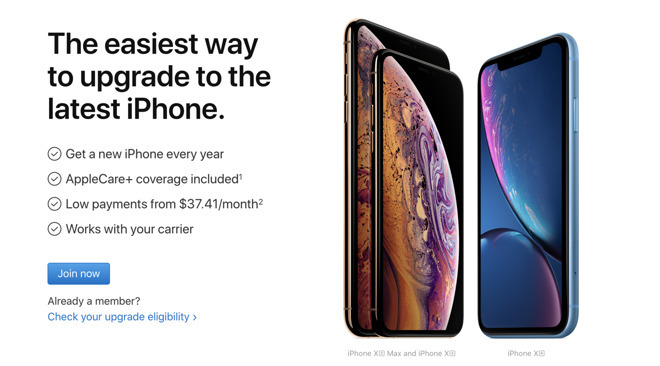 AppleInsider is supported by its audience and may earn commission as an Amazon Associate and affiliate partner on qualifying purchases. These affiliate partnerships do not influence our editorial content.
Apple will be opening up its loan pre-approval process for the iPhone Upgrade Program on Monday for customers wanting to acquire the iPhone XR, allowing participants to prepare their application before pre-orders for the smartphone commence on Friday.
Members of the iPhone Upgrade Program are able to apply for their iPhone XR at the same time as other customers, but due to a longer process involving loan approval, it can cause program participants to place their orders later than those not under the scheme. To combat this, Apple enables users under the iPhone Upgrade Program to pre-approve their application ahead of time, cutting out a lengthy section of the pre-order process.
A notice on the iPhone Upgrade Program page on Apple's website advises those looking to pick up the iPhone XR through the service to go through pre-approvals from 12pm Pacific (3pm Eastern) on Monday, so they can "speed through checkout" on Friday. The approval is conducted through the Apple Store app for iOS, and is expected to be similar to the experience program participants went through for the iPhone XS.
The process itself involves customers selecting their preferred model, color, and capacity of iPhone, then confirming their carrier, loan pre-approval, then completing the process by accessing the app during the iPhone XR pre-order period on October 19.
The iPhone XR normally starts from $749 when paid in full, but at a minimum will cost $37.41 per month under the iPhone Upgrade Program. Those looking to upgrade need to have been on the program for at least six months, to have paid the equivalent of 12 months worth of service to be eligible, and will also need to hand their existing iPhone back in good condition, or face repair costs or other extra charges.
An issue that may want to be addressed ahead of attempting to go through the pre-approval process is for customers to check if there is a security freeze on their credit file and to lift it where possible, as it could slow down or even deny applications. Credit freezes were an issue for pre-approvals at the time of the iPhone X's preorders, causing many who had self-imposed credit freezes to lose out until they could unfreeze the record.
Apple urges customers to complete their respective orders as soon as possible on pre-order day, with the preorder process itself typically starting at 12:01am Pacific.
A cheaper alternative to the iPhone XS and XS Max, the iPhone XR has a 6.1-inch LCD Liquid Retina display instead of an OLED panel used by its stablemates, has a single 12-megapixel wide-angle camera on the rear, and a wide array of bright color options.