Apple activates iPhone Upgrade Program pre-approvals for iPhone XS pre-orders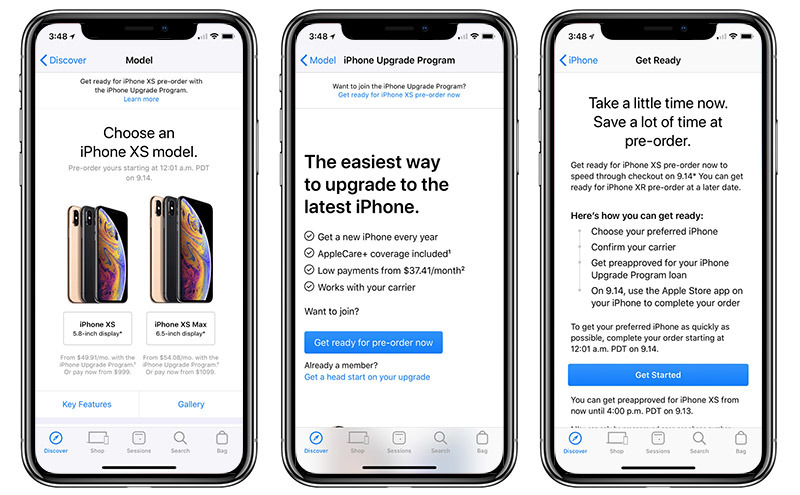 Apple on Wednesday began the loan pre-approval process for new and existing members of the iPhone Upgrade Program who plan to purchase a new iPhone XS or iPhone XS Max, ensuring customers enrolled in the plan are on equal footing with regular consumers once the handsets go up for pre-order on Friday.
Program members can apply for pre-approval through the Apple Store app for iOS, a process identical to last year's iPhone X launch.
The app, which serves as an online portal to Apple's online storefront, has been updated with information regarding the iPhone XS, iPhone XR and Apple Watch Series 4 products announced onstage earlier today.
Tapping on the "View pricing" link under iPhone XS takes users to a page dedicated to pricing and availability where, at the top, a special section provides an option to learn about Apple's iPhone Upgrade Program. Here, new customers can get more information about the monthly installment plan, while existing users can "get a head start" on their upgrade.
Apple plots out four easy steps toward a successful iPhone XS pre-order: choosing a preferred iPhone, confirming a carrier, loan pre-approval and completing a pre-approved order by visiting the Apple Store app on Sept. 14.
Prospective buyers must first choose between iPhone XS and iPhone XS Max, which carry iPhone Upgrade Program pricing of $49.91 per month and $54.08 per month, respectively. The system then checks for upgrade eligibility and walks users through a series of steps to secure a pre-approved loan.
Members have until 4:00 p.m. Pacific on Sept. 13 to get pre-approved, and can only be pre-approved once per phone number.
Apple urges customers to complete their respective orders as soon as possible starting at 12:01 a.m. Pacific on pre-order day.