iPhone XR may reduce ASP but should outpace iPhone 8 shipments by 50 percent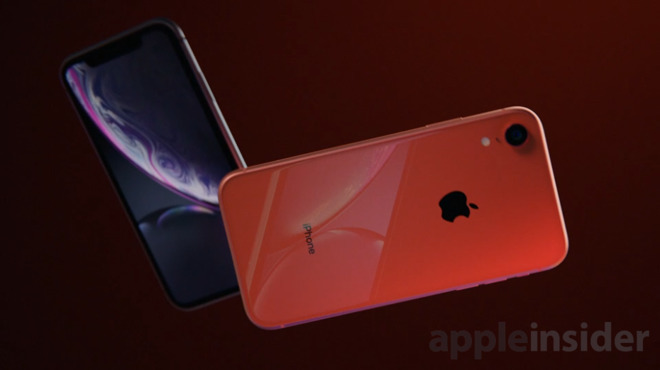 AppleInsider may earn an affiliate commission on purchases made through links on our site.
The iPhone XR will fare far better than the iPhone 8 and iPhone 8 Plus in terms of shipments, Robert Cihra of Guggenheim Securities predicts, but while the low cost could hurt the overall iPhone average selling price, the release will probably help drive demand and fourth quarter revenue.
In a note received by AppleInsider, Guggenheim believes the "growth via ASP" from 2017 doesn't apply for this year. The iPhone XR's lower price tag is anticipated to be "ASP dilutive," in part because Apple is deemed to have made enough improvements in the LCD-based model that it will outpace shipments of last year's iPhone 8 range by approximately 50 percent.
Despite seeing "more risk in iPhone ASP" for this year than last year, the iPhone XR will pull the demand mix down from the higher-priced iPhone XS and Max, but Cihra writes this may not be that bad for the statistic. "History shows a better likelihood the XR rather pulls demand up" from cheaper prior-generation models, such as the iPhone 6 and 7-class owners, upgrading to the newer models.
The analyst estimates the iPhone XR will make up 40 percent of Apple's unit mix for the December quarter, rising to more than 50 percent in the March quarter. The high-priced iPhone XS Max is tipped to continue outselling the iPhone XS by three to one.
The anticipated potentially high sales of the iPhone XR echo recent comments made by Ming-Chi Kuo, predicting better than expected demand for the iPhone XR and making up half of iPhones sold in this quarter.
For Apple's upcoming financial results, reporting on November 1, iPhone shipments are estimated at 47 million, up 1 percent year-on-year, while December quarter shipments will grow to 80 million, up 3 percent on last year. The ASP for the September quarter will be up 24 percent year on year, and up 6 percent in the December quarter.
The revenue estimates see Apple reporting $61.9 billion, up from a previous suggestion of $61.4 billion, and up 18 percent year-on-year overall. For the December quarter, the "already-high" estimate of $96.3 billion has been increased to $98.5 billion, a rise of 12 percent on the same quarter last year.
Guggenheim estimates reliable growth in the Services segment of 14 percent year-on-year to $9.7 billion.
The Apple Watch Series 4 refresh and higher price over the previous generation is thought to help sustain the "Other Products" category, and will represent Apple's fastest-growing business, with 38-percent growth for the full year of 2018 and a further 24 percent for the full year 2019 compared to 16 percent growth for full year 2017.
Cihra also touches upon the just-announced Apple special event on October 30, expecting to see refreshes on iPads and Macs. Shipments of iPads are expected to grow just 1 percent year-on-year for the September quarter, with sales thought to be stable after four years, presumably due to the iPad lifecycle. Mac shipments, however, are thought to go down 11 percent year-on-year, with Cihra calling the MacBook and iMac updates "overdue."