Refreshed Apple Pencil could include gesture recognition support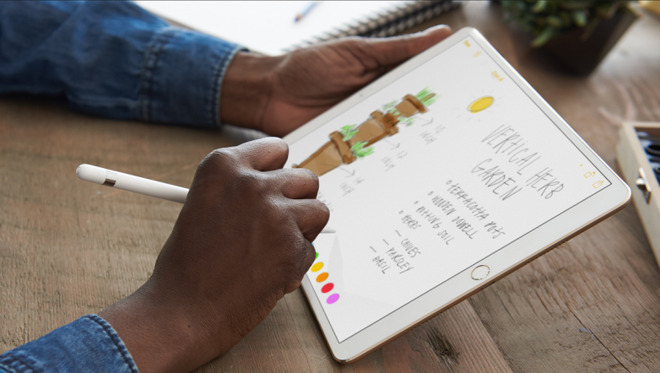 A new version of the Apple Pencil may make an appearance at tomorrow's Apple special event, according to a pair of tweets from developers, with the updated stylus tipped to include support for gestures made along its body.
Messages posted to Twitter on Sunday by developer Guilherme Rambo advise the "Apple Pencil 2," said to be model B332, will include support for gestures. "The user will be able to change stroke properties by sliding along the side of the pencil," writes Rambo.
The current version of the Apple Pencil offers pressure sensitivity with the tip, as well as angle detection allowing shading in some drawing apps. The main shaft of the stylus currently does not offer any touch capabilities at all, with such features requiring the introduction of new hardware.
More tweets from developer Steve Troughton-Smith notes there are properties in the iOS code for "UIPencilAdjustmentInteraction" that may enable the rumored features. A version ending with "DidTap:" and "didSlide:Phase:" are said by Troughton-Smith to be the "new favorite delegate methods" for developers of drawing apps.
UIPencilAdjustmentInteraction's pencilAdjustmentInteractionDidTap: and pencilAdjustmentInteraction:didSlide:phase: are your new favorite delegate methods, as drawing app developers

— Steve Troughton-Smith (@stroughtonsmith) October 28, 2018
Troughton-Smith also suggests there could be some form of "button," possibly one that is solid state, that could be held down to perform gestures with the Pencil. A button could also be the source of a "tap" that's separate from the Pencil making contact with an iPad's display, and is also suggested could be used to produce "radial contextual menus" in apps that offer functions selectable by the Apple Pencil's tip touching the display.
The potential for Apple Pencil gestures have surfaced in the past, both in rumors and in patent filings, with one October patent application suggesting the use of ultrasonic touch detection allowing the finger position and movements on the stylus' body to be monitored. Twisting or rotating the stylus and shifting the grip could provide different pen stroke weights, for example, while a tap on the section of the shaft could be interpreted as a software button press.