Frequently asked questions about the 2018 Mac mini RAM, storage, and more [u]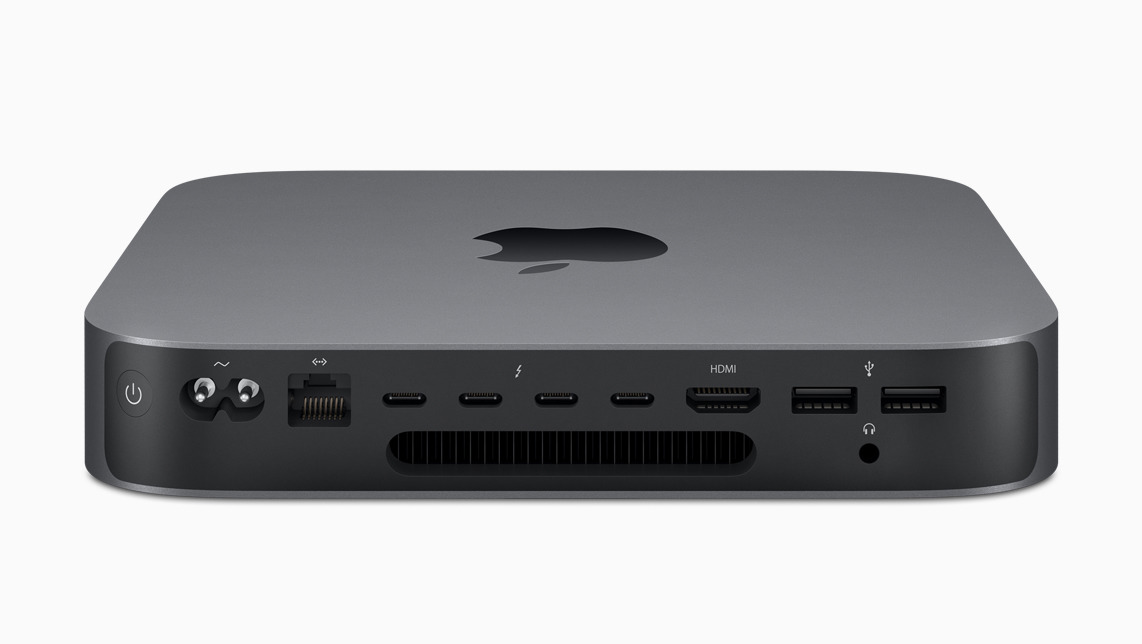 As you might expect, our forums and email addresses are over-run with questions about the Mac mini. AppleInsider tackles a few of the issues, and tells you what you can expect when and if you buy one of the new machines.
What are the ports?
One Gigabit Ethernet or 10-Gig Ethernet port depending on configuration at time of purchase, four 40 gigabit per second Thunderbolt 3 ports which can also be used as 10 gigabit per second USB 3.1 type C generation 2 ports, a HDMI 2.0 port capable of 5K, a pair of USB 3.0 type A ports, and a headphone jack — note that this is not a microphone port as well.
Four Thunderbolt 3 ports! Does that mean I can have four 5K displays?
Nope. Practically, this means that a user can have two displays with 4096 x 2304 resolution at 60Hz connected via Thunderbolt 3, plus one display with 4096 x 2160 resolution at 60Hz connected via HDMI 2.0. Alternatively, the user can have one display with 5120 x 2880 resolution at 60Hz connected via Thunderbolt 3 plus one display with 4096 x 2160 resolution at 60Hz connected with the HDMI 2.0 port.
Of course, you could always hang an external GPU off of it and have loads of displays.
Is the RAM user-expandable?
Yes. The slots are SO-DIMM slots, and are mostly accessible to the user. In conversations with Apple corporate employees, we've been told that users with a "modicum of skill" can get to the pair of RAM slots.
AppleInsider isn't going to recommend this for all users just now because of the remark, and the current lack of clarity. But, we will be examining what it takes to get to the slots as soon as we can.
If I buy my own RAM, what do I need?
Apple says that the new Mac mini uses 2666MHZ DDR4 SO-DIMM RAM. Specifically, it looks like DDR-4 PC4-21300, non-ECC unbuffered RAM. On Crucial.com today, a 16GB kit is $146, with a 32GB kit at $292. RAM is a commodity, and pricing can vary greatly day-to-day, so if you've found this post a long time after the October 30 reveal, the prices may be higher or lower.
OWC will have kits for up to 32GB by the time the machines ship, with the 64GB kits two weeks later.
This is not additive. You'll have to pull out the RAM you bought with the machine. Keep it handy, though. If you need warranty repair, you'll have to put it back in before Apple will look at it.
Is the internal drive accessible to the user?
No. It is not a slotted M.2 drive, nor SATA. Buy what you need for internal storage when you get the machine.
Realize, though, that it has four 40Gbit/sec Thunderbolt 3 ports, so consider external storage. A USB 3.1 type-C generation 1 enclosure for a SATA SSD is about $20 from Amazon. One that can take two drives and is USB 3.1 type-C generation 2 is about $60.
We'll be talking about options for truly ridiculous storage for the new machines before not too long.
Why, though? This seems dumb.
The storage in the Mac mini is PCI-E storage, with Apple claiming that the drive has sequential read speed of up to four times faster than the previous model, with a peak of 3.4 gigabytes per second.
A SATA drive is limited to about 550 Megabytes per second read, about one-sixth the speed. Standard M.2 drives are faster than that, of course, but still not up to the 3.4 gigabytes per second.
Use cases vary, of course. What works for one user very well is overkill for another. Speaking of overkill...
LOL, $4200 is too much for a Mac mini!
Yes, the highest configuration for a Mac mini is $4200. However, a large portion of that is expensive SSD.
If you're the kind of AppleInsider reader that "needs" a $4200 Mac mini, then you're also the kind of user that buys their own RAM, and will get an external enclosure and pack it full of your own drives.
Is the processor upgradeable?
No. We've been told that the processors are all soldered and not socketed. Get the fastest one you can afford.
... this also seems dumb.
For a small segment of Apple's users. it isn't optimal, but it isn't dumb. Apple's choices in how they design machines — including processor mounting — has dramatically cut down on the service rates in just a handful of years. But, like we said before, more on this later.
As a reminder, just because there have been machines that can take a CPU upgrade by the truly adventurous, like the 5,1 Mac Pro and now the iMac Pro, that doesn't make it a good idea for everybody. Apple has only very rarely explicitly allowed CPU upgrades, and even then, it was in days of yore.
Can I use the USB-C iPad Pro as an external monitor for the Mac mini?
This is more about the iPro than the Mac mini, but let's address it anyway.
You can't plug in a USB-C to USB-C cable with no other software to do so at present, no. USB-C to DisplayPort or HDMI is a specific "alternate mode" negotiation, and it would require additional software at a minimum and hardware more likely in the iPad Pro to allow this.
There are always software options like Duet Display that benefits greatly from a high-speed wired connection like USB-C will provide, or wireless solutions like AstroPad's Luna Display, though to do this.
That stack of Mac minis looks sweet, how does it work?
First of all, there's nothing truly new there. There are no fancy interconnects, or special connectors that Apple used or released on Tuesday.
At the New York event, Apple had a stack of Mac minis, cranking away on a problem that is easily broken into chunks — called embarrassingly parallel — with compatible software. Not every task can be broken up like this, nor will stacking five Mac minis give you any inherent advantage on day-to-day tasks.
But what about...
We're still getting a lot of questions about the new machine. As we collect questions, and gather answers, we'll update accordingly.