Apple's new Mac mini finally arrives with 5X performance, Thunderbolt 3, more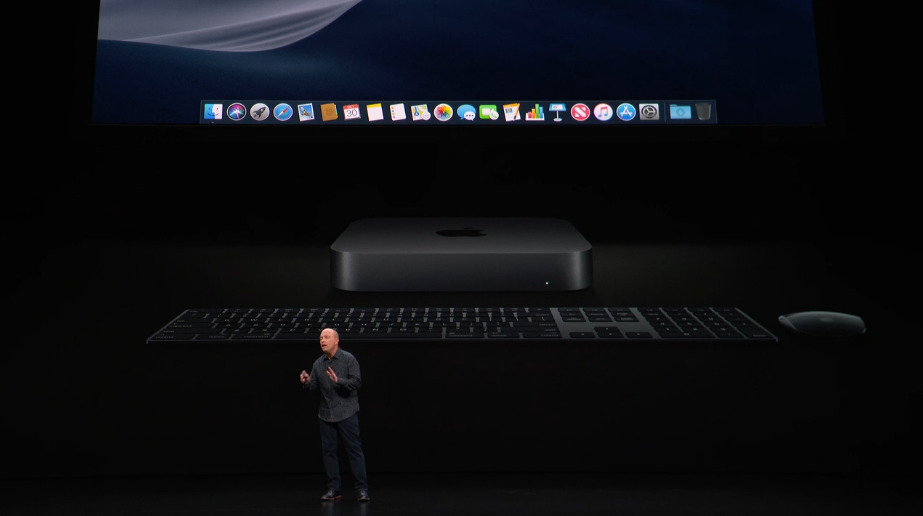 Amongst other announcements, Apple just debuted the long-awaited successor to the Mac mini with five times the performance, up to six-core processors, Thunderbolt 3, and user-expandable RAM.
The new Mac mini looks shockingly similar to previous models, though it has a new Space Gray finish. While it looks similar, internally it is all new. They start with four-core processors and are expandable to six cores at the time of purchase. Each Mac mini starts with 8GB of RAM with upgrades possible to 64GB. Storage, all flash-based, is expandable to 2TB, twice the previous maximum.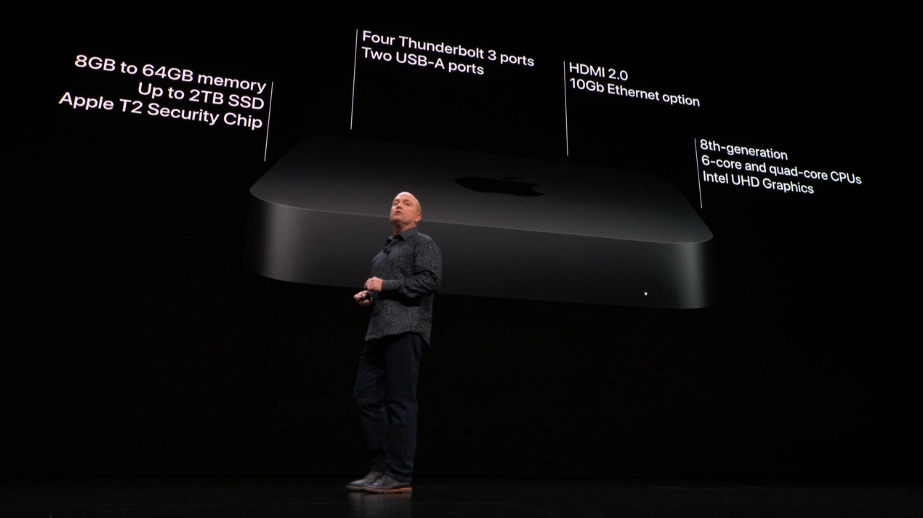 Ports include four Thunderbolt 3, one HDMI and two USB-A with an option for 10Gb Ethernet. Apple has added the T2 Security Chip to the Mini, which includes an SSD controller for faster data encryption. T2 also comes equipped with hardware HEVC video transcoding for up to 30-times faster performance.
Onboard graphics across the line are the Intel UHD Graphics 630. As with any Thunderbolt 3 computer, the Mac mini can use an external GPU. The HDMI port on the device uses the 2.0 spec, allowing for 4K resolution at 60Hz.
And just like the new 2018 MacBook Air, the enclosure is built out of 100-percent recycled aluminum.
"Mac mini is loved by customers for its ability to be used in incredibly diverse environments — from casual desktop use, to live professional performances, to multiple Mac mini computers powering through video renderings and compiling software code, to racks of thousands in giant app build farms — anywhere a small-but-mighty Mac is needed to get the job done," said Apple's Phil Schiller.
Prices start at $799 for a 3.6GHz quad-core i3 model with 8GB of RAM and 128GB of SSD storage. An i5 model at 3.0 GHz with 8GB of RAM and 256GB of storage is available for $1099. An upgrade of the i5 model to a 3.2GHz i7 processor is an additional $200. Either model can get a 10 Gigabit Ethernet port for an additional $100.
A maxed-out configuration with 64GB of RAM, a 2TB SSD, the i7 six-core processor, and 10 Gigabit Ethernet retails for $4199.99. Cutting the SSD back to 256GB and relying on external storage reduces that to $2799.