Apple's new MacBook Air powered by 7W Intel 'Amber Lake' CPU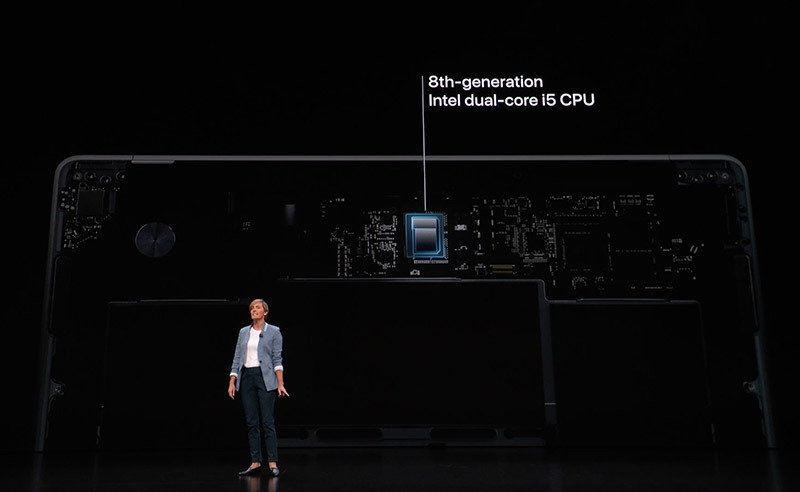 Apple is typically loath to reveal processor parts numbers in releasing new Mac hardware, and the company followed that trend when it unveiled the 2018 MacBook Air on Tuesday. Cross-referencing part specifications with Intel's ARK database, however, suggests the thin-and-light is powered by a just-announced Intel processor from the same family rumored to show up in the MacBook line.
On its tech specs webpage, Apple says the new MacBook Air is powered by a 1.6GHz dual-core Intel Core i5 processor with Turbo Boost up to 3.6GHz. The chip further boasts 4MB of L3 cache, supports up to 16GB of 2133MHz LPDDR3 memory and includes Intel's UHD Graphics 617.
According to Intel's website, there is one chip that matches those chip specifications: the Core i5-8210Y. Released in the third quarter of 2018 a part of the Amber Lake family, the 8th generation Core i5 is an efficient 7 Watt chip built on Intel's 14-nanometer process.
Interestingly, Intel apparently posted information about the chip to ARK following Apple's media event in New York.
In its coverage of today's Apple announcements, AnandTech earlier today noted the single Intel Core i5 chip being offered with the new MacBook Air did not match any component in the chipmaker's ARK database. The publication opined that Apple integrated unannounced 5W Amber Lake silicon in its latest thin-and-light, a major shift from the 15W U-series chips used in previous MacBook Air models.
As noted by AnandTech, Apple is trading efficiency for performance potential by opting for Amber Lake. Still, the newly designed CPU and integrated GPU pairing is a step up from the Broadwell architecture currently used by the non-Retina display MacBook Air.
On its website, Apple claims the new MacBook Air with Retina display's 50.3-watt-hour battery pack is good for up to 12 hours while browsing the web over Wi-Fi, 13 hours while watching iTunes movies or 30 days on standby.
Earlier this year, details of Intel's Amber Lake chips leaked, revealing potential CPU candidates for Apple's MacBook lineup. The entry-level Macs rely on 5W Y-series chips, making Amber Lake a suitable replacement if and when the laptop line is refreshed.