Apple rakes in $62.9B in revenue on sales of 46.9M iPhones in record-breaking September quarter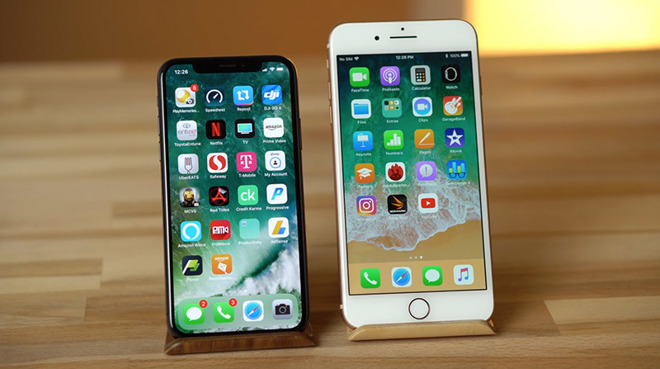 Apple's revenue for the fourth quarter of the fiscal year 2018 hit $62.9 billion, the company revealed on Tuesday, with earnings-per-share of $2.91 growing year-on-year, and iPhone sales of 46.9 million units translating to massive ASPs of $793.
Apple shipped 46.9 million iPhones during the September quarter, up slightly year-on-year from the same period in 2017, when it shipped 46.7 million iPhones. Revenue from iPhones of $37.2 billion is up year-on-year from $28.8 billion.
"We're thrilled to report another record-breaking quarter that caps a tremendous fiscal 2018, the year in which we shipped our 2 billionth iOS device, celebrated the 10th anniversary of the App Store and achieved the strongest revenue and earnings in Apple's history," said Apple CEO Tim Cook.
The average selling price (ASP) of the iPhone is $793, up from the $617.99 ASP from one year ago. This continues a pattern seen in earlier quarters, with the main ASP driver being the premium pricing of the iPhone X, iPhone XS, and iPhone XS Max. Sequentially, iPhone ASPs are up substantially from the $724 figure recorded in quarter three.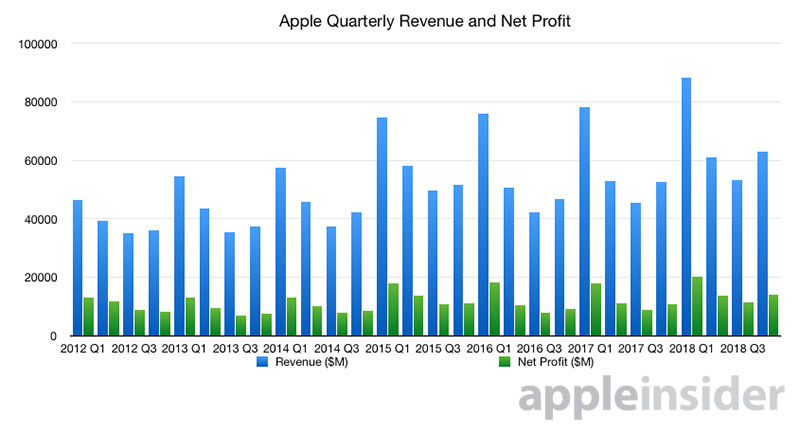 Analysts predicted Apple would sell around 47.5 million iPhones in the fourth quarter, forecasting a range between 46.7 million and 48.1 million.
The iPad earned Apple $4.1 billion in revenue for the quarter, down year-on-year from last year's $4.8 billion, with sales of 9.7 million units versus 10.3 million units from the same period last year. The results failed to meet analyst estimates of around 10.5 million units shipped.
Mac revenue of $7.4 billion for the quarter is higher than the year-ago quarter's $7.2 billion. Sales of 5.3 million units are a slightly down from the 5.4 million recorded last year. The period is also the quarter that Apple updated the MacBook Pro with new processors and better GPUs. It does not appear to have moved the needle that much versus the year-ago quarter, however.
The Services arm of the company contributed $10 billion in revenue, an increase from the $8.5 billion reported for the period in 2017. Services continues to report double-digit year-on-year growth, keeping it a relatively predictable revenue source for the company.
Overall revenue in the quarter of $62.9 billion is a year-on-year increase from $52.6 billion. Apple forecast revenue between $60 billion and $62 billion with a gross margin between 38 percent and 38.5 percent for the quarter.
Apple is forecasting revenue between $89 billion and $93 billion for the first fiscal quarter of 2019, with gross margin pegged between 38 percent and 38.5 percent. Operating expenses are expected to lie between $8.7 billion and $8.8 billion, while a tax rate of approximately 16.5 percent is anticipated.