Intel's 5G modem rollout accelerated, could end up in 2019 iPhone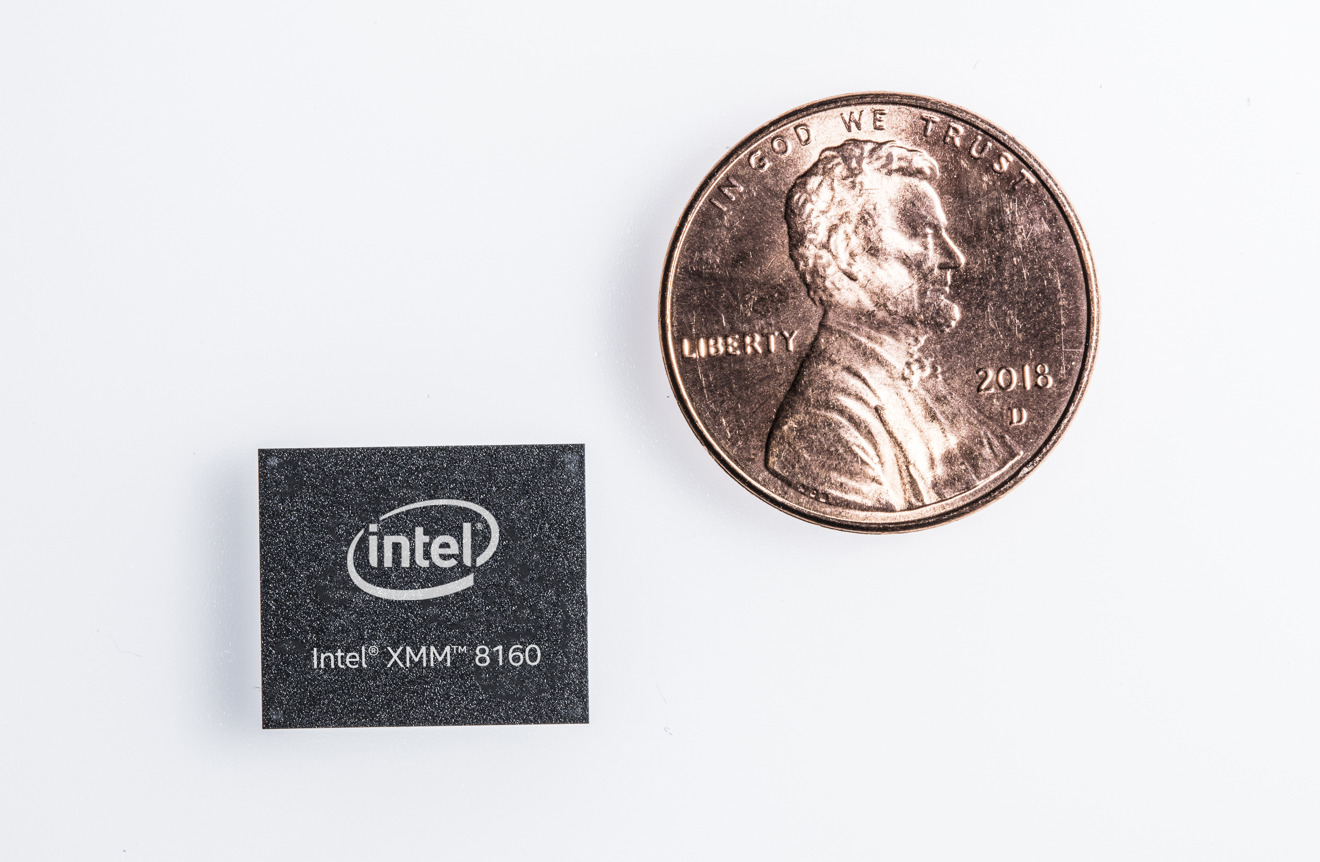 Intel has launched a new modem intended for mobile devices that will connect to 5G mobile networks, with the chip producer claiming to have accelerated the launch of the XMM 8160 modem by half a year compared to its original scheduling.
The XMM 8160 5G modem boasts peak speeds of up to 6 gigabits per second when used on a cellular network. Intel claims the speed is between three and six times faster than the latest LTE modems used in current-generation mobile devices.
It is a multimode modem, which allows for 4G, 3G, and legacy 2G networks to be used by the chipset, and it will also support the new standard of 5G New Radio (NR) along with standalone (SA) and non-standalone (NSA) modes. The use of a single-chip multimode baseband modem can enable smartphone, tablet, and notebook producers to reuse space typically taken up by other modem chips for other components, or even to create a smaller overall device.
Intel plans to ship the XMM 8160 5G modem in the second half of 2019, with commercial devices using the modem expected to ship in the first half of 2020.
The scheduling change from Intel follows reports that competing 5G modem producers including Qualcomm and MediaTek are moving up their own launches by a quarter. In the case of Qualcomm, it is alleged a major smartphone producer is planning to launch two 5G smartphones in the first and second halves of 2019.
It is doubted that Apple is the vendor in question, as the ongoing legal war between Qualcomm and Apple has led to Intel providing all of the modems for the 2018 iPhones.
Apple is however tipped to launch a 5G-compatible iPhone in 2020, and is claimed to be working with Intel on producing a suitable modem for the task. The change in scheduling by Intel for this modem launch means there is an outside possibility for a 5G modem to be added to the 2019 iPhones, depending on how early Intel can start its mass production.
One report in July claimed Apple had changed its mind about using Intel modems for the 2020 iPhones, but Intel advised to AppleInsider it had not changed its "5G customer engagements and roadmap" and the company "remain committed to our 5G plans and projects."