iPad & FaceTime continues to open up communication options for disabled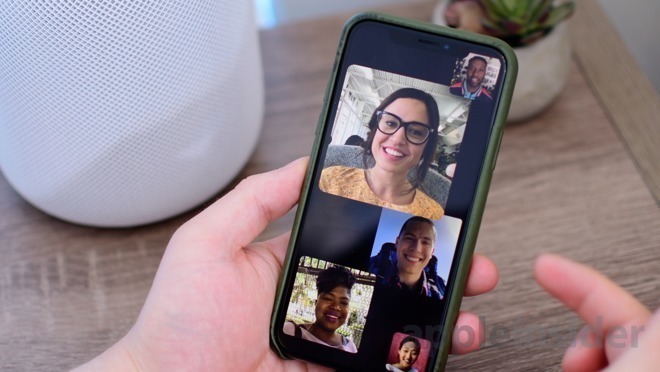 AppleInsider is supported by its audience and may earn commission as an Amazon Associate and affiliate partner on qualifying purchases. These affiliate partnerships do not influence our editorial content.
The iPad has become an essential lifeline for some of its users, one account reveals, with Apple's tablet being used as an outlet for a person with Down syndrome to get in contact with other members of his family, a feat that was previously extremely difficult to perform.
The iPhone and iPad offers plentiful ways for those with ailments and impairments to use the devices on a daily basis, features Apple has regularly highlighted, such as the case of blind surfer Scott Leason using the iPhone XR. In some cases, such as one testimonial from the Post-Journal, even the basic usage of apps can be of help to some users.
Greg, a 41-year-old with Down syndrome, has been given the opportunity to get in contact with other members of his family while living in a group home, writes his father Denny Bonavita. While family members were able to phone him on a regular basis, Greg had trouble calling out, requiring the aid of a group home staff member.
In October, the family bought Greg an iPad as a birthday present, which was set up with contact lists in both Skype and FaceTime, each with photographs of the contacts. This in theory made it relatively easy for Greg to initiate a call, without needing to remember names or numbers, or even to search through a list.
Greg did get to grips with the apps, but with unintended consequences. While capable of reading and comprehending words or short phrases, longer statements and the concept of lists is less understood, which led to Greg starting from the top of the list and trying each one in turn until he got through to the person he wanted to call, and some people at the top of the list receiving 20 calls in the first week.
Providing an iPad and a way to contact his family has given Greg the ability to see more of his family using the video calls. As a byproduct, younger family members get to see him and become aware of Greg's differences, something that simply would not have been possible by phone calls alone.
The video calls also provided Greg a level of independence, as well as the ability to tease his peers. After being teased that his bed was untidy after showing his father his room, a week later Greg refused to turn the iPad's camera to the bed when asked, grinning and chuckling as he refused his father's request.
"Instead of Greg being stuck away in a jail-like institution, as happened to some people with Down Syndrome a half-century ago," writes Bonavita. "He is connected to his extended family via his iPad, sharing his grins and gestures via images."