TestCard turns your iPhone into a private, clinical-grade urinalysis kit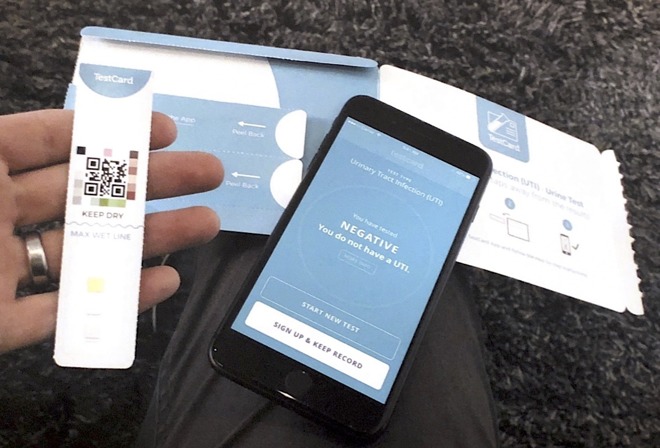 AppleInsider may earn an affiliate commission on purchases made through links on our site.
A UK startup is launching an app that uses the iPhone camera and flash system to provide immediate and accurate results for a variety of issues ranging from pregnancy to blood glucose to prostate health, kidney disease, STIs and even illicit drugs — using low-cost test strips that arrive in the form of a postcard-sized mailer.
TestCard, based in London, was at Disrupt Berlin 2018 this week showing its dipstick strips delivered right to the end user in the form of a "flat pack" mailer. All the end user has to do is detach a strip, dunk it, and then use the TestCard app to evaluate the result.
The test strips look and work similar to those used for monitoring the health of your hot tub's water, except that rather than expecting the user to accurately interpret the chemical reactions reflected on the strips, the app takes over control of the iOS camera and flash to image the strip, its QR Code and calibration color swatches in order to deliver highly accurate results.
The app samples the visual data repeatedly, controlling for variations in ambient lighting conditions to either deliver a simple immediate result to the user or, alternatively provide detailed data to a doctor for further evaluation.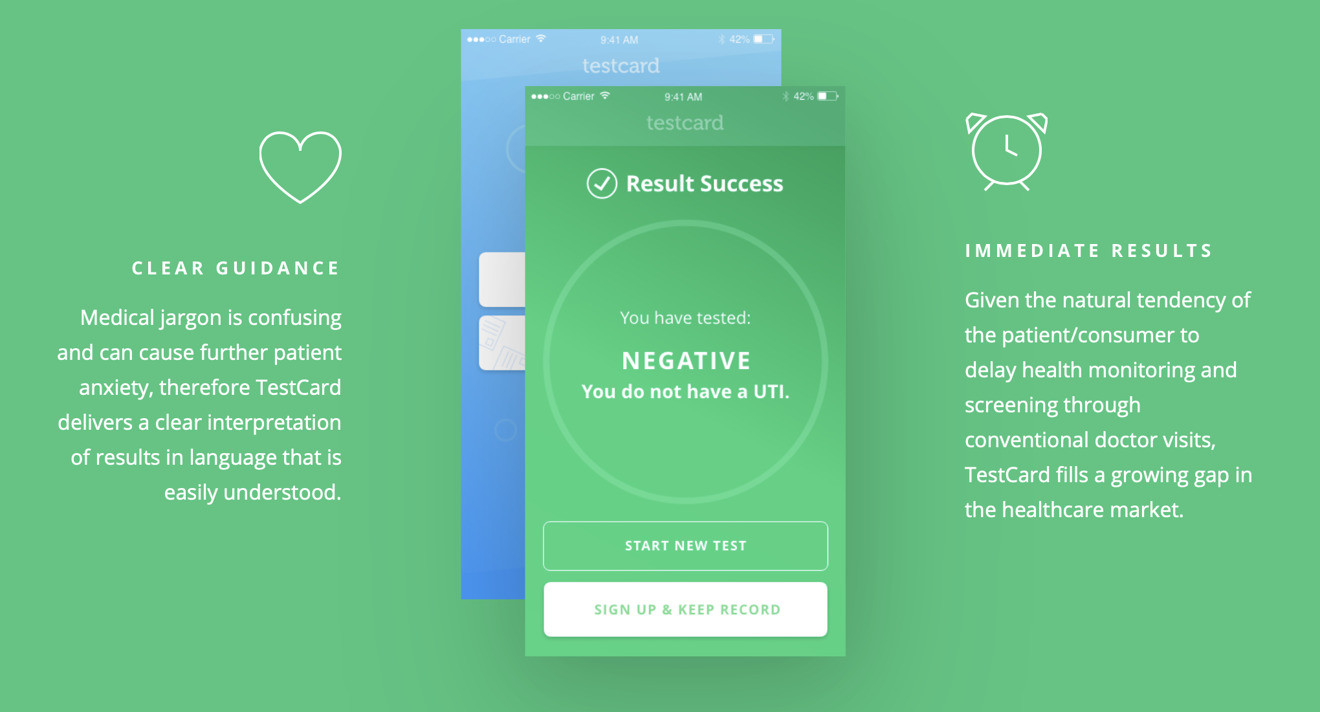 TestCart is already functional in the UK, where the company has partnered with home care providers and insurance companies to provide low-cost screenings and pre-screening triage for health conditions, including glucose levels for diabetes.
The startup expects to bring its product to the U.S. by the end of 2019. Illustrating how its low-cost product (a test package of three strips costs less than $5), the company notes that there are an estimated 10.5 million clinic visits annually for urinary tract infections alone, and around 2-3 million of those involve an Emergency Room response. The firm stated that the average cost of treating a UTI in the U.S. was $2,598.
The range of urine-based testing that TestCard's various strips can evaluate include fertility testing and ovulation optimization, allowing the app to provide guidance on the ideal timing for successful conception based on hormone tracking over time; a prostate health score derived from measuring a prostatic specific antigen; urinalysis of ketone levels and proteins used to monitor kidney health over time; and screenings for drugs including amphetamines, barbiturates, and narcotics.
Beyond partnerships with insurance companies, healthcare trusts, and general practitioners, TestCard also plans to sell its test packages directly to consumers at retail and online through merchants including Amazon. Its extremely low-cost packaging and simple mailer format enable the product to reach remote geographies where traveling to a doctor or clinic may be impractical, particularly for applications that involve regular, ongoing testing.
By taking advantage of the sophisticated mobile cameras in modern iPhones, the TestCard app can be used by untrained staff and still deliver highly accurate data compliant with British NHS and ISO regulations, and the company expects to gain prompt approval in the rest of Europe and the U.S. under FDA "substantially similar" policies followed to align American and foreign regulators. The product already has CE marking designating that it meets EU requirements, and will only need local language packaging to expand across various markets in Europe.