Apple rings in holidays with Beer Bash featuring Idina Menzel, Toys for Tots drive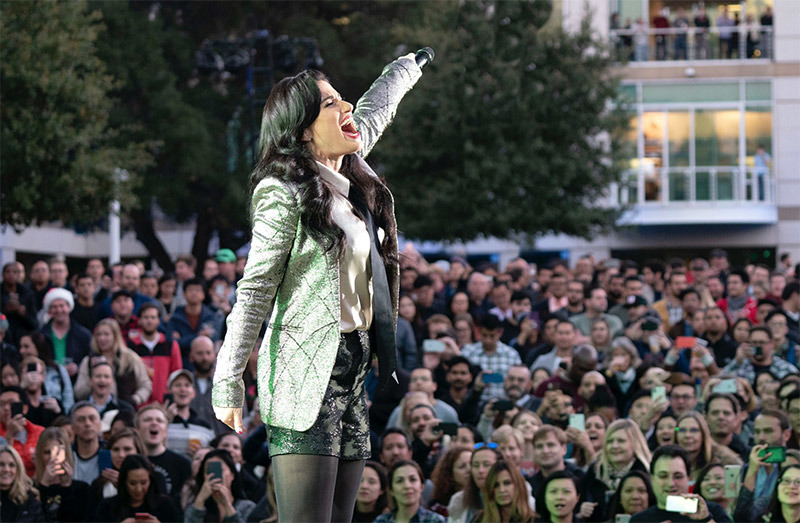 Apple employees on Friday participated in a pair of yearly traditions at the company's One Infinite Loop campus in California, donating goods to the Toys for Tots Program before enjoying a Beer Bash performance featuring Idina Menzel.
Apple CEO Tim Cook shared photos of the annual event in a pair of tweets, the first of which celebrated the Toys for Tots initiative run by the U.S. Marine Corps Reserve.
"One of my favorite holiday traditions — our annual @ToysForTots_USA celebration. Thanks @USMC for your service to our country and for spreading holiday magic to children in need," Cook said.
A photo attached to the tweet showed Cook shaking hands with reservists in uniform, who were on the scene at Apple's campus to collect toys from employees.
The Apple chief tweeted out a second message highlighting this year's holiday Beer Bash. Performing for a crowd of workers was Idina Menzel, best known for her role as Elsa in the Walt Disney animated film "Frozen."
"A big thank-you from our Apple family to the phenomenally talented @idinamenzel. Your voice is a gift — thank you for sharing it with us. What a wonderful way to celebrate the holidays!" Cook said in the tweet.
An accomplished singer and musical theater performer — she starred in a number of Broadway productions and was a member of the original cast of Rent — Menzel is fresh off a month-long U.S. tour with Josh Groban that wrapped in November.
Along with Cook's tweets, Apple employees posted their reactions to the day's festivities to social media outlets like Twitter and Instagram. Looking at photos of the celebration, it appears Apple went to extra lengths this year by erecting a canopied stage complete with lighting system.
Apple's Beer Bash is currently held at the quad at One Infinite Loop. A semi-annual perk for Apple employees, the event typically includes a performance by a special guest accompanied by tasty local brews. Last year's holiday gathering featured Gwen Stefani.