Apple interested in Sony's 3D camera sensor technology, report says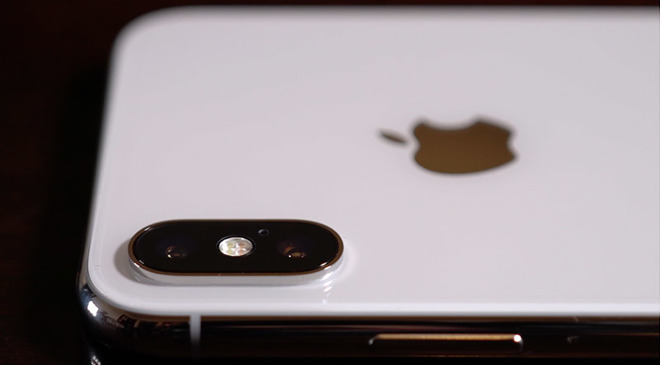 Apple has reportedly expressed interest in 3D camera sensors produced by existing supplier Sony, hardware that utilizes accurate time of flight technology instead of the structured light solution currently deployed in iPhone and iPad's TrueDepth camera system.
Dual-sensor rear-facing camera on iPhone X.
Satoshi Yoshihara, general manager in charge of sensors at Sony, said the company plans to start production of its 3D chips next summer to meet demand from "several" smartphone makers.
Yoshihara failed to provide manufacturing figures and did not name potential customers, though he did note Sony's 3D chip business is operating profitably, reports Bloomberg Quint. The publication claims Apple is interested in adopting the technology, but does not make clear whether the information came from Sony or an unnamed source.
Apple's existing 3D hardware, TrueDepth, uses a single vertical-cavity surface-emitting laser (VCSEL) to project structured light — a grid of dots — onto a subject. By measuring deviations and distortions in the grid, the system is able to generate a 3D maps that is in this case used for biometric authentication.
Sony's technology, on the other hand, is a time of flight (TOF) system that creates depth maps by measuring the time it takes pulses of light to travel to and from a target surface. According to Yoshihara, TOF technology is more accurate than structured light and can operate at longer distances.
Rumors of Apple's interest in TOF solutions is well documented, though today's report is the first to attach Sony to potential production plans. In June 2017, reports indicated Apple was evaluating TOF for a rear-facing camera that would assist in augmented reality applications and faster, more accurate autofocus operation.
Whether TOF will make it into a shipping Apple product is unclear. Noted Apple analyst Ming-Chi Kuo in September said the company is unlikely to integrate the technology in a next-generation iPhone model. Instead, Apple is expected to continue to rely on the dual-camera system first deployed with iPhone 7.
"We believe that iPhone's dual-camera can simulate and offer enough distance/depth information necessary for photo-taking; it is therefore unnecessary for the 2H19 new iPhone models to be equipped with a rear-side ToF," Kuo says.
Along with Sony, which supplies camera modules for iPhone and iPad, Infineon, Panasonic and STMicroelectronics are also developing 3D chips based on TOF technology.