Apple to detail revised down Q1 2019 revenue on Jan. 29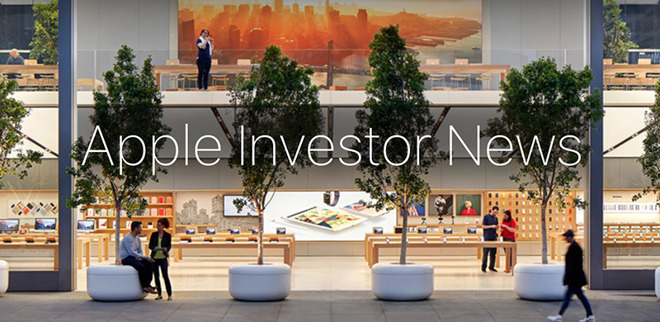 Apple on Wednesday said it will report quarterly earnings for the first quarter of 2019 on Jan. 29, when company executives are expected to detail a a rare revenue forecast cut on the back of weak iPhone sales.
The quarterly earnings report will be followed by a conference call set for Tuesday, Jan. 29. at 2 p.m. Pacific, 5 p.m. Eastern, Apple said in an update to its Investor Relations webpage.
CEO Tim Cook and CFO Luca Maestri are anticipated to take part in the call that should provide detail on Apple's recently revised revenue expectations.
Earlier today, Cook in a letter to investors said Apple is on track to generate $84 billion in revenue for the important first fiscal quarter of 2019, down from original expectations of between $89 billion and $93 billion. The reduction is being blamed in large part on weak iPhone demand in China and unspecified emerging markets.
"Lower than anticipated iPhone revenue, primarily in Greater China, accounts for all of our revenue shortfall to our guidance and for much more than our entire year-over-year revenue decline," Cook said.
Specifically, Apple failed to foresee a deceleration in China's economy that was in part spurred on by increased trade tensions with the U.S.
Beyond macroeconomic factors and U.S. dollar strength-related price increases, Cook blamed the revenue miss on miscalculated upgrade demand. In particular, the executive said low-cost battery replacements and fewer carrier subsidies are hindering the usual upgrade cycle.
Apple has not lowered guidance for a current quarter in more than 15 years.