Connect four displays to a MacBook Pro with the Targus Universal Quad video HD Docking Station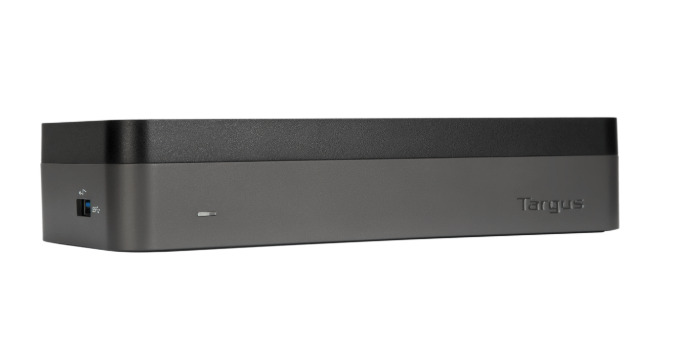 Targus has launched what it calls the world's first universal docking station capable of working with up to four HD monitors simultaneously, plus other peripherals and accessories via a single USB-C port.
Introduced during CES 2019, the USB-C Universal Quad Video HD Docking Station is powered by a Dual DisplayLink DL-3950 chip, enabling it to offer four HDMI ports. The connections can allow up to four 1080p screens to run at 60Hz, or alternately two 2K displays at 50Hz.
Along with the extensive video connectivity, the dock also provides other connection options. It has four USB 3.0 ports for accessories, with one offering fast charging capabilities for use with a compatible smartphone or tablet, a single headphone jack for audio output, and a gigabit Ethernet port for a physical network connection.
On the back is a USB-C port that is meant for use with a host computer's USB-C or Thunderbolt 3 port, but there is a secondary USB-C port for accessories, offering up to 15 Watts of power. Rounding out the ports on the back are a locking slot, power connection point, and the on-off switch.
The compact unit measures 3.46 inches by 8.15 inches, is 1.69 inches thick, and weighs 1.5 pounds. While it does have a rubberized base to protect a desk from scratches and from the dock slipping about, there is the option of using a VESA mounting bracket to hide the dock on the back of a display.
Where to buy
The Targus USB-C Universal Quad HD Docking Station is available now, priced at $274.99 from Targus directly or Amazon.com. Given that the DisplayLink drivers are only fully functional under Mojave and not under High Sierra, the hardware is intended for Apple's newer operating system only.
AppleInsider will be attending the Las Vegas Consumer Electronics Show starting on January 8 through January 11 where we're expecting 5G devices, HomeKit, 8K monitors and more. Keep up with our coverage by downloading the AppleInsider app, and follow us on YouTube, Twitter @appleinsider and Facebook for live, late-breaking coverage. You can also check out our official Instagram account for exclusive photos throughout the event.