AMD unveils Radeon 7 graphics card likely to appear in future pro Macs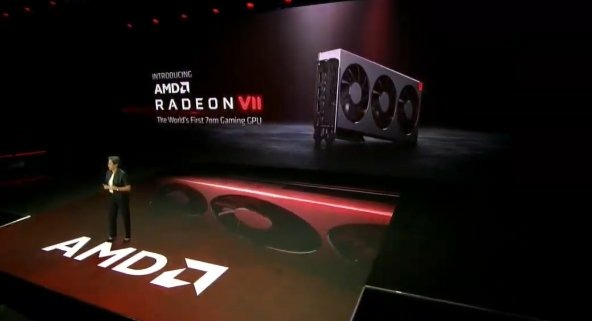 AMD on Wednesday announced its next flagship graphics card, the Radeon 7, which it touted as the world's first 7-nanometer gaming GPU.
The card is claimed to offer 25 percent faster performance than earlier Vega cards, such as those used for the iMac Pro, AMD said during a CES keynote. To demonstrate, the company showed a preview of Capcom's upcoming action game "Devil May Cry 5," which ran in 4K resolution with framerates over 100 frames per second. Current games like "Battlefield V" are said to run at 60fps or more with maximum settings.
AMD is using 16 gigabytes of memory, offering bandwidth up to 1 terabyte per second. Processing happens on 60 compute units clocked at up to 1.8 gigahertz.
The Radeon 7 should ship Feb. 7 for $699.
Apple, a regular AMD customer, will presumably want to use some version of the card in future iMac Pro configurations, as well as its still secretive successor to the 2013 Mac Pro. The latter will be Apple's first modular computer in many years, finally letting hobbyists and professionals upgrade Macs gradually instead of having to wait for complete redesigns. Barring delays it's due to ship sometime in 2019.
The cost and size of the new Radeon will presumably keep it out of standard iMacs, where a sleek design is valued over performance.
AppleInsider is at the Consumer Electronics Show in Las Vegas from Jan. 8 through Jan. 11, where we're expecting 5G devices, HomeKit, 8K monitors and more. Keep up with our coverage by downloading the AppleInsider app, and follow us on YouTube, Twitter @appleinsider and Facebook for live, late-breaking coverage. You can also check out our official Instagram account for exclusive photos throughout the event.