Apple thanks Korean police for seizing $900,000 of counterfeit accessories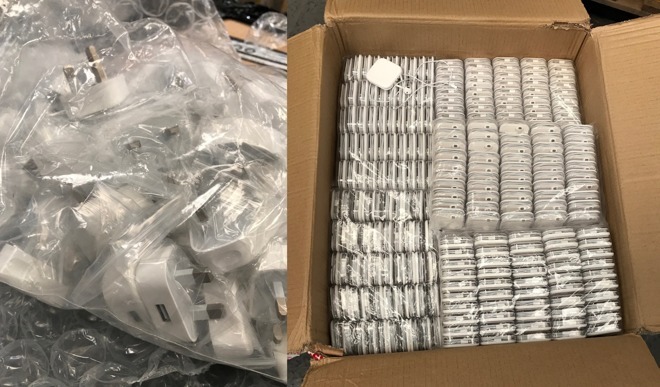 AppleInsider may earn an affiliate commission on purchases made through links on our site.
Apple will be thanking the Korean police for seizing and preventing the sale of counterfeit accessories for its products worth 1 billion won ($892,000), by presenting a plaque to investigators who apprehended local criminals behind the trade.
Senior regional director for Apple's Asia-Pacific operations Donald Shruhan will reportedly visit the Bucheon Sosa police station in Bucheon, Gyeonggi, on Friday to present the plaque to the officers involved in the regional crackdown.
The criminals were locally distributing fake Apple charing cables and earphones, reports the Korea Herald. The knock-off products are said to have been imported from China, with police still working to trace how the goods entered the country.
The apprehended distributors are also under investigation on suspicions of fraud and trademark violation.
Shruhan is currently leading Apple's anti-counterfeiting operations in China, and previously worked with Pfizer to crack down on counterfeit Viagra sales and production.
Counterfeit products remain an issue for Apple and other device vendors, with consumers tricked into buying the fake versions or tempted by the cheaper knock-offs, as they can potentially be dangerous and cause harm to devices or human life due to not undergoing the same safety checks as real products.
The sale of fake goods can be highly profitable to criminals taking part in such schemes. In February 2018, one Chinese national living in the United States pleaded guilty to conspiracy and trafficking of counterfeit Apple products, which reportedly earned him more than $1.1 million. A six-month investigation and a police raid on a warehouse in London in August 2017 uncovered a collection of fake Apple products worth an estimated $1.69 million.
Sometimes the crimes relating to Apple products are not quite as direct. Apple has spent five years combatting iPhone repair fraud in China, where components were stolen from working iPhones that are then submitted for warranty repairs, an issue that reportedly cost the company billions of dollars.
It is possible the safety concerns of fake accessories could be alleviated in the future, as the introduction of the USB Type-C Authentication specification could allow mobile devices to detect genuine cables and chargers, allowing only official and certified versions to actually function.