Trying out Mophie's Juice Pack Access wireless battery case for iPhone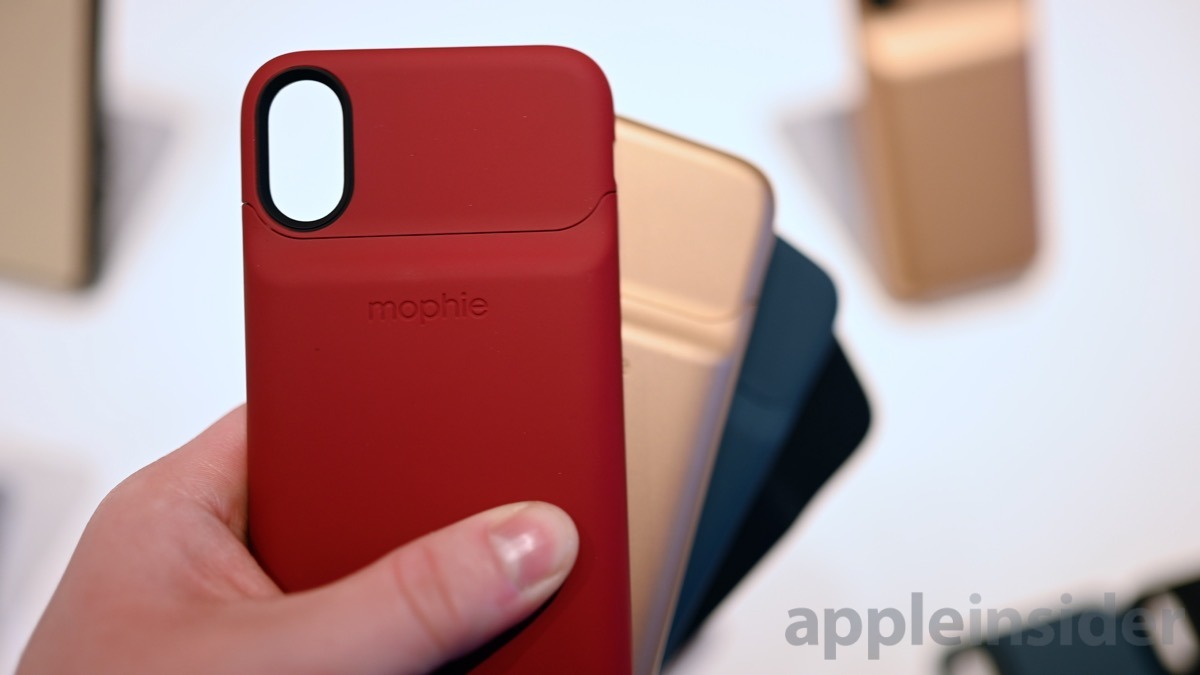 AppleInsider is supported by its audience and may earn commission as an Amazon Associate and affiliate partner on qualifying purchases. These affiliate partnerships do not influence our editorial content.
Mophie has revamped their Juice Pack line with the new Juice Pack Access. This is the first Juice Pack that completely avoids the bottom of the iPhone, leaving the Lightning port free. At the 2019 Consumer Electronics Show in Las Vegas, AppleInsider checked it out.
The new Juice Pack Access is a shell case for iPhone X, XS, XS Max, and XR that has a built-in battery pack. Phones are inserted by a removable top, and locked into place with a satisfying snap.
Each of the cases has a great soft-touch finish to it that provides ample grip, more than a naked iPhone. Buttons on the sides are glossy and easy to press.
By keeping the bottom of the case completely unobstructed, it allows you to connect other accessories to the Lightning port. Lightning headphones, a fast charging cable, or other adapters all can be used without removing the Juice Pack Access.
Since the iPhone doesn't have a headphone jack, it can be more important than ever to keep this port free. Anyone using wired CarPlay also can participate now.
Since there is no hardware connection to the Lightning port, that means Mophie needed another way to deliver power. Luckily wireless charging was a natural evolution. A Qi coil transmits 5W of power from its internal battery to the iPhone.
The case itself is also able to receive wireless charging, making the entire setup wireless if users so choose. Just placing the phone and case on a wireless charger first powers up the iPhone, then powers up the Juice Pack Access.
If wireless charging is too slow, USB-C can be used to power up the Juice Pack Access and Lightning can power the iPhone.
Juice Pack Access comes in several colors for each iPhone. The iPhone X, XS, and XS Max come in red, black, gold, and slate while the iPhone XR comes in black, bright blue and bright red that match the iPhone's finishes.
AppleInsider will be attending the Las Vegas Consumer Electronics Show starting on January 8 through January 11 where we're expecting 5G devices, HomeKit, 8K monitors and more. Keep up with our coverage by downloading the AppleInsider app, and follow us on YouTube, Twitter @appleinsider and Facebook for live, late-breaking coverage. You can also check out our official Instagram account for exclusive photos throughout the event.