Facebook issues memo on Apple Enterprise Certificate fiasco as employees vent frustration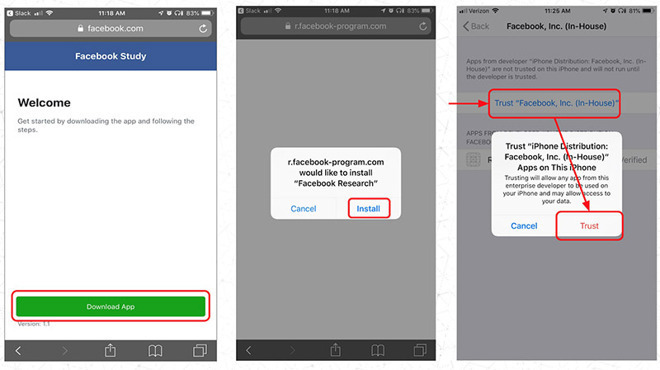 AppleInsider may earn an affiliate commission on purchases made through links on our site.
Facebook is conducting internal damage control after Apple yanked the social media giant's enterprise developer certificates, a move that effectively disabled internal apps used by thousands of Facebook employees.
According to a leaked internal memo from Facebook VP of production engineering and security Pedro Canahuati, the company is "working closely" with Apple to reinstate Enterprise Certificate privileges that were revoked on Wednesday. That information lines up with a summary of the situation provided by AppleInsider sources.
The memo, obtained by Business Insider, seeks to ensure employees that Facebook is working diligently to restore access to an internal version of Facebook's iOS app, as well as private versions of Workplace Chat, Instagram and Messenger. For now, the company urges employees to download public releases of those same apps.
Still, with Apple's lockdown in place, Facebook workers are unable to use apps like Mobile Home and Ride, both of which are not distributed publicly.
Facebook employees vented their frustration over the situation in statements to Business Insider, saying that colleagues are "pissed" and "angry." Some hold Facebook responsible for running afoul of Apple's enterprise developer ruleset, while others pin the blame on Apple.
"Apple is technically doing their job and has a right," an employee said. "This is probably one of the worse things that can happen to the company internally."
Others have given in to conspiracy theories, with one employee summarizing Apple's decision as a long-awaited move to "take Facebook down." Apple CEO Tim Cook has long railed against companies like Facebook and Google, businesses based on the collection and marketing of customer data.
The hubbub kicked off with a Tuesday report from TechCrunch that revealed Facebook paid users to install a VPN onto their iOS devices in a bid to monitor usage patterns. Called Facebook Research, the program used Apple Enterprise Developer Certificates to enable sideloading through three third-party beta testing platforms and root access into a user's device.
In response, Apple pulled Facebook's enterprise certificates, a decision that seriously hinders not only Facebook's iOS app development, but also its regular operating infrastructure.