Qualcomm demanding Apple pay hefty fine in Germany for iPhone ban avoidance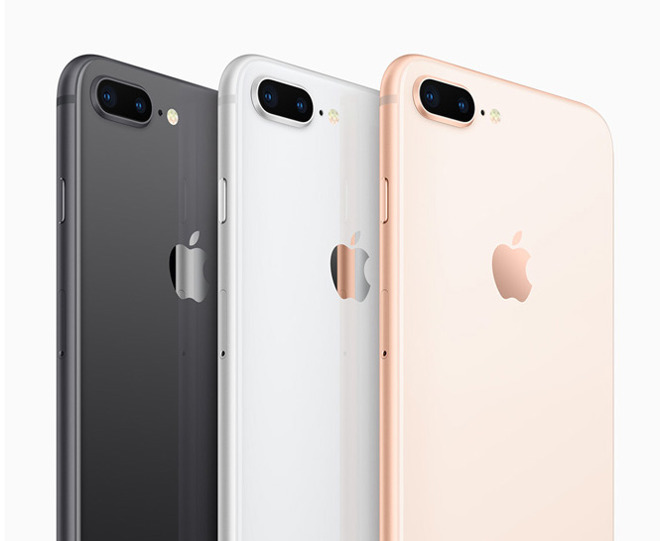 AppleInsider is supported by its audience and may earn commission as an Amazon Associate and affiliate partner on qualifying purchases. These affiliate partnerships do not influence our editorial content.
Qualcomm has filed with the German court responsible for the iPhone ban, demanding that Apple pay a significant fine, and prevent the sale of the iPhone 7 and iPhone 8 at retail from any Apple-affiliated vendor immediately.
Qualcomm appears to be taking issue with the fact that the iPhone 7 and iPhone 8 family are still available from independent Apple shops, and perhaps also contesting that they are available at retail in the country at all. Qualcomm attorneys claim that Apple is intentionally defying the court order.
"They obviously don't consider themselves bound by injunctions," Qualcomm said, in a summary of what was provided to the German judge that has been seen by AppleInsider. "Significant fines must be imposed to put a check on that."
Apple has pulled the models from its corporate retail presence in the country. The devices can still be found at retail through other sellers, both authorized and not.
Judge Matthias Zigann ruled on December 20, 2018 that Apple has violated Qualcomm patents on iPhones with Intel modems — meaning all units sold in Germany. Apple supplier Qorvo violated an "envelope tracking" patent held by Qualcomm, vital to conservation of battery power while the modem is active. The ban is enforceable in Germany, though Apple could seek a stay through the appeals process — which it is certain to do.
The intellectual property in question covers battery efficiency technology and originates from the same batch of six patents leveraged against Apple in Qualcomm's U.S. International Trade Commission complaint. Specifically, the chipmaker claimed infringement of U.S. Patent No. 8,698,558 for a "Low-voltage power-efficient envelope tracker."
Apple began using Intel modems with the iPhone 7, with the chipmaker winning about 30 percent of all orders for the handset at the time. Apple presently relies on Intel modems across its entire product line.
"Competition authorities around the world have repeatedly found Qualcomm's licensing practices unlawful, yet Qualcomm continues to try to achieve the same results through a campaign of patent lawsuits," Intel's general counsel, Steven Rodgers, said in a statement. "These lawsuits have been largely unsuccessful, and at best would reduce innovation and raise prices."
Apple issued a statement following the initial ruling, and has pointed to it on several occasions afterwards, up to a January 18 block on the second paragraph by the same German court that ordered the iPhone ban in the first place.
"Qualcomm's campaign is a desperate attempt to distract from the real issues between our companies. Their tactics, in the courts and in their everyday business, are harming innovation and harming consumers. Qualcomm insists on charging exorbitant fees based on work they didn't do and they are being investigated by governments all around the world for their behavior. We are of course disappointed by this verdict and we plan to appeal.
All iPhone models remain available to customers through carriers and resellers in 4,300 locations across Germany. During the appeal process, iPhone 7 and iPhone 8 models will not be available at Apple's 15 retail stores in Germany. iPhone XS, iPhone XS Max and iPhone XR will remain available in all our stores."
Qualcomm posted the bond for the sales ban to take place, pending Apple's appeal. The iPhone 7 and iPhone 8 were pulled from shelves at Apple's retail stores on January 4.