Profiling Deirdre O'Brien, Apple's new head of retail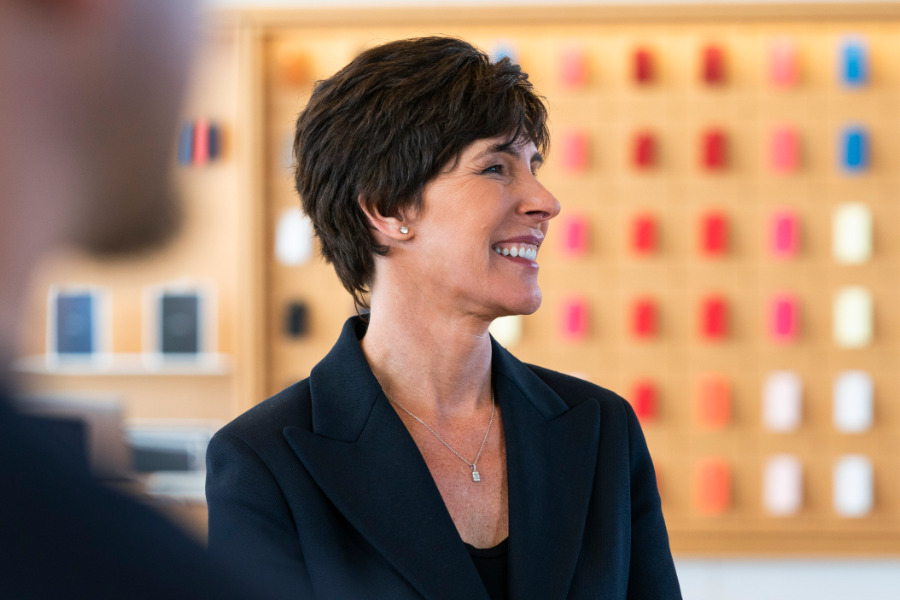 From outside Apple, new retail chief Deirdre O'Brien appears to have been a low-profile executive. But, she's spent three decades at the center of Apple's operations, personnel and sales.
Officially, Angela Ahrendts remains Apple's senior vice president of retail until April but her successor, Deirdre O'Brien, has already taken up the new post of senior vice president of People + Retail. It's a role that has immediately made her one of Apple's highest profile executives, directly and visibly in charge of the online store, 506 retail outlets and some 70,000 staff.
O'Brien was already responsible for those, though, and in total for all 120,000 Apple staff in her previous role as solely senior vice president of people. She was promoted to that position in July 2017.
"As long as I've been at Apple, Deirdre has been the glue that bonds our operations, sales, marketing and finance teams to deliver products to our customers," said Apple CEO Tim Cook at that. time. "Deirdre deeply understands Apple's unique culture and that people join Apple to do the best work of their lives. She is a superb leader and I'm thrilled she will be bringing her experience and talent to this critical role."
Cook joined Apple in March 1998 — and O'Brien had already been with the company for a decade. After earning a degree in operations management from Michigan State University and then an MBA from San Jose State University, she went straight to Apple in January, 1988.
She did not, as now commonly reported, work for IBM first. While she doesn't have a LinkedIn profile or any public resume and also is not mentioned in books about this period at Apple, it's believed that one of her first jobs was to do with overseeing the manufacturing of the Macintosh SE. She was reportedly at Apple's Fremont plant but manufacturing there was not a success and the company closed it down.
This does mean that she was already in Apple when it was in decline. Asked much later why she stayed when so many others left, she said that the difficulties were exactly what kept her there.
"I stayed because I realized I was learning so much," she told the East Bay Times in 2016. "We were managing a really complicated situation. It's a good skill to have."
According to Fortune magazine in 2008, Tim Cook relied on O'Brien's skill in forecasting demand which seems like another operations task but is key to sales. Being able to accurately predict product demand is what meant Apple could reduce its inventory, the stocks of devices made but not yet sold. Cook correctly gets credit for how he managed to cut inventory down at Apple to the point where it no longer held enough machines to supply months of sales and instead had only days' worth.
However, with O'Brien, Cook was also able to predict the need for large stocks of what would prove to be high-demand products. So when planning the iPod nano, for instance, Apple was able to make an enormous investment in the storage technology used. That meant both that Apple met its own requirements but also effectively locked out competitors.
So despite her training in operations, she has been involved in the details of sales for a long time — and specifically in the creation and working of the Apple Stores.
"Deirdre brings insight and experience gained over 30 years at Apple — decades spent focusing on the connection between customers and the people and processes that serve them," said Tim Cook on announcing she was taking over retail. "Working collaboratively across Apple, Deirdre and her teams empower people to lead with purpose and humanity.
"Deirdre was part of the team that planned and launched Apple's very first online and retail stores. She has been a part of Retail's exciting expansion and every product launch since. She knows the value of the deep human connections that retail experiences make possible — and she knows this is where Apple shows its heart and soul."
Cook also said that O'Brien has been directly involved in every major Apple launch of the last 20 years. For the last 17 months, that has at least been in her role as 'VP of People.' She took over that job from Denise Young Smith who moved to the then-new post of vice president for inclusion and diversity.
Prior to that HR role, O'Brien had been senior vice president of worldwide sales and operations. Apple has a lot of vice presidents, though, and when she spoke to the East Bay Times in early 2016, she was a vice president working on the supply chain operations team.
Apple has a lot of vice presidents, clearly, but each of the specific roles we know Deirdre O'Brien has held have all been a mix of operations and sales-related. She's also an insider, she's someone who has not worked outside Apple. That has to give her advantages over her predecessors like Angela Ahrendts who came into Apple from fashion and John Browett who arrived from the UK's Dixons electronics stores.
It must also bring disadvantages, though, as both Ahrendts and Browett were more directly involved with sales in their high-pressure industries.
Nonetheless, O'Brien is not going to have problems fitting in with Apple's culture as Browett did. She's on her way to being a lifer at Apple and in 2016, she explained why she likes it so much. "We feel like a small company every day," she said. "We are not worried about protecting things. It's a very positive rather than a maintenance approach."